ABOUT US
CONTACT US
INVESTIGATIONS
EVENTS/CLASSES
IS IT A GHOST
ALIENS
YOUR GHOST STORIES
BOOK INTERVIEWS
The Rocky Mountain Paranormal Research Society
Investigation of the Elitch Theater
July 28, 2006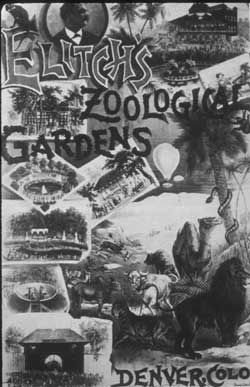 The Rocky Mountain Paranormal Research Society was contacted to conduct an
Investigation into reported Paranormal activity of the Historic Elitch Theater.

Before an on-site Investigation was conducted. We looked into the history of the
Location and the people that were involved in the making of the park.

History: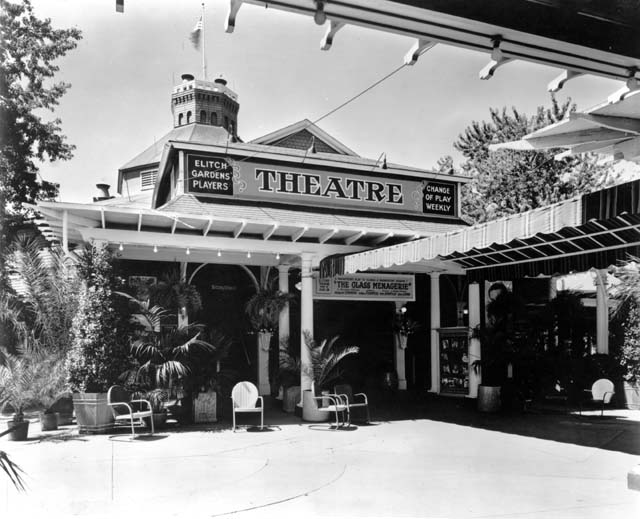 Elitch Gardens was always more than an amusement park. It was also:

One of the first zoos west of Chicago
The home of Denver's first symphony orchestra
Denver's first botanic garden
Colorado's first Children's Museum and activity center
The site of Denver's first motion picture theater
Home of the Trocadero Ballroom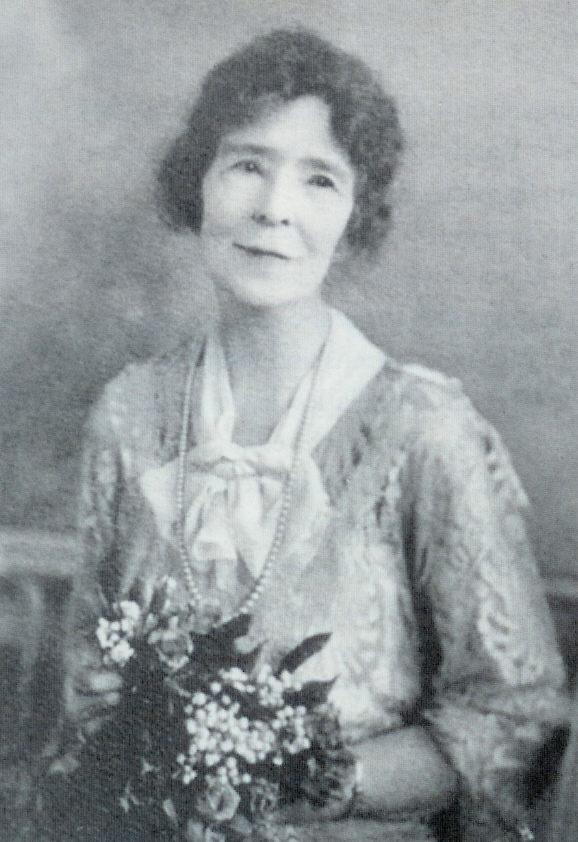 Mary Hauck Elitch-Long
Birth: 1856
Philadelphia
Pennsylvania, USA

Death: Jul. 16, 1936
Denver
Colorado, USA

Burial:
Fairmount Cemetery
Denver
Colorado. USA

More than the founder of Denver's famed Elitch Gardens, Mary Elitch Long has a
Well-earned reputation as a businesswoman. In the male-dominated late 19th
And early 20th centuries, Mary served as a powerful role model at a time when
Women had far fewer non-traditional role models to embrace. At that time, she
Was the only woman in the world running an amusement park.

Born in Philadelphia in 1856, Mary Hauck spent most of her childhood in
California where her father moved his livestock and fruit business.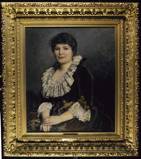 1872
Mary Elizabeth Hauck (16 years old) meets John
Elitch in church and elopes to San Jose.
They see The Streets of New York the first play that they
Saw together and what most likely influenced Mary &
John in the theatre business.

Soon they moved to Durango and then eventually
Denver. John Started working at a local bar. In less
Than a year, he had started his own business. The
Elitch Palace Dining Room was located at 1541
Arapahoe St.

While John was starting his business, Mary was
Enjoying her own life with her interests in gardening
And the arts. She even was the president of the Denver Art Club.

1888
the couple purchased the Chilcott farm an apple orchard five miles north of
Denver Intending to grow fresh fruits and vegetables for the restaurant. With
Mary's love for children , flowers, animals, and the theater an ambitious dream
Was born.

1890
The apple orchard was transformed into Elitch's Zoological Gardens (Denver's
First zoo), a wonderland of exotic animals, orchards, and gardens.
Elitch Gardens first opens its gates to the public. Friends of the Elitch's, P.T.
Barnum and Mr. And Mrs. Tom Thumb, were among the opening day crowd.

1891
There was plenty of entertainment: from marching bands to vaudeville to light
Opera. After the close of the first season, John long invested $35,000 in a theater
Troupe. Which toured up and down the Pacific Coast. It was in San Francisco that
He contracted severe pneumonia, and died two weeks later. March 10 1891.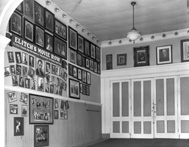 Mary Elitch continues to run Elitch Gardens and gains the distinction of being the
Only woman in the world to own and manage a successful summer resort. She
Was known throughout her life as "the Gracious Lady of the Gardens" and lived
On the grounds until her death.

It was a sad but determined woman who returned to Denver. A 34-year old
Widow. Short on cash, she sold the majority of her garden's stock to a group of
Denver capitalists. She remained in an administrative capacity with the company,
And by 1894 had regained total control of the gardens. Over the next 20 years
Long provided high quality low cost entertainment for thousands of visitors from
Around the world. Elitch's was the first place in the American West to show
Edison's Vitascope.

1892
The Elitch Theater opens and begins its
Tradition of a century of "First-class
Entertainment". Construction was
Modeled after Shakespeare's Globe
Theater. Upon opening, She hired a 14-
Year-old Douglas Fairbanks as a
Stagehand, who later was a leading
Man in this theater and onscreen. In
1905, leading man Cecil B. DeMille
stated it was "The cradle of American
theater."

1897
Mary formed the country's first summer stock company. In 1906 Sarah
Berhardt was brought to Denver to play "Camile" and "LaSorcier," both in the
Same day.

1906
With the death of Mary's second husband, Thomas Long, J. K. Mullen and Jim
Berger began running the non-theater operations and helping with financial
Decisions.

1909
The log entrance gate is torn down and an ornate, Greek revival styled stucco
Gate is built.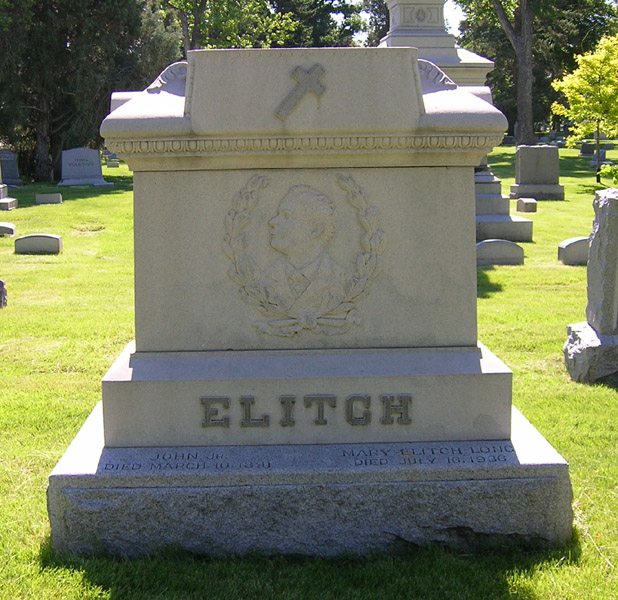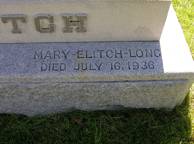 1916
The entire property was sold to John Mulvhill.
Long had provided in the sale contract that she
Would live rent-free in her cottage on the
Grounds and receive $50 a month until she died.
She spent the last four years of her life with
Relatives and died at age 80 on July 16, 1936.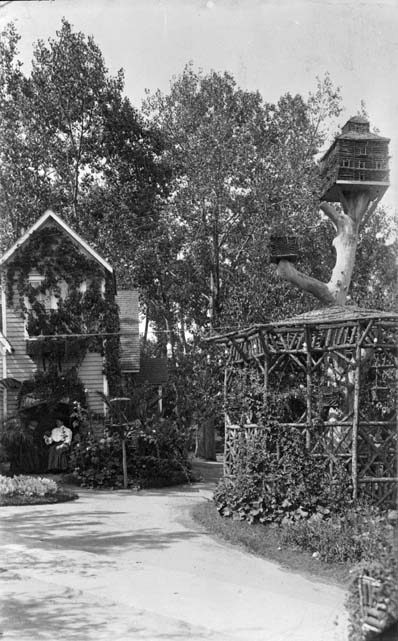 1917
The Trocadero Ballroom opens. Musicians such as Tommy & Jimmy Dorsey,
Benny Goodman. Guy Lombardo, Gene Krupa and Lawrence Welk performed on
Stage.

1928
The carousel, which took master craftsmen three years to carve by hand, is
Delivered from the Philadelphia Toboggan Company.

1930
John Mulvhill dies and his son-in-law. Amold Gurtler. assumes ownership of
Elitch Gardens.

1936
The Ferris wheel is erected. It too still operates in the park today.

1944
July 16th. Fire in the Old Mill Boat ride, which features a waterway ride through a
Dark tunnel exhibiting lighted scenes of fairytale characters. The 200 feet long
Building was constructed in 1914 and rebuilt in 1928; 6 people died due to smoke
Inhalation; according to the coroner's report the following factors contributed to
The incident: aged facility, ignorance, neglect, and carelessness.

1954
Kiddie Land opens at Elitch Gardens. Popular television star Hop-A-Long Cassidy
Presides over the opening ceremonies.

1958
The stucco entrance gate is torn down due to the widening of 38th Avenue. An
Art-deco aluminum arch replaces it.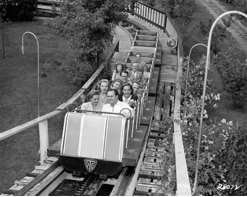 1965
The famous "Mister Twister" roller coaster is built and is advertised "not to have a
Foot of straight track in it.

1975
The famous Trocadero Ballroom is torn down due to ballroom dancing's lack of
Popularity.

1994
The final $95 million financing package is completed and construction begins on
The new Elitch Gardens in Central Platte River Valley in downtown Denver. It
Becomes the first amusement park to be built in an urban area in the United
States in more than 30 years. After 104 years of successful operation, Elitch
Gardens closes its doors forever at its famous northwest Denver location.

1995
The "New Elitch Gardens" opens at its new
Location in Central Denver.

1996
Premier Parks, Inc., acquires Elitch Gardens.

1997
In a dramatic announcement, Premier Parks,
Inc., announces a huge, Multi-Million dollar
Elitch Gardens improvement program!
The dramatically-improved Elitch Gardens wows Denver by unleashing three
Incredible rides: The Mind Eraser – a suspended, inverted, looping roller coaster;
Tower of Doom – a giant vertical-drop ride; and shipwreck Falls – a family water
Ride.

Elitch Gardens introduces Island Kingdom is still free with general park
Admission.

The Trocadero returns! Built in honor of Elitch Gardens' famed Trocadero
Ballroom, a hallmark of the original park, the new Trocadero theatre seats 700
And can be easily converted into a ballroom.

1998
Yet another exciting year begins with the announcement of StarToon Studios, a
Pint-sized playland complete with whirling rides and a multi-story factory of
Interactive fun. Plus, three new thrill rides and a new 500-seat air-conditioned
Food court!

Premier Parks, Inc., purchases Six Flags Theme Parks and expands the brand to
Denver. Elitch Gardens becomes Six Flags Elitch Gardens.

1999
Six Flags Elitch Gardens opens with new rides and attractions including the
Boomerang coaster; the children's favorite, Looney Tunes Movie Town; and the
Batman Forever Thrill Spectacular.

2000
Six Flags Elitch Gardens opens for its 110th season, celebrating three centuries
Of fun!

2001
Six Flags Elitch Gardens adds the all-new Spring Concert Series with local and
National talent in every musical genre. And Batman and Robin's all-new,
Suspenseful Gotham City Carnival of Chaos stunt show.

2002
The Flying Coaster! This first-of-its-kind ride has passengers lying down and
Zooming through the mile-high sky. Also, four all-new shows are added – the
Batman Stunt Show, Looney Tunes: What's Up Rock, Broadway Rhythm
Revue and the Rockin' E County Show.

2003
Six Flags Elitch Gardens offers bigger and better spring and fall concert series.
Major stars performing at the Universal Lending Pavilion on the grounds of Pepsi
Center delight Six Flags guests.

2004
Six Flags Elitch Gardens adds Halfpipe-the first of its kind in North America.
Guests can now spin countless 360s on a gigantic snowboard while cruising up
And down a 100-foot tall halfpipe.

2005
Island Kingdom Water Park expands with the addition of EDGE. This four-story
Water ride sends water adventurers blasting down more four stories at a
Vertical angle. The massive slide gives fearless fun-seekers the thrill of "free
Falling" before they race up at breath-taking speeds to the edge of the other side.
Then, riders plunge back and forth on more than a thousand gallons of swirling
Water before splashing into the relaxing Castaway Creek.

2006
Six Flags Theme Parks nationwide celebrate 45 years of family fun and
Entertainment!

2006
June, 23
9news

Six Flags is considering selling a total of six of its properties across the country,
Including Elitch's.

Six flags announced Friday it may sell its amusement parks, including Elitch
Gardens,
Attendance at all of the company's parks is down by more than a million
Customers so far this year.

New Management was brought in last year to run Six Flags and major changes in
How parks are run have been implemented, but CEO Mark Shapiro says the
Turnaround is proving difficult.

The company reports it is close to violating the terms of its loans.

"What we are seeing, is that attendance has declined, driven primarily by
reduced season pass attendance," said Wendy Goldberg, a spokesperson for Six
Flags.

The goal is to sell the parks that are for sale within the next 12 to 24 months.
Shapiro has reportedly received inquiries from potential buyers, but they are not
Being identified.

Just because the parks may be sold, does not mean they will close their doors.
"We are not closing the parks, you know, emphatically not closing the parks, in
fact we're investing more money into all our Six Flags parks," said Goldberg.

However, a new owner could choose to redevelop the land.

"I sure hope they don't redevelop the land, it's been such a good thing for LoDo,
to have something that families can come and do," said Joni Zigan, a visitor to
the amusement park on Friday.

Sandy Zigan, Joni's daughter, said, "If they move it, well at least they move it, but
Tear it down, that's just wrong!"

Six Flags says until any sales are final it will continue to invest money in all of its
Parks. The company has spent $15 million on improvements in 2006 alone.





Some of the "Famous" people who have played the theatre:
Patty Duke, Edward G. Robinson, Douglas Fairbanks, Jr., Vincent Price, Sarah
Bernhardt, Grace Kelly, Hume Cronyn, and Jessica Tandy, Raymond Burr, Joe
E. Brown 1963, Walter Pidgeon 1964, Peggy Cass 1964, James Coco 1964,
Darren McGaven 1964, Roger Smith 1964, Cesar Romero 1964, Christina
Crawford 1964, Barbarbara Bel Geddes 1964, Marjorie Lord 1964, Comelia Otis
Skinner 1964, Hal March 1964-1965, Arlene Francis 1964-65-69, Eve Arden
1965, Kathy Nolan 1965, Vivian Vance 1965, Hermione Gingold 1965, Ralph
Meeker 1965, Marisa Pavan 1965, Kitty Carlisle 1965-1970, Tom Ewel 1966
1969, Cliff Arquette 1966, Gloria Swanson 1967, Joan Fontaine 1968, Forrest
Tucker 1968, Katherine Crosby 1968, Morey Amsterdam 1968, Dick Van Patten
1968, Robert Cummings 1968, Shirley BoothAnn Southern 1968, Barry Nelson
1968 1969 1971, James Whitmore 1969, Tom Poston 1969, Myrma Loy 1969,
George Grizzard 1969, Noel Harrison 1970 1982, George Goebel 1971, Douglas
Fairbanks Jr 1971 1973, Farley Grainger 1971, Sid Caesar 1971 1974, Edie
Adams 1971, Mickey Rooney 1972 1974, Brandon de Wilde 1972, Maureen
O'Sullivan 1972 1982, Barbara Rush 1972, Jose Ferrer 1873, Gig Young 1973,
Shelly Winters 1973 1983 (Saw a Ghost in 1983), John Astin 1973 1974, Patty
Duke 1973 1974, Sandy Dennis 1974, Steve Allen & Jayne Meadows 1974, Gary
Merrill 1974, Kim Hunter 1975, Edward Mulhare 1975, Lynn Redgrave 1975,
Ginger Rogers 1975, Betsy Palmer 1975, William Shatner 1975, David McCallum
1976 1982 1983, Lana Turner 1977, John Raitt 1977 1979, Van Johnson 1977,
Kier Dullea 1977 1982 1983, Julie Harris 1978, Pat O'Brien 1979, Chloris
Leachman 1982 1983, Richard Kiley 1982 1983, Tyrone Power 3 1982 1983,
Gabe Kaplan 1982 1983, Tammy Grimes 1982 1983, Margaret Whiting 1985, Pat
Hinkle 1987, Nancy Walker 1987

An autographed photo of Vincent Price is still at
The entrance to the Theatre.

Grace Kelly and the Theatre Company

Raymond Barr and the Theatre Company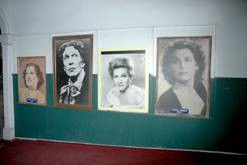 History in the making:
By: Tom Noel
April 29, 2006
Mary Elitch would be tickled pink about the restoration of her theater. She would
Love to see Elitch Theater in bright lights again, for John Elitch was the love of her
Life. She adored his black wavy curls and rich Alabama accent. She doted on the
Theater celebrity in Denver and San Francisco, who also starred as an athlete,
Co-founder and president of The Denver Athletic Club.

The ubiquitous Johnny also operated Denver's most popular restaurant and
Oyster house, Elitch's Palace at 1541 Arapahoe St. When the 41-year-old wonder
Was stricken ill while performing in San Francisco, his wife Mary, rushed from
Denver to his California deathbed.

"John Elitch, Jr., is known in nearly every household in Denver," claimed the
March 11 1891, Denver Republican Obituary. "The same brave, genial John to
The end," the story continued, rose just before death with superhuman effort to
Shake hands with his friends and embrace his wife. Mary had his profile, with the
Curly hair and mustache, carved onto his tombstone at Fairmount Cemetery. For
The next 45 years she kept the gardens and the theater alive in his memory.

Theater had been their first love – they opened Elitch's Gardens in 1890 with a
"Theatorium" for vaudeville and light opera. This original round, open-sided
"Playhouse in the Gardens" grew into a larger, circular enclosure inspired by the
Globe Theater of William Shakespeare's time. The theater evolved over the years
Into a wooden octagon two stories high with a tent-shaped shingle roof crowned
By a flagpole.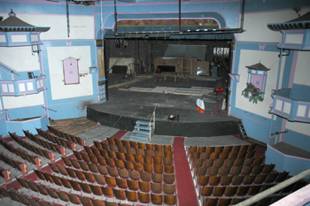 Elitch's also presented Colorado's first motion pictures. On Aug. 14, 1896, Mary
Introduced the Edison Vitascope to Colorado, allowing astonished locals to see
Moving pictures.

Almost until the end of her life, Mary lived at the gardens next to her theater. She
Told visitors about hosting dwarf celebrity Tom Thumb and how Sarah Bernhardt
Fearlessly petted the Elitch lioness subsequently named for her. After Mary's
Death in 1936, Denver's Irish flour milling magnate, John K. Mullen, bought
Elitch's and turned it over to the Mulvihill-Gurtler clan. They ran it for another half
Century.

Colorado's oldest, best-known amusement park moved to its current site in the
Central South Platte Valley site in 1995, leaving the already closed theater
Behind. Many figured that the theater was as dead as John and Mary. Pigeons,
Mice and foxes trod the stage where hundreds of nationally prominent actors and
Actresses had performed, including Sid Caesar, Douglas Fairbanks Jr,. Myrna
Loy, Vincent Price, Robert Redford, Lynn Redgrave, Debbie Reynolds, Ginger
Rogers, and Mickey Rooney. Grace Kelly starred at Elitch's in 1951 and in 1953
Jimmy Stewart and June Allyson spent two days there filming The Glenn Miller
Story.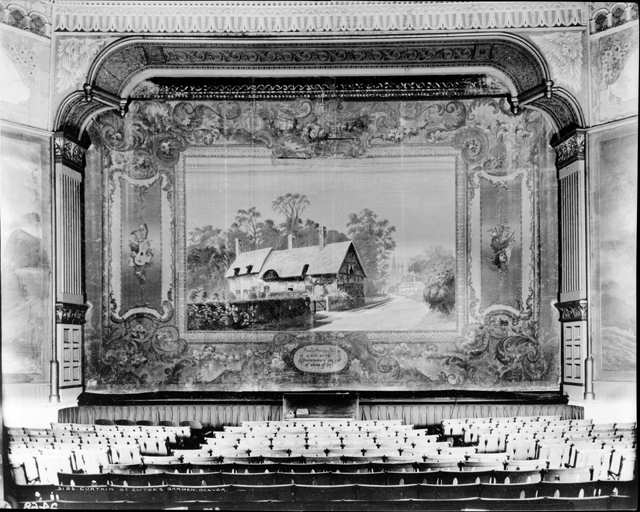 The theater's reincarnation began on April 17, with the kickoff of a two-year,
$14.2 million reconstruction and restoration project that aims to reopen the grand
dame of Colorado theaters as the Center for America's Theater at Historic Elitch
Gardens.

The resurrection of a designated Denver and National Register Historic
Landmark is being funded with $2.2 million in tax-increment financing from the
Denver Urban Renewal Authority, $600,000 from owner-developers Perry-Rose
LLC, with $355,000 from the Colorado Historical Society's State Historical Fund,
And $300,000 from Save America's Treasures.

Denverite Chuck Perry, who once ushered at Elitch's Theater, spearheaded its
Reconstruction on the original site. It will become a centerpiece for his
Surrounding New Urbanist residential neighborhood, bounded by West 36th and
38th avenues between Tennyson and Wolff streets.

At the center of the new neighborhood, the old wooden theater will get its first
Foundation and heating system. If all goes according to plan, Elitch's Theater will
Reopen in 2008 for year-round programming of music, dance and theater. Some
Day, the theater should stage a play about the astonishing couple that built it and
Put Denver on the theatrical map.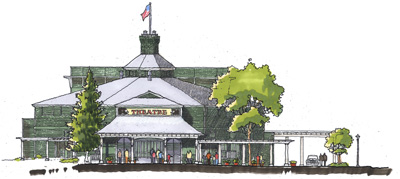 The new plans:
Scrape that paint

More than 200 attended groundbreaking ceremonies at the historic Elitch Theater
On Monday, including Mayor John Hickenlooper, U.S. Sen. Wayne Allard, City
Auditor Dennis Gallagher, a youth band, neighbors and dozens of area
Schoolchildren.

Rather than truly breaking ground – there are already enough holes there – the
Ceremony took a clever twist. Dignitaries scraped the paint off Mary Elitch's
Private box.

Owner Chuck Perry , who was an usher at the theater as a kid, told a moving
Story about his aunt, who died last week. Her dream was "to live to be 100 and to
Dance at this theater when it reopens," he said.

Hickenlooper recalled living three blocks away and the recurring sound of the
Mister Twister roller coaster. "It reminded me of being at the beach, and every 40
Seconds was like a giant wave breaking," he said.

Allard, who grew up near Walden, pointed out that the Theater was a date
Destination for all Coloradoans, some of whom drove hundreds of miles.

The $14.2 million restoration is expected to take two years.

Another interesting item on the property is this tree. It has grown around a metal
Pole that Mary placed on the property. (You can see in the satellite image, that
The tree is one of the only surviving objects outside the land of the Theatre)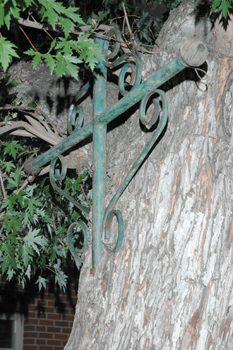 Detailed drawings and specifications have been prepared under the direction of
OZ Architecture and its planning team.

The general site plan and Phase One construction drawings have been approved
By the National Park Service. Colorado State Historical Fund and the Denver
Landmarks Commission. A two-phase construction program has been
Developed. In general terms, Phase One, scheduled for the 2006 construction
Season, Includes repairs to the structural system, the addition of a foundation and
Insulation, restoration and rehabilitation of the exterior of the historic building, and
ADA building access. Given the precarious nature of the building's condition, this
Is the phase that truly "saves" the Theater
Phase Two, scheduled to begin in late 2007. Includes construction of the new fly
Building, service areas, landscaping, and the rehabilitation and restoration of the
Interiors. These plans will also include making the building a state-of-the-art
Performance and education center, with it becoming multi-media and broadcast

Capable. As plans and specifications are finalized, they will undergo a final review
And approval process by the same agencies listed above.
Old Elitch Theater Renovation The rehabilitation of Elitch Gardens Theater is a
Challenging and complex task, given the age and condition of the structure.
The Center has assembled a specialized team to assist with the project. OZ
Architecture will be designing, assisted by JVA Engineering. Anthony Associates
(Wood specialists), Palace Construction and Diane Wray (historic preservation
consultant). All are respected professionals in the field of historic rehabilitation.
David L. Adams Associates is a nationally respected consulting firm that will
Assist with the specialized elements of theatrical design and construction. HGV
Land will continue to be closely involved, with principals Chuck Perry and
Jonathan Rose assisting in the supervision of the rehabilitation. Both men have a
National reputation in historic development projects, including the Denver Dry
Goods Building at 16th and California in downtown Denver. To date, we have
Received funding from The City and County of Denver and DURA; the Colorado
State Historical Fund; Save America's Treasures grant program; Boettcher
Foundation; Shotcrete Technologies; and many individual and corporate donors.
Denver Planning and Community Development will monitor the project along with
The Denver Landmarks Preservation Commission, who will insure that the project
Meets the Secretary's Standards for Historic Preservation.

CENTER FOR AMERICAN THEATRE
AT HISTORIC ELITCH GARDENS
Reported Activity:
Throughout the years there have been reports of paranormal activity from
Everyone from staff to the actors at the theatre.

Mary is said to watch over the location and still wander the balcony and her old
Private box wearing a full-length gown and a feather boa.

On one occasion, Shelly Winters was on stage during a rehearsal and she said,
"Who is the bitch in the boa?" and there was nobody in the location.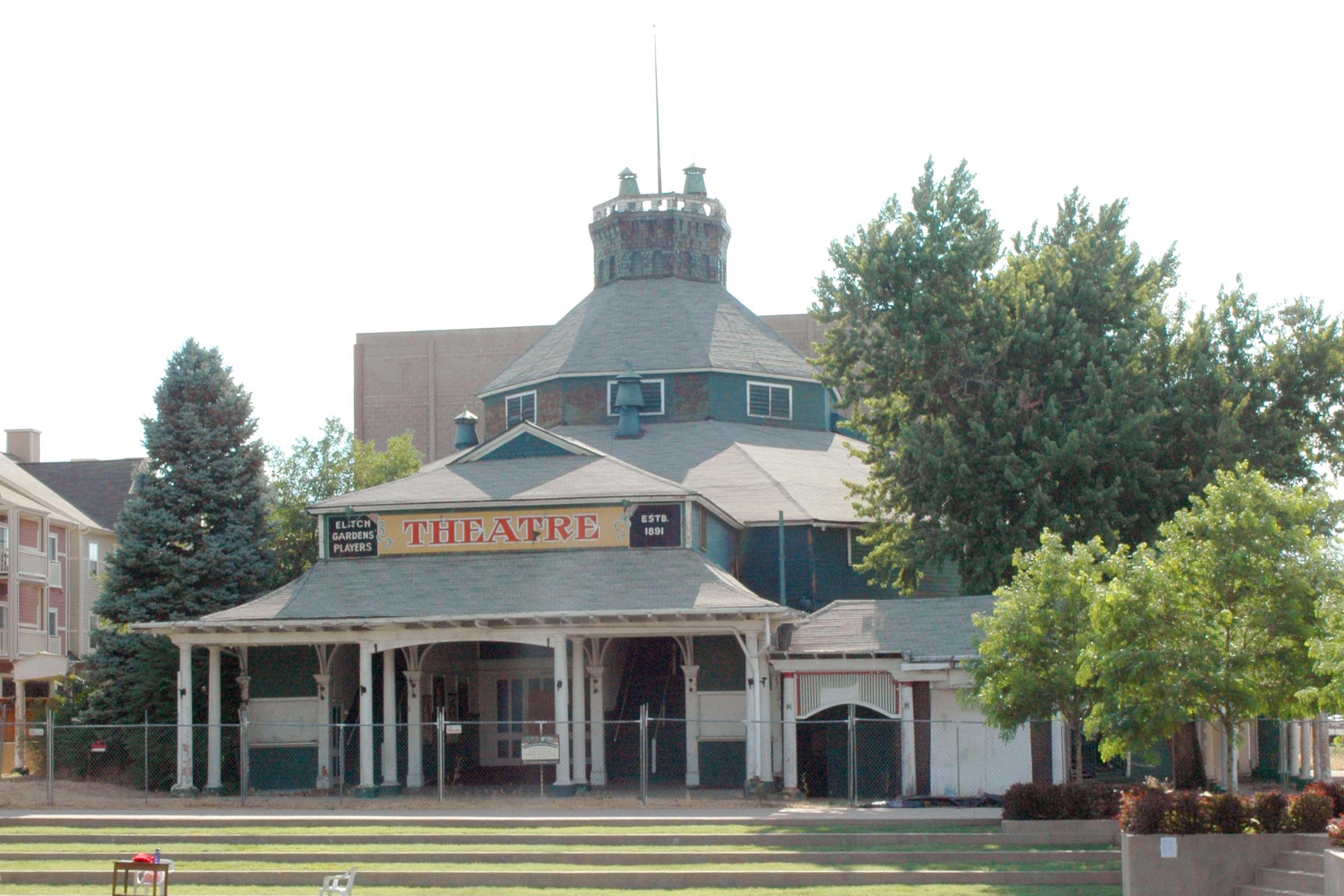 One of the most recent reports of activity is from Betty Lynne Hull.
"One afternoon, in my role as the Park archivist/historian. I was working alone in
the theater, removing the historic photos from the walls of the dress circle. Each
time I had an armful, I carried then down the left aisle to the stage, where I
placed them in boxes to later be transferred in to the Parks newly formed
archives collection. I remember that I was thinking about nothing in particular,
when suddenly it was though I had run into a very solid, soft, warm wall. I couldn't
move forward? It was almost as though someone were hugging me. Then after a
moment or two, it was gone, nonplussed, I proceeded to the stage with my load.
The amazing thing was that I felt no fear. I wasn't until later that I learned my
Encounter had taken place below Mary Elitch's theater box>"

The investigation:

Present at the location:
Bryan Bonner
Richard Estep
Ginger
Mark Manning
Greg Robinson
J.A. Danalek (Local paranormal author)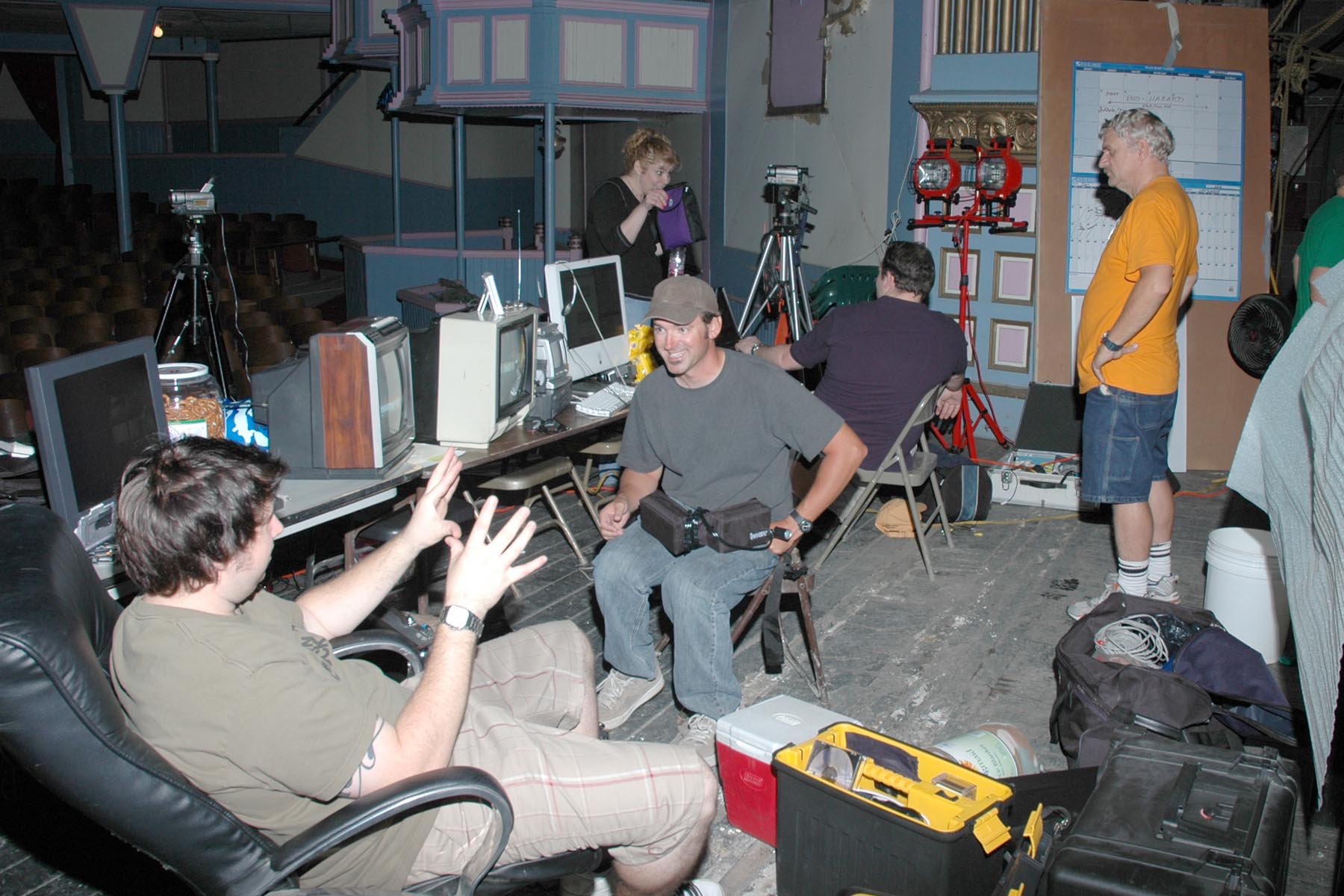 Present at the location but only for the
Initial setup:
Tim Idens (With the production team)
David Liban (Documentary Producer)

Several Students
Working with the production
Were present as well.

Setup begins 19:45
Base of operations set up on
Main stage facing audience.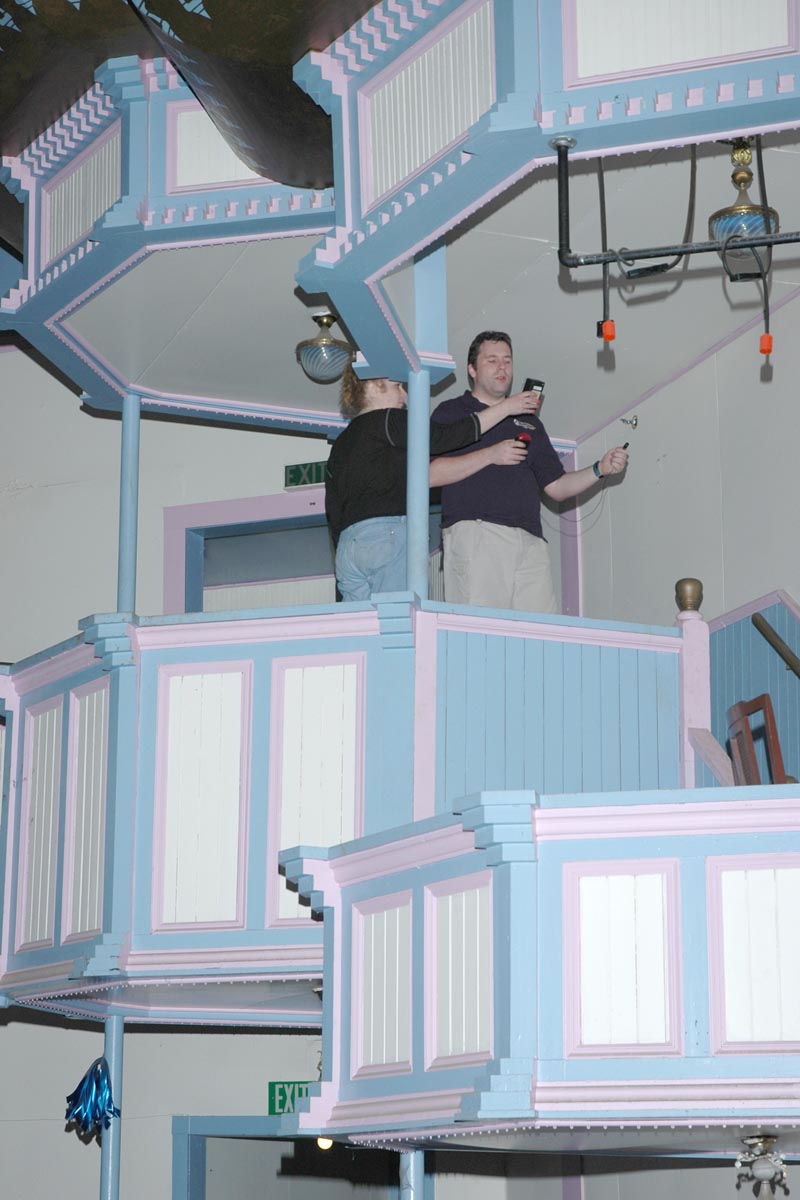 Prior to the evening locations
Were selected to be
Monitoring areas.

The locations were the Main stage area. Mary's private box, Left, Right & Middle
Balcony, as well as seats 1 & 2 Row F. The seats have been rumored to be
Reserved by Mary as well.

Due to the locations condition it was determined that there were a few areas that
We could not access safely.
Walk-around. Check base EMF levels.
Levels in Mary Elitch's box (to our left.
Ground floor) significantly elevated in
Relation to the box on the opposite side of
The stage. The readings are elevated to a
Greater extent as we close in on the wall-
Checked for power cables etc but found
Nothing to account for the elevation.

Richard detected high background EMF readings inside the tool room and also in
One spot backstage, which disappeared completely five minutes later when he
Checked again. No equipment had been moved or switched off that might
Account for this sudden reading loss.

On a side note: While taking the initial EMF readings we all noticed that in the
Main theatre area we had a family of bats helping with the investigation.

EMF readings were taken at ½ hour intervals between 23:30 and 04:30 in each
Of the predetermined locations.
Temperatures were measured on the
Stage and in Mary's private box.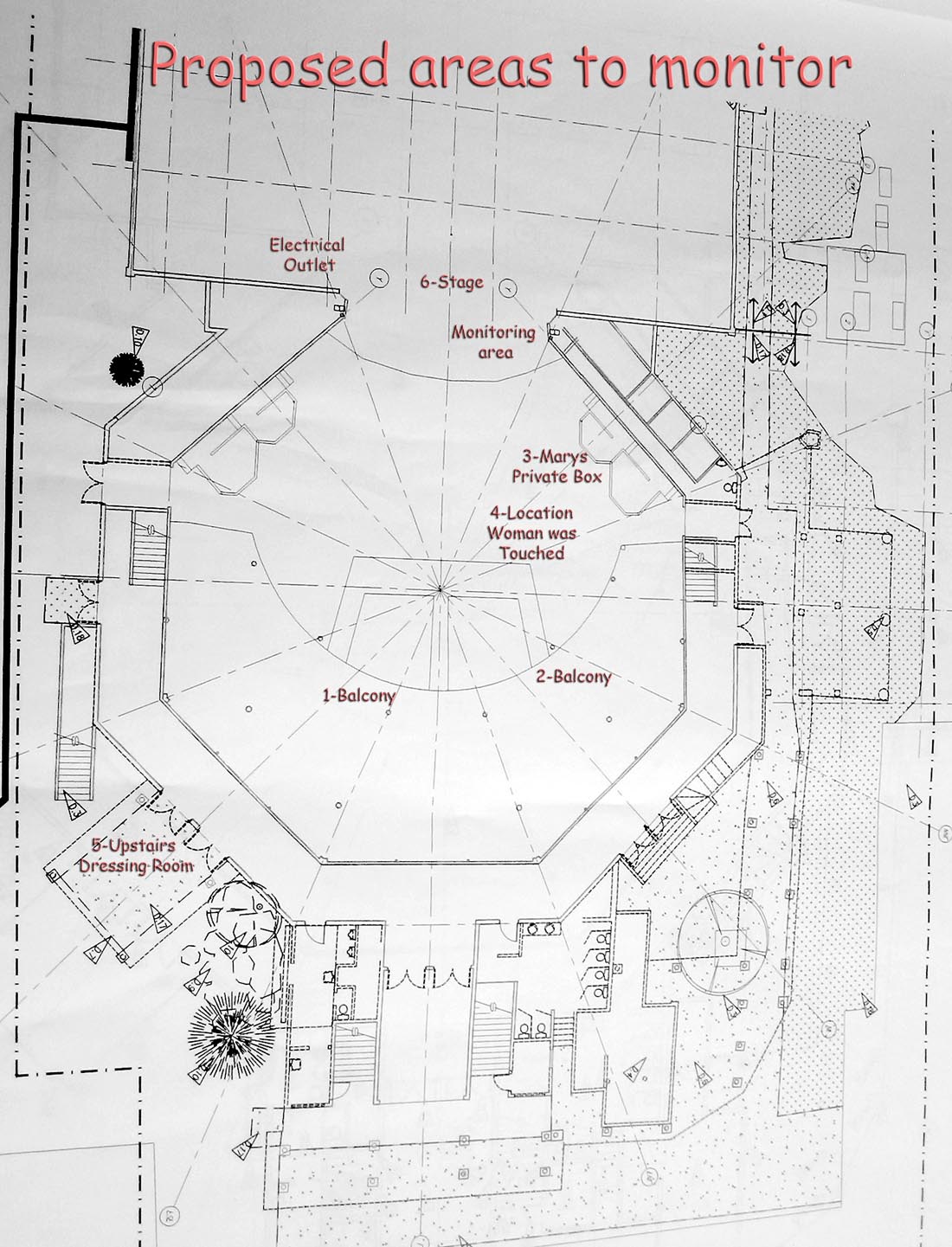 The temperature throughout the evening was an
Average of 80 Degrees on the stage
And 77 Degrees in Mary's box.

No unusual changes in temperature were noted.

11:55
EMF in front of projector booth pulsing to 3mg intermittently. No immediate explanation available.

11:55
A cat from across the street started making noise, it took a while for us to determine that it was not inside the Theater.

12:50
Jeff was in seat 13 near Mary's box and the EMF meter that was steady at .6mg
Went to 3.5 and remained that way for approximately 7 minutes

2:40
smoke alarm went off in the pump room

While taking EMF readings the readings both
In front of Mary's seats and private box varied
From 1.5 – 3.5 milligauss

02:40
Fire alarm goes off, no idea why

02:58
A woman's voice singing a lullaby heard but
We cannot trace the exact location, it was determined to be coming from outside but not exactly where.

4:00
the team started to break down the
equipment and complete the on site investigation.

4:15
While removing equipment from the location Bryan hears "Banging" coming from
The exterior North stairs leading to the balcony. The location was searched and no
Explanation. This was most likely the foxes that had taken up residence in the Theater trying to get
back into the location.

Conclusion:
Because of the lack of control of the area because of the production company we would need to return to
get any reliable readings.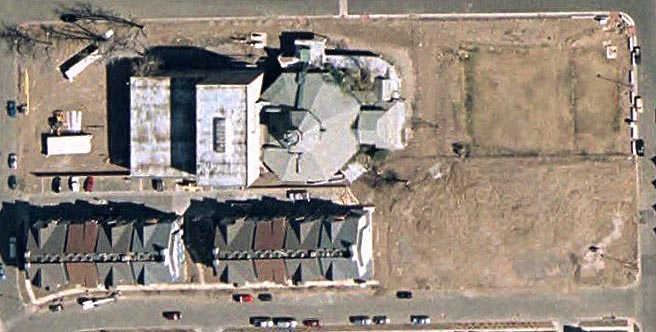 A follow up visit would be helpful to record the specific areas for a longer period of time.

References:
Denver's Elitch Gardens. Spinning a Century of Dreams. By Betty Lynne Hull

The Denver Newspaper Agency

Dr. Tom Noel

Historic Elitch Gardens Theatre Foundation Kevin Causey
C.U. University of Colorado at Denver department of Theatre, Film, & Video Production
David Liban

The Denver public Library Western Photograph Collection

9 News

Six Flags

The Case For Ghosts, an objective look at the paranormal. By J.A. Danelek