ABOUT US
CONTACT US
INVESTIGATIONS
EVENTS/CLASSES
IS IT A GHOST
ALIENS
YOUR GHOST STORIES
BOOK INTERVIEWS
---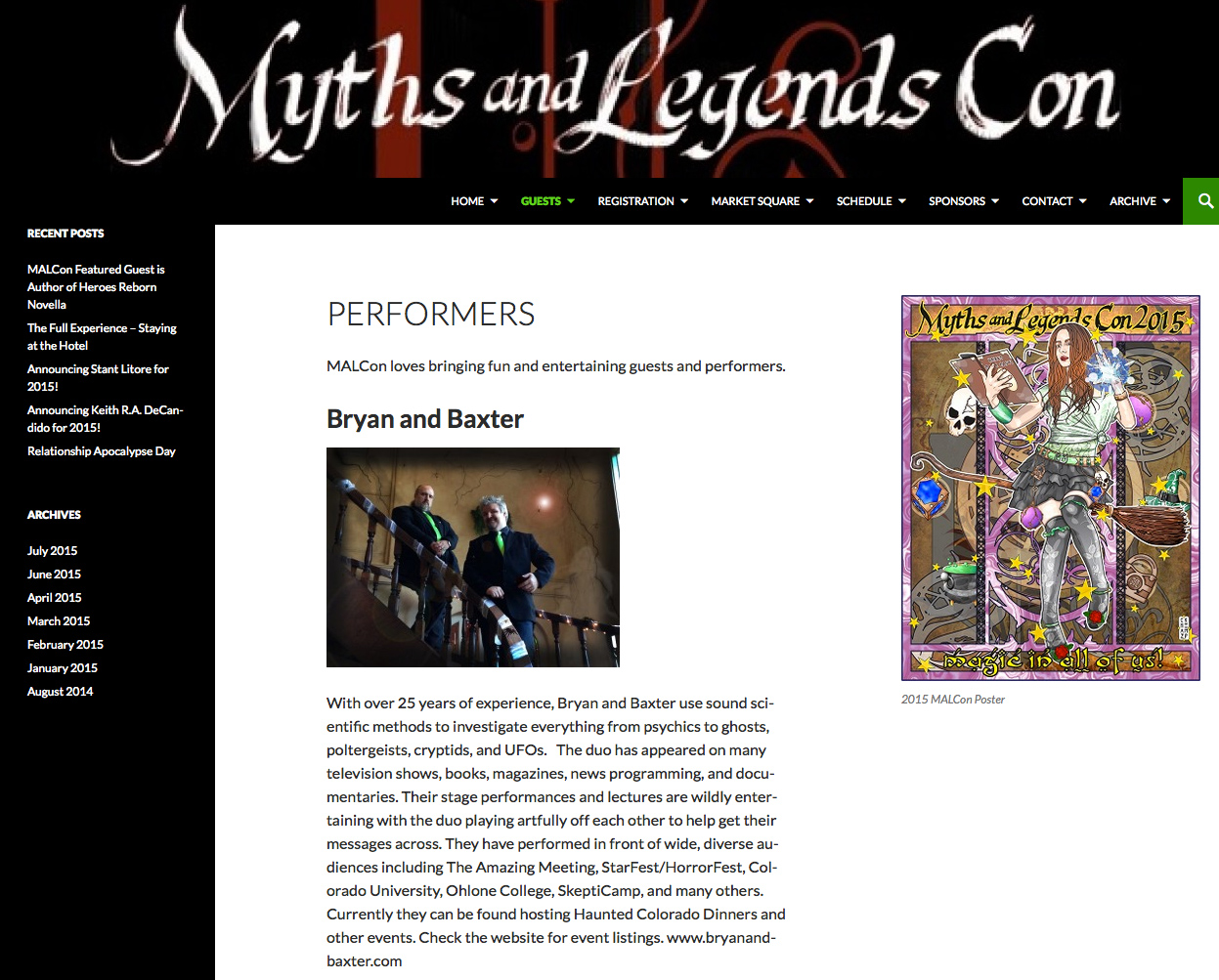 ---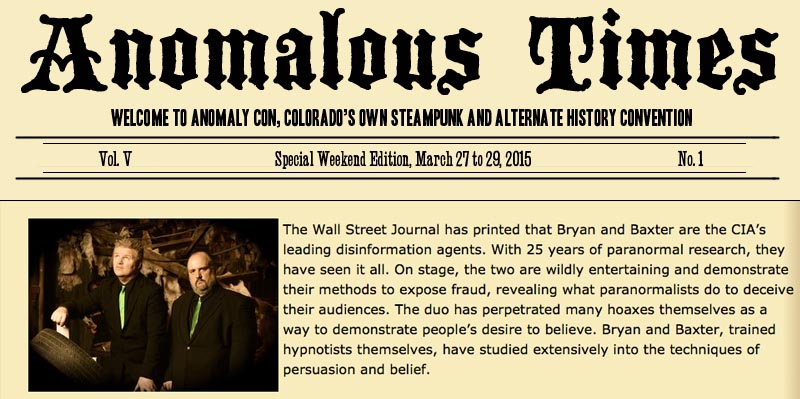 ---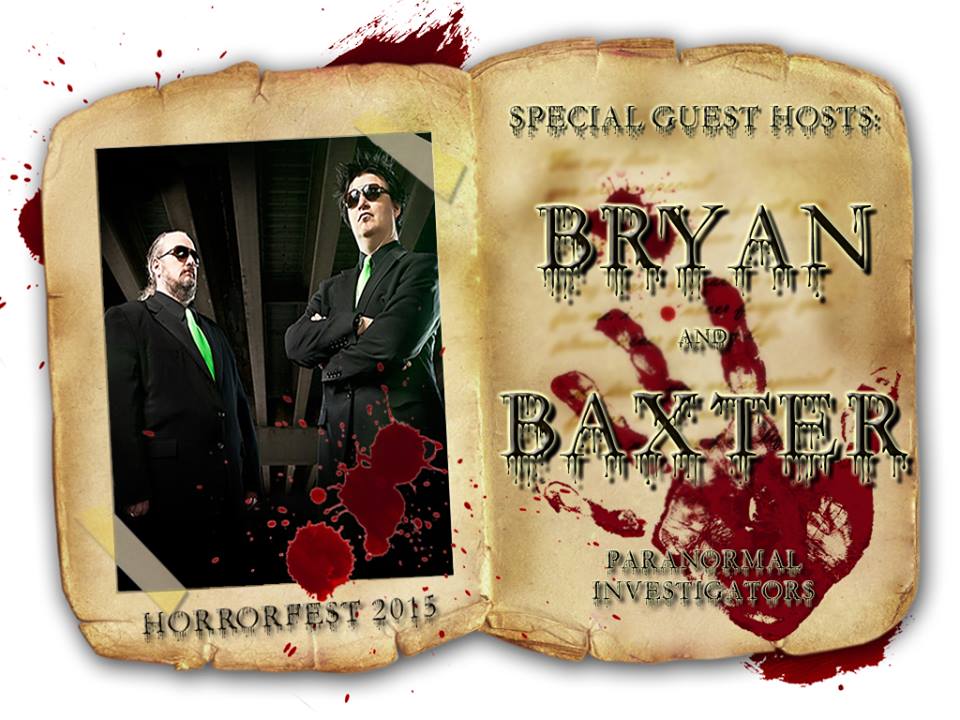 ---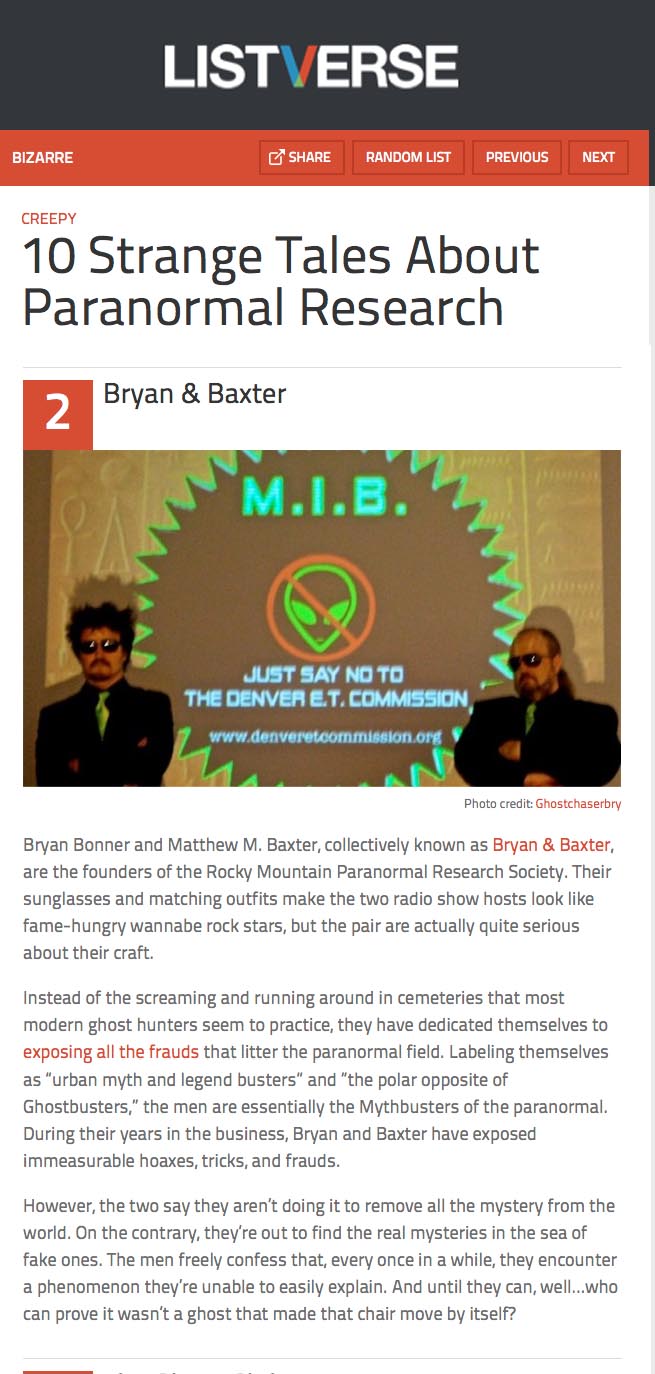 ---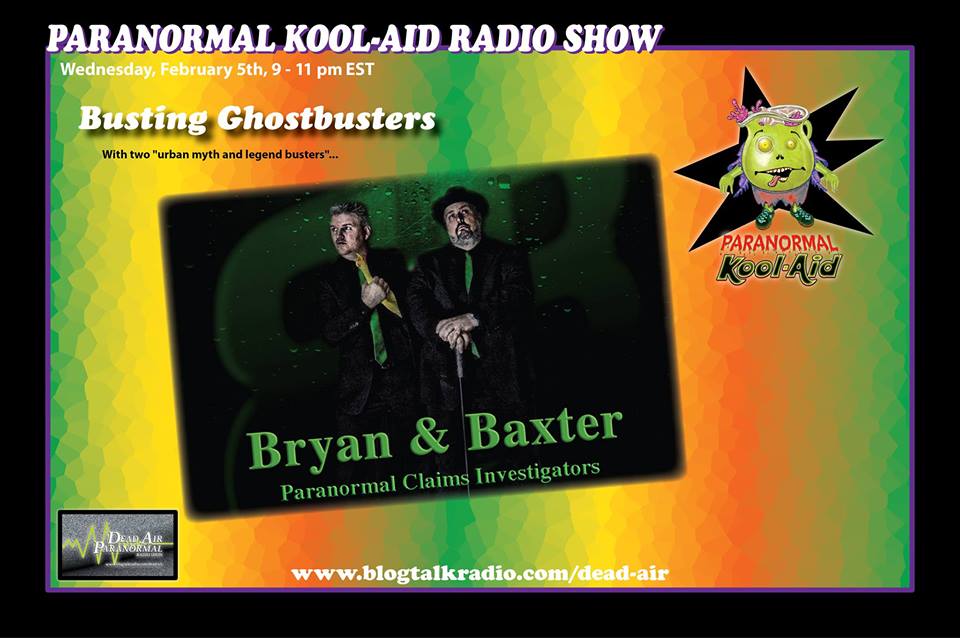 ---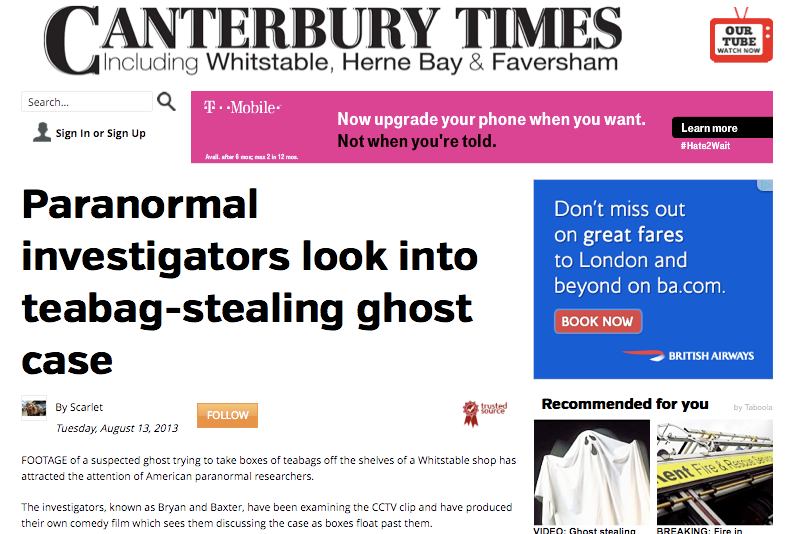 ---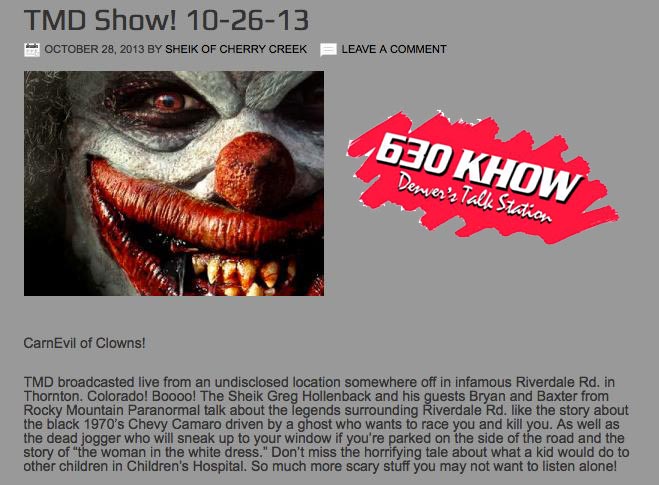 ---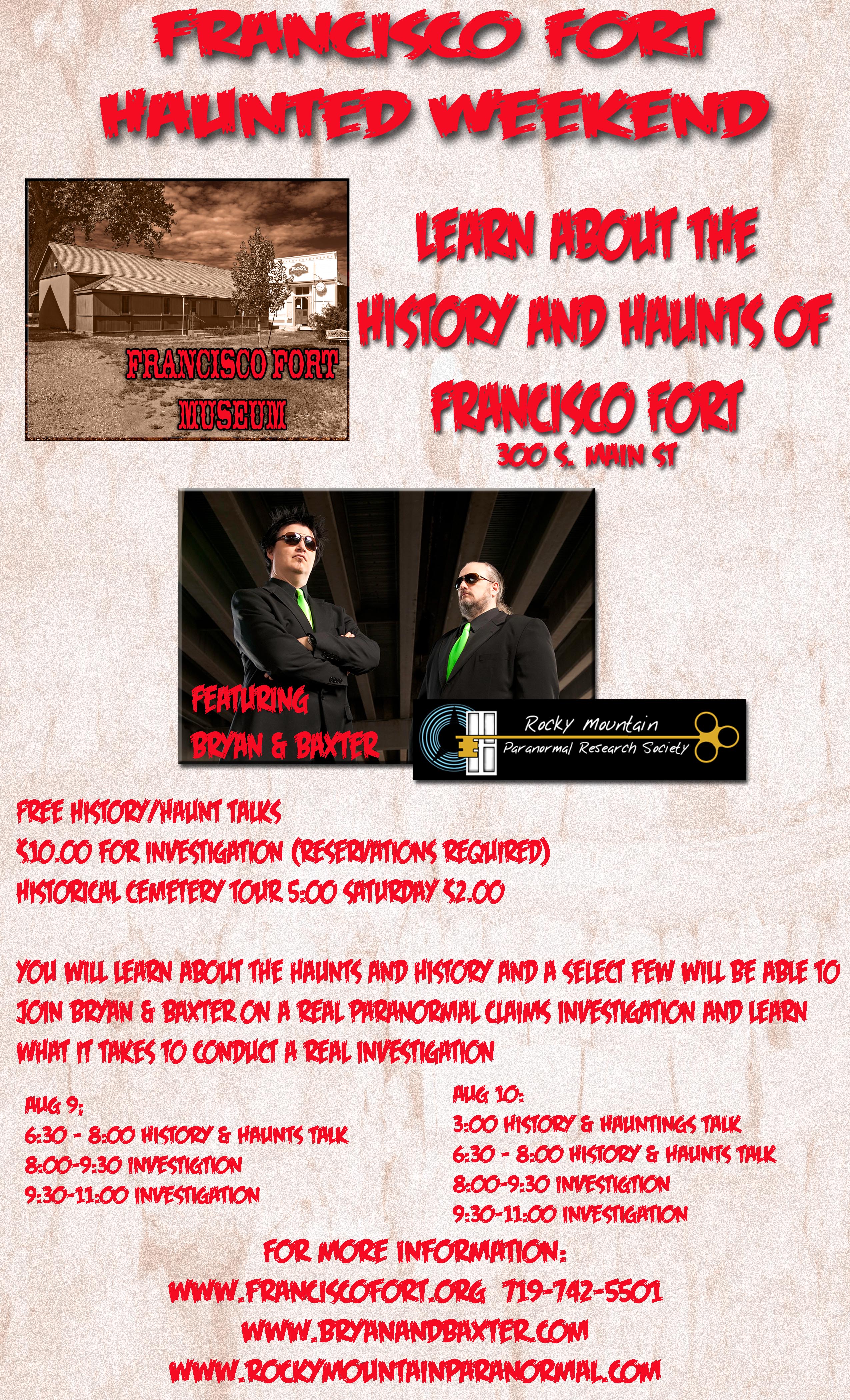 ---
The Amazing Meeting 2013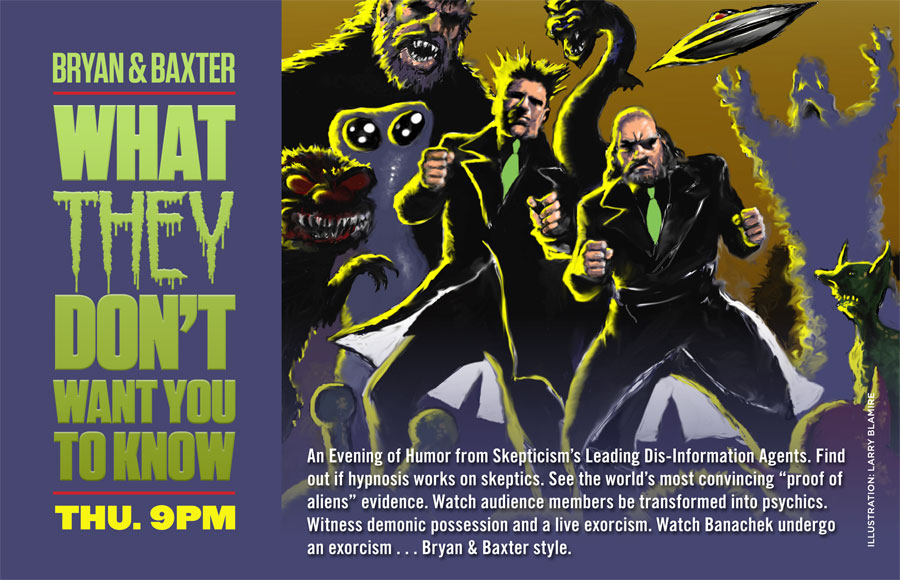 ---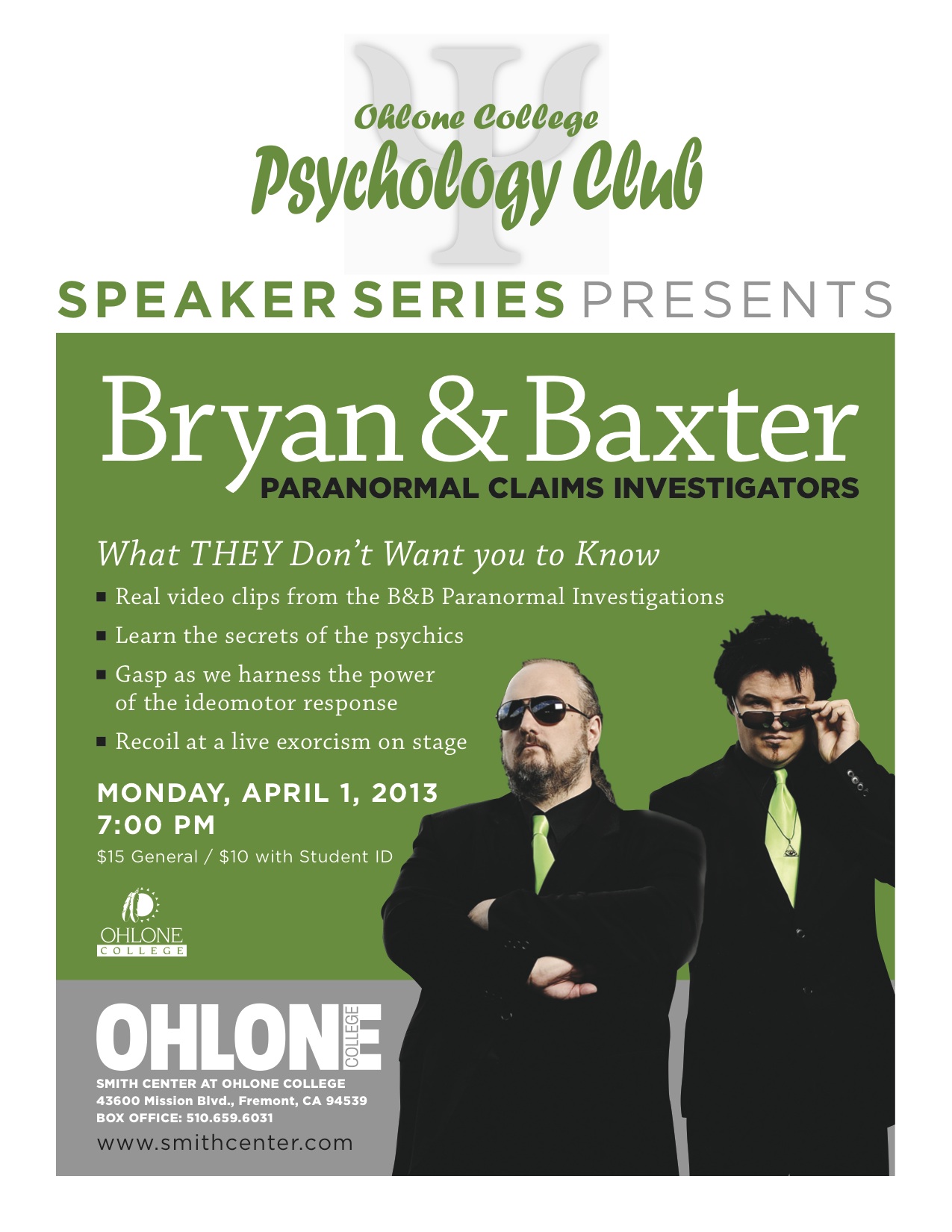 ---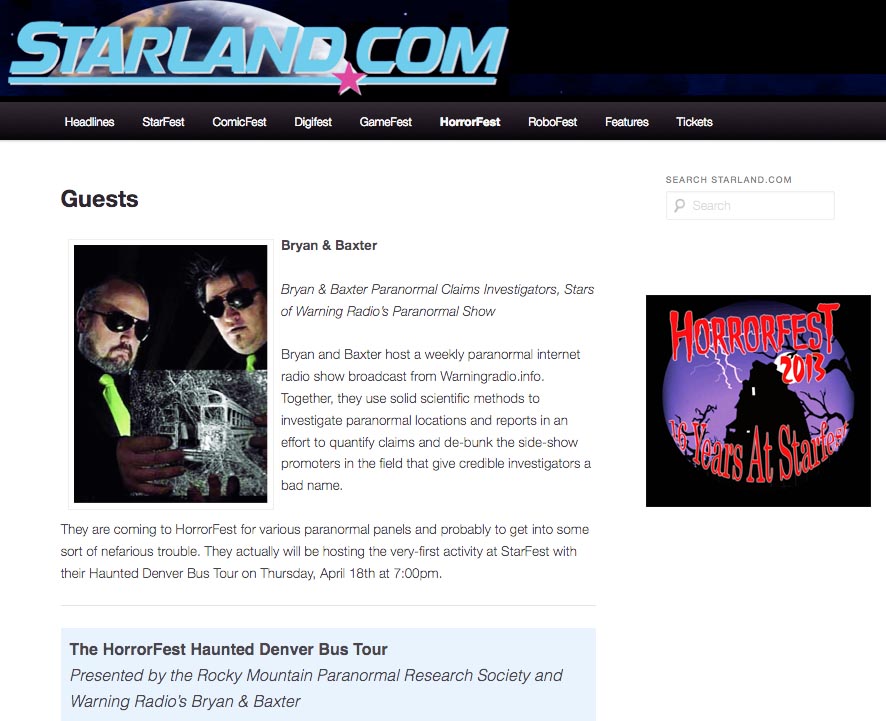 ---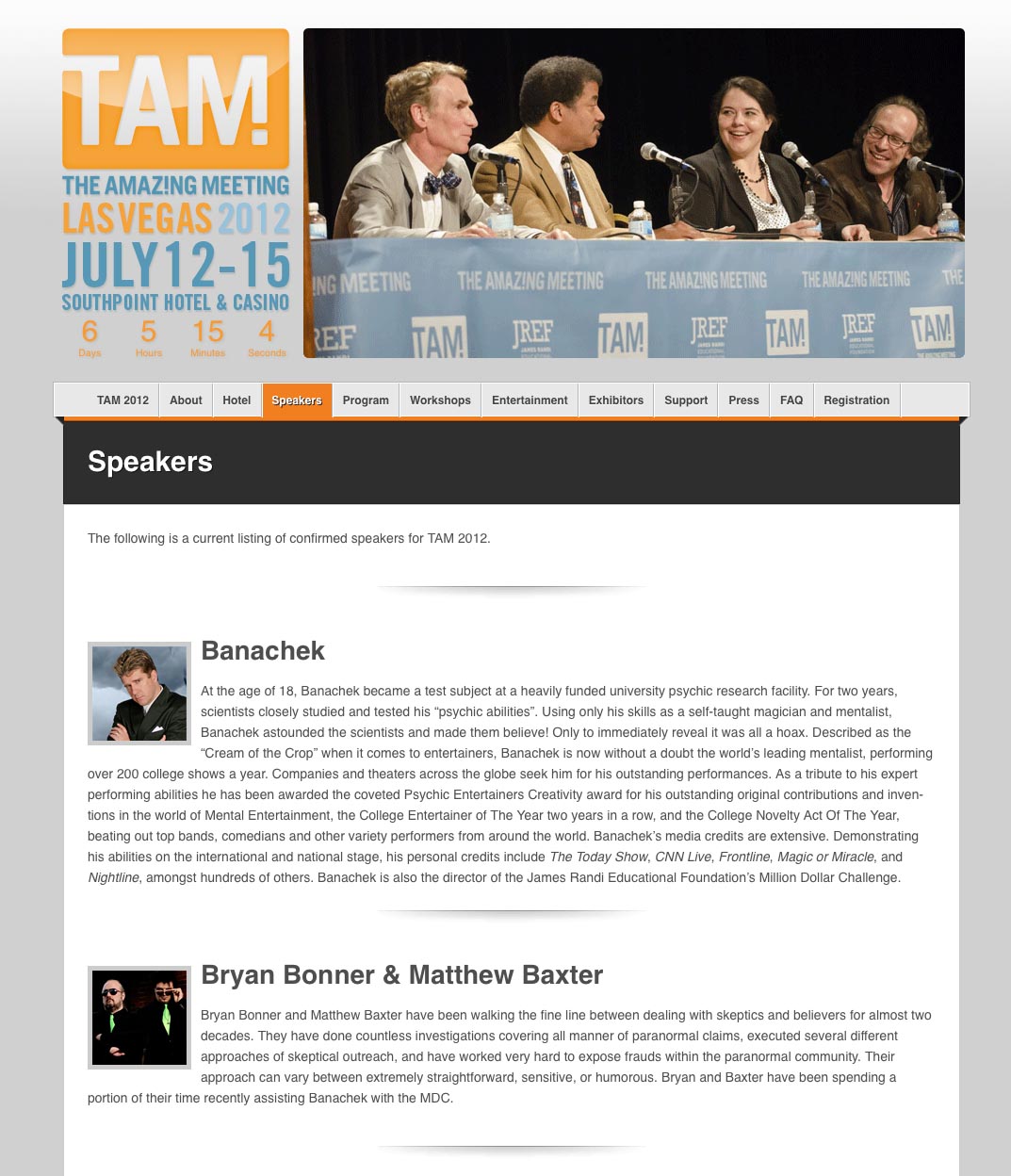 ---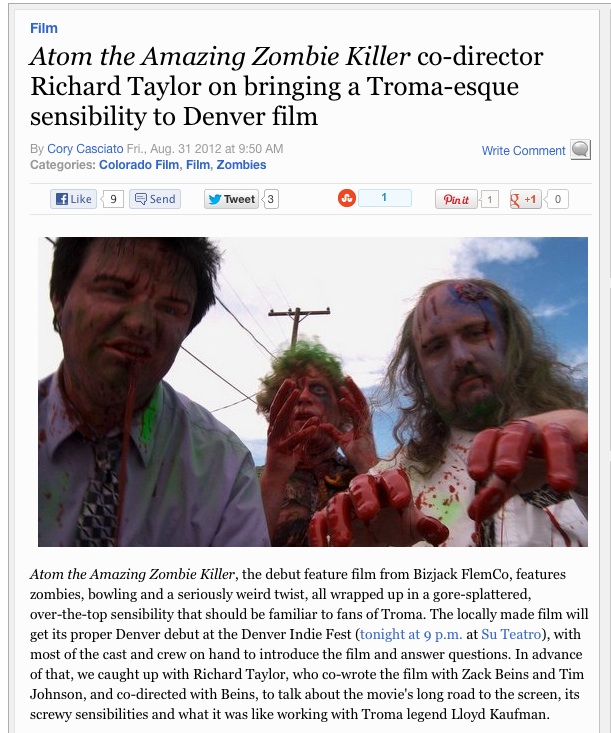 ---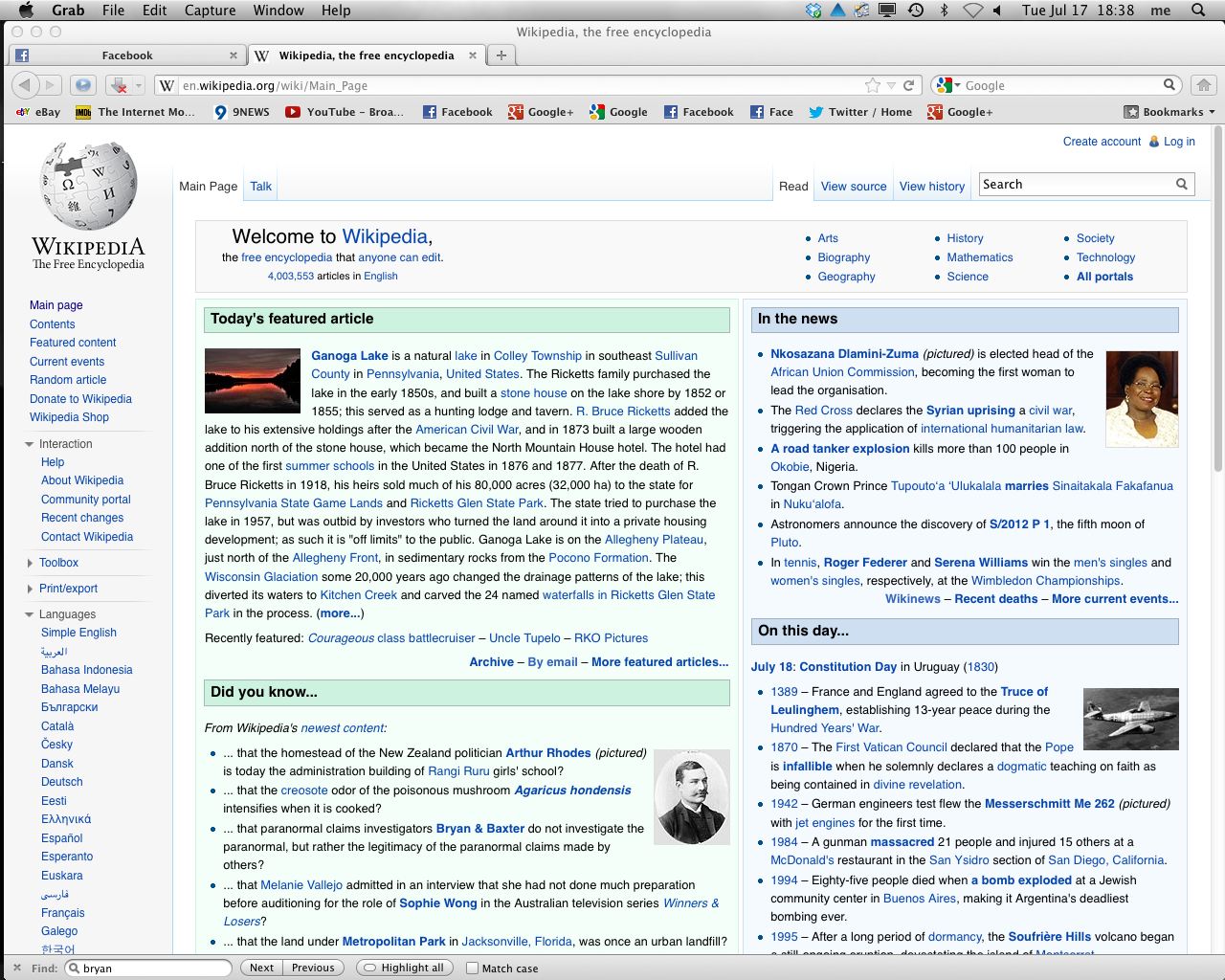 ---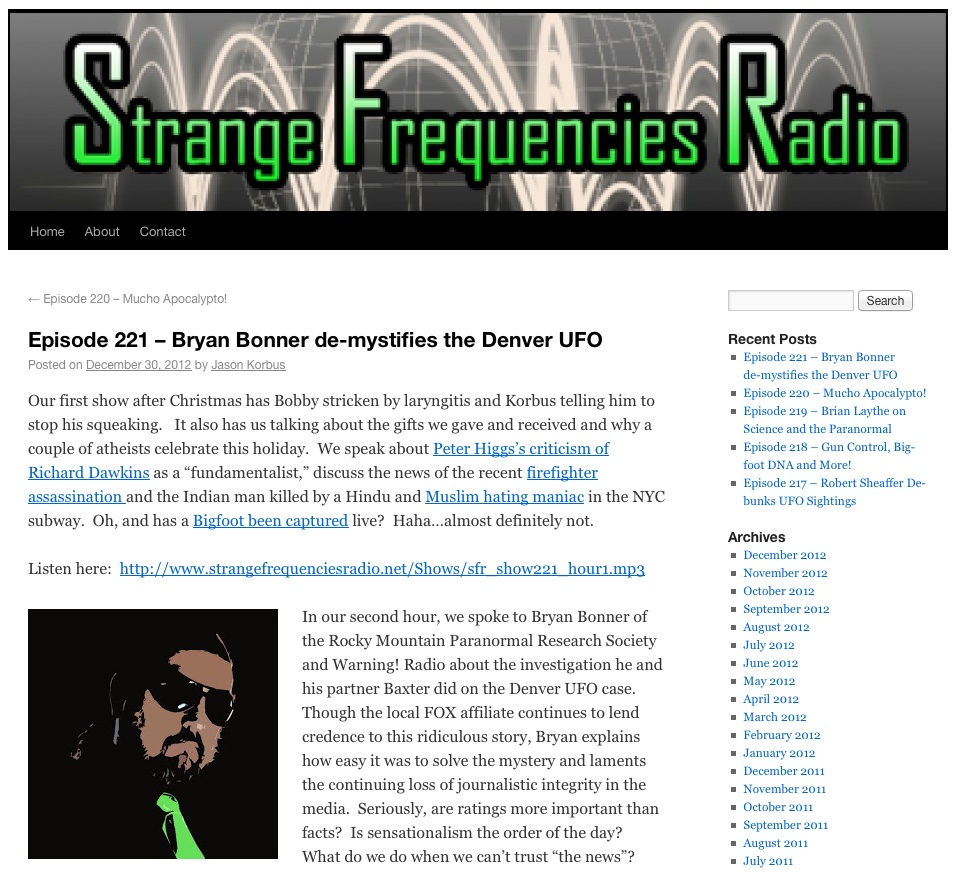 ---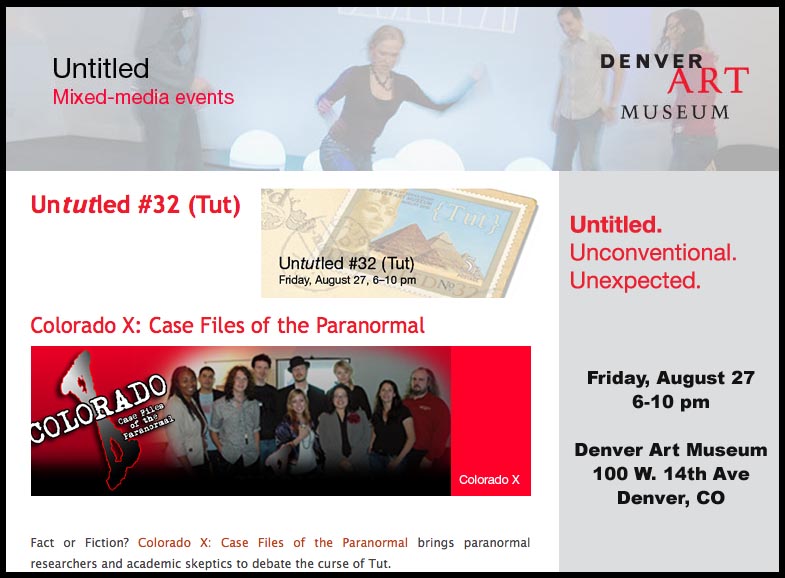 ---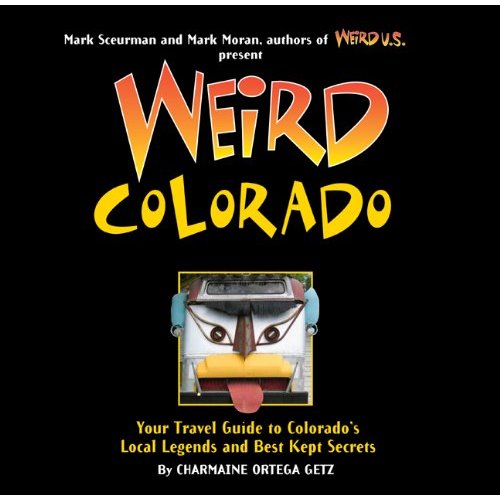 We are featured in the book Weird Colorado

---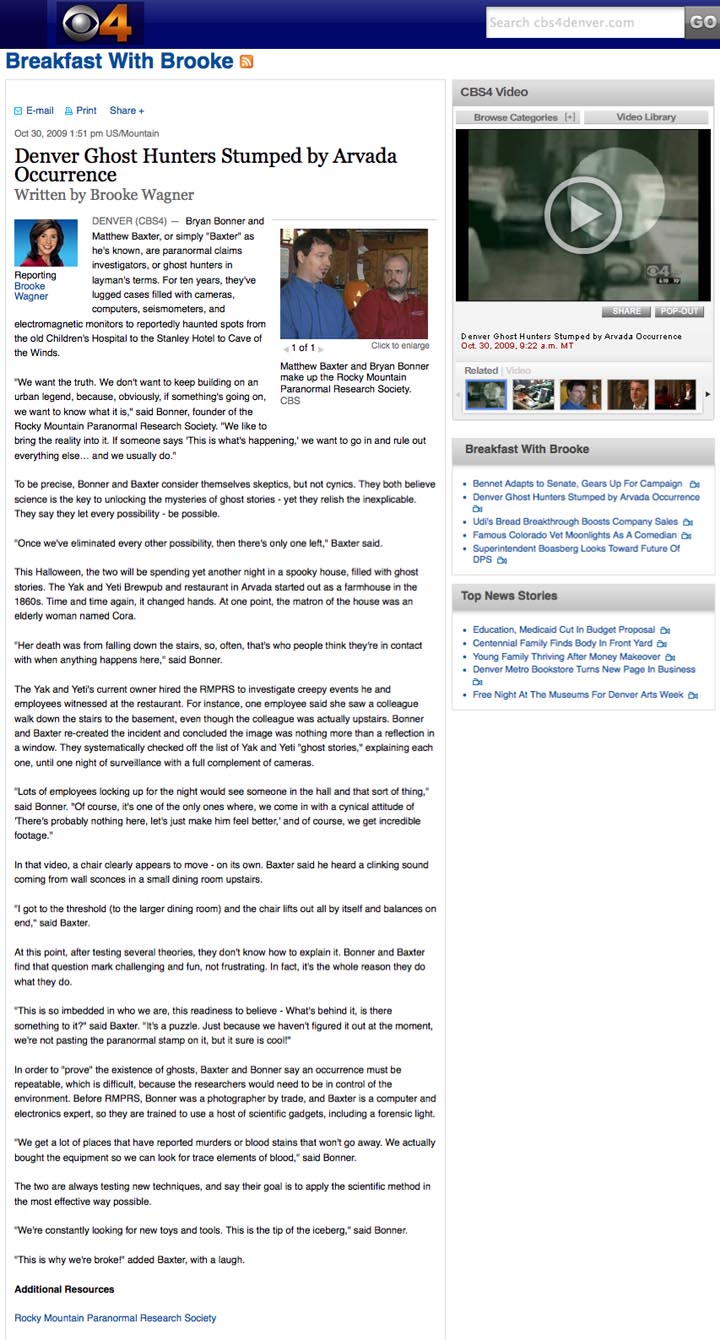 ---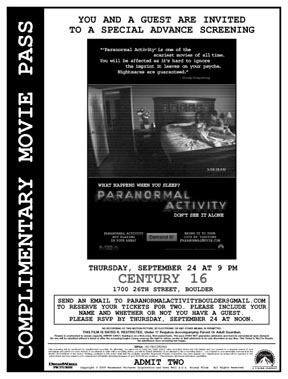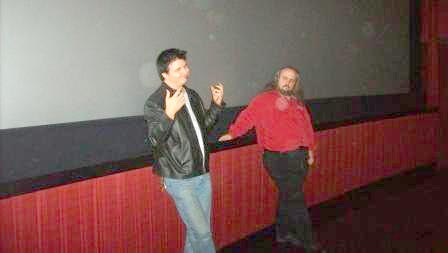 Bryan & Baxter speaking at the premiere of "Paranormal Activity"

---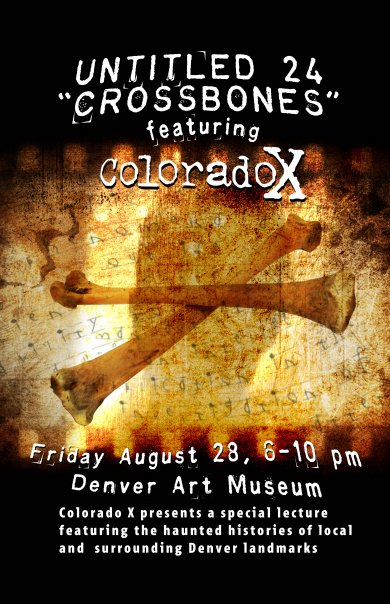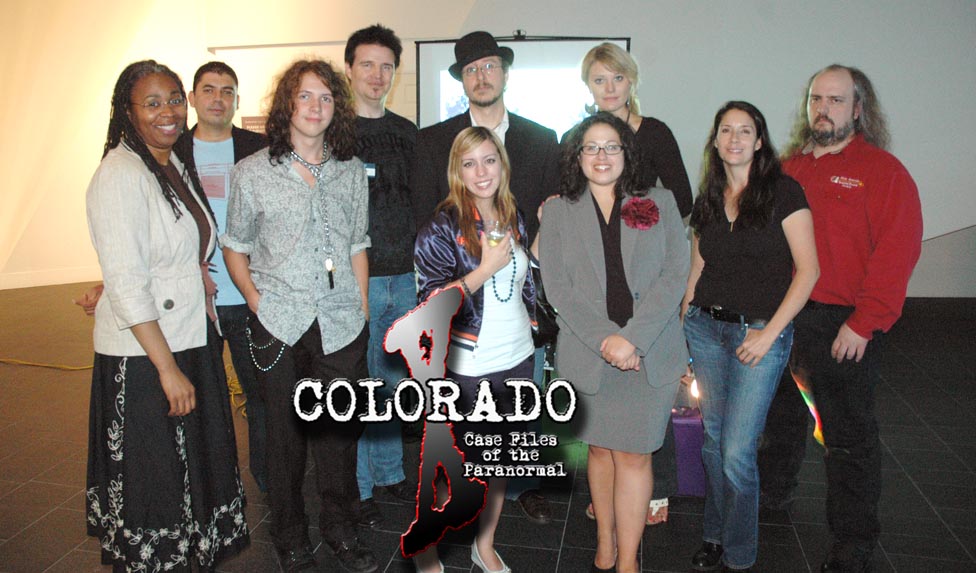 ---

---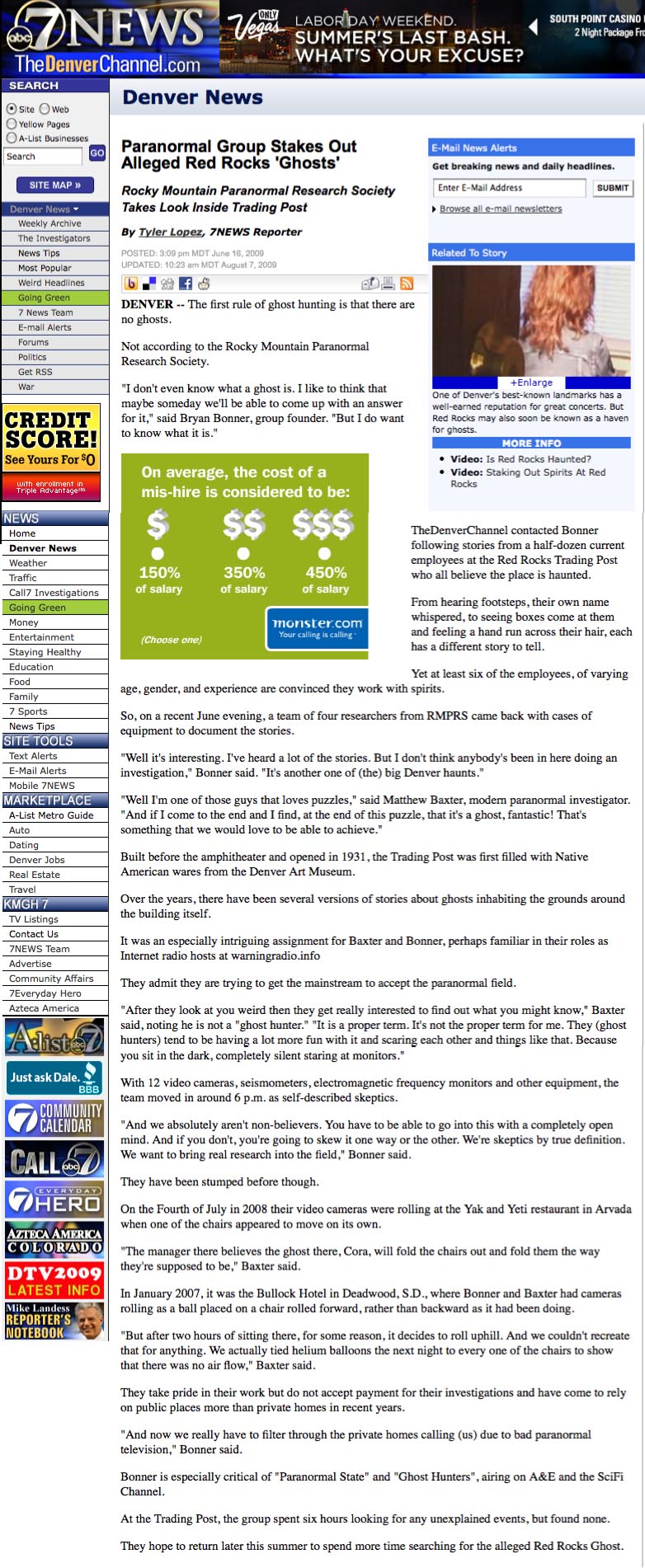 ---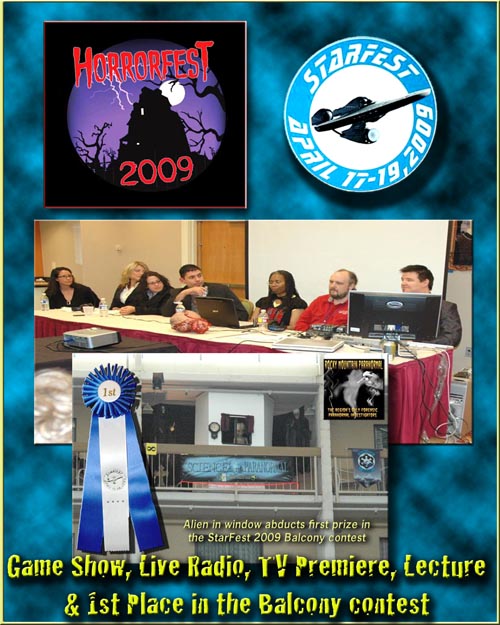 ---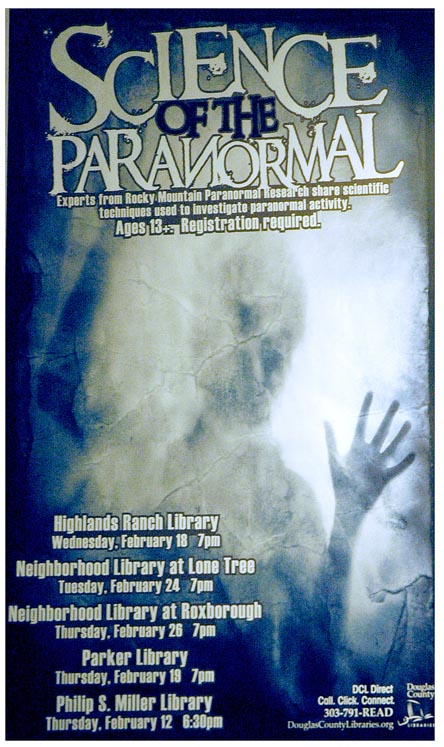 ---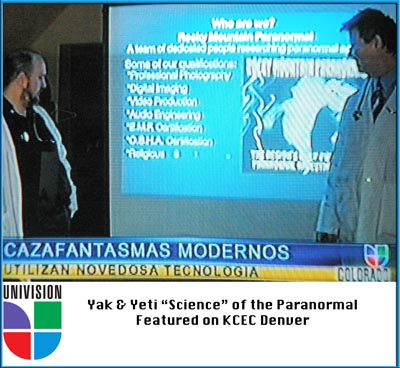 ---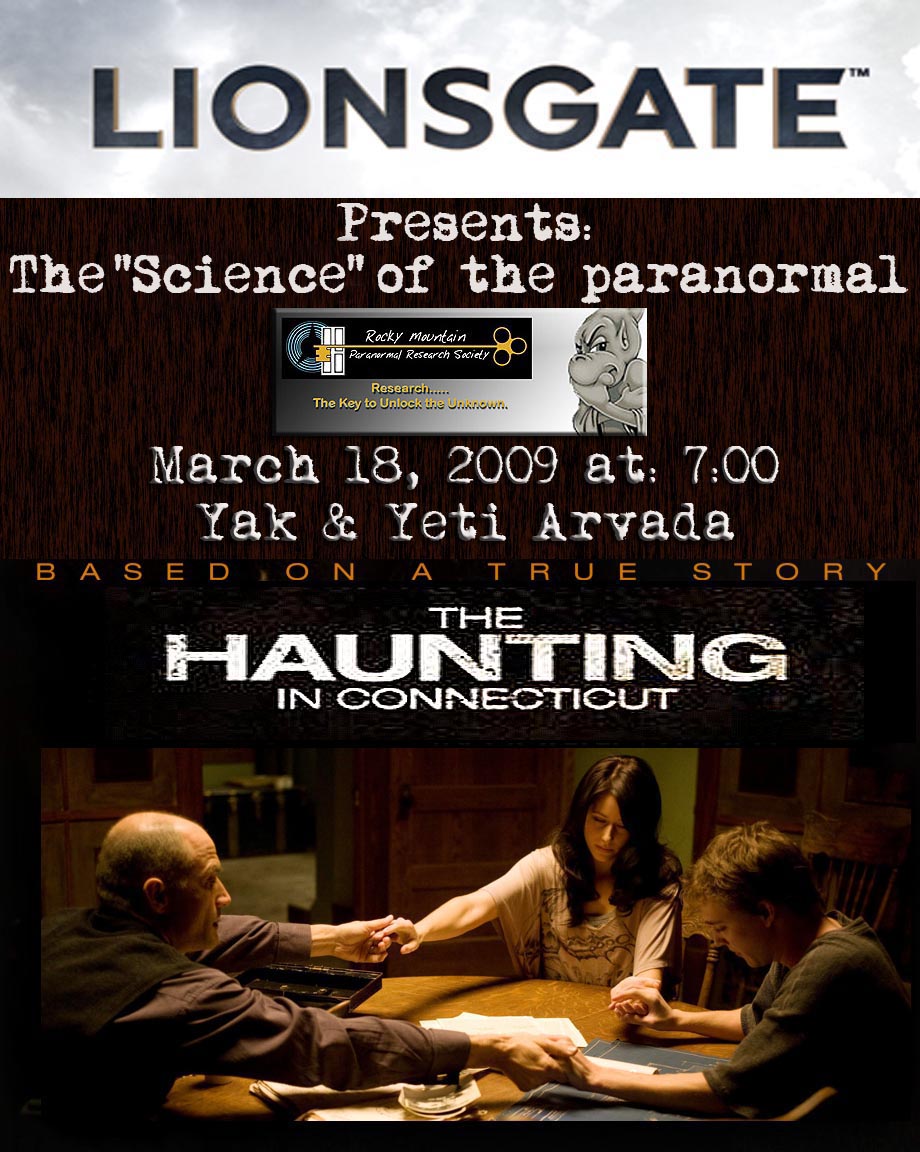 ---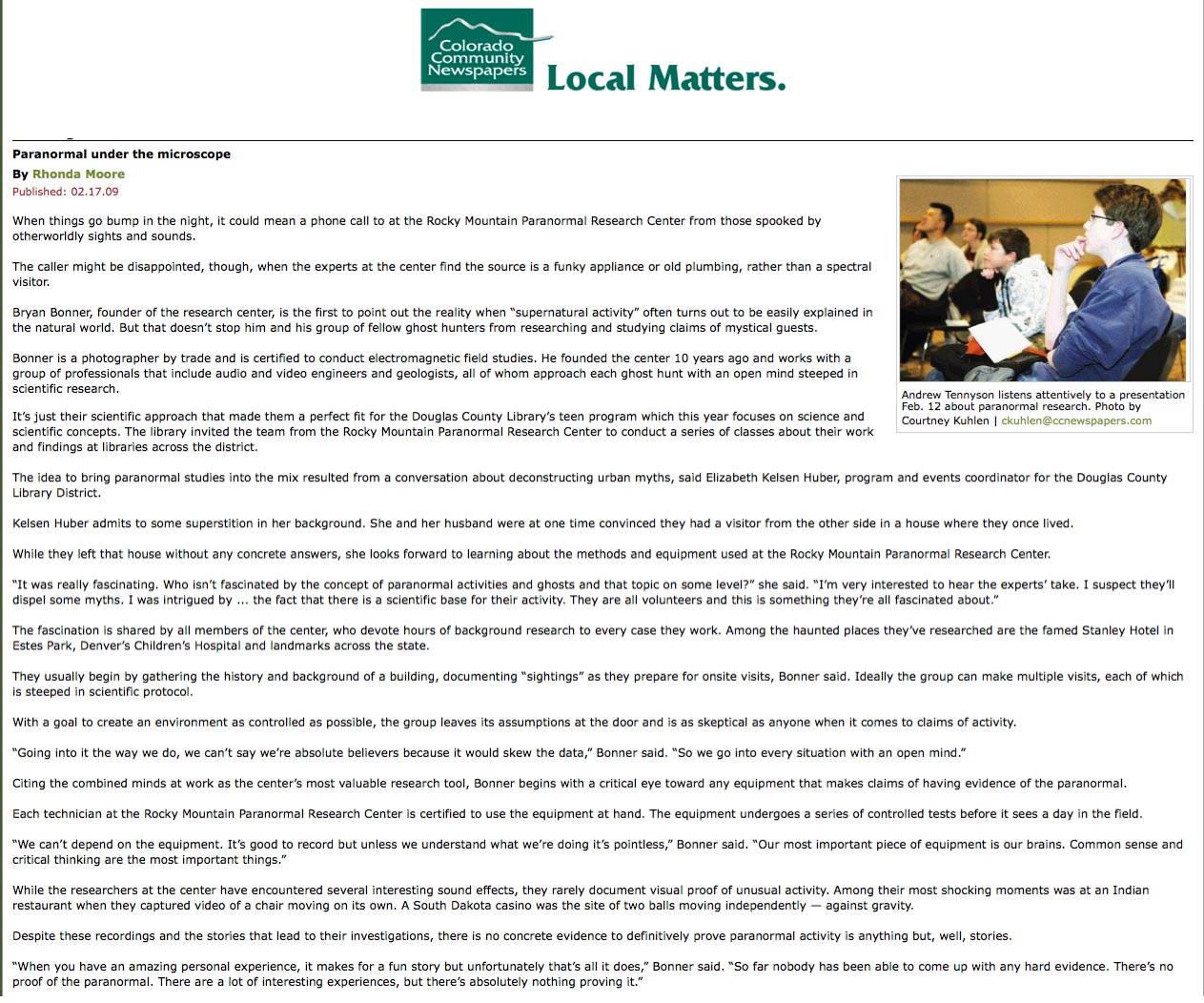 ---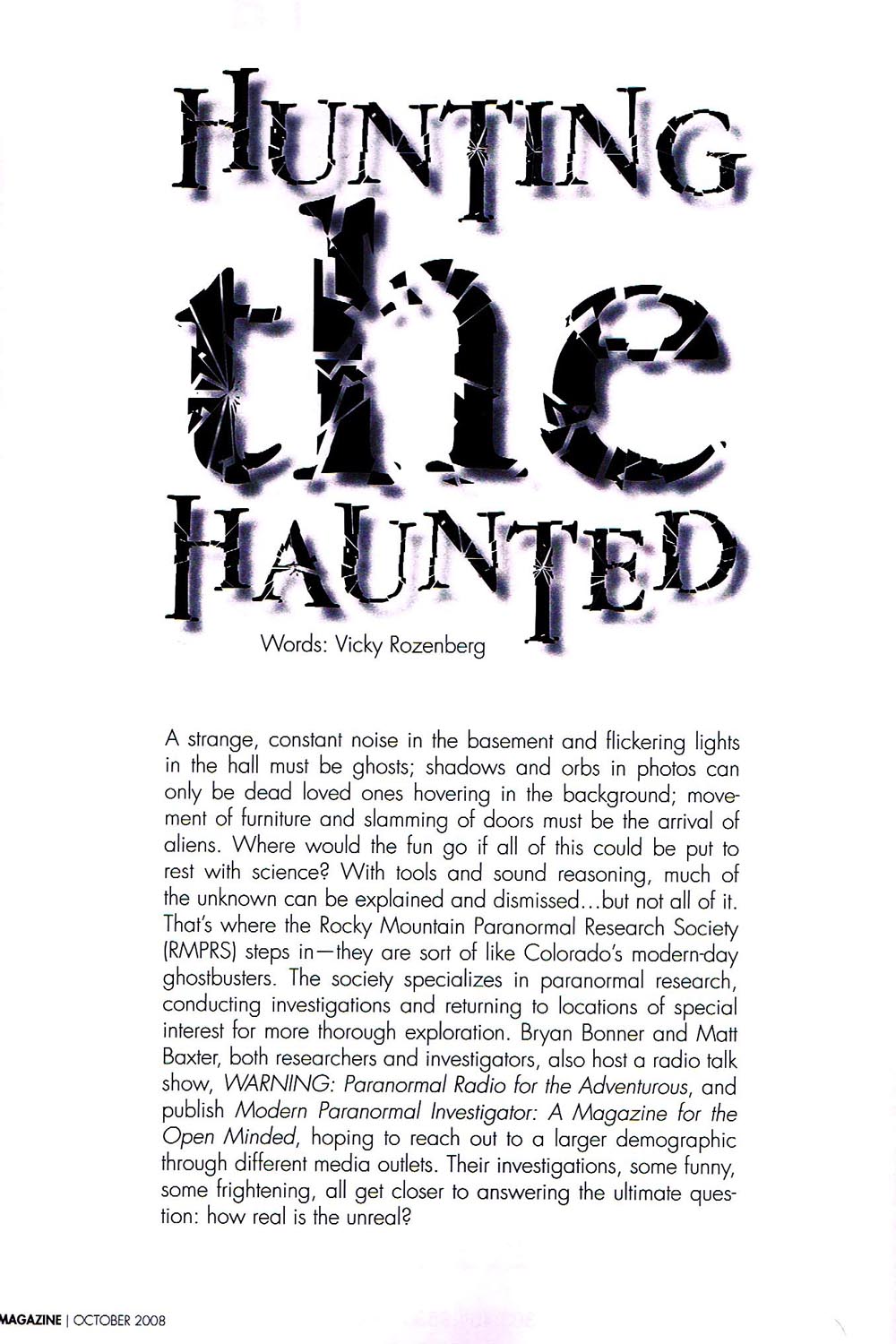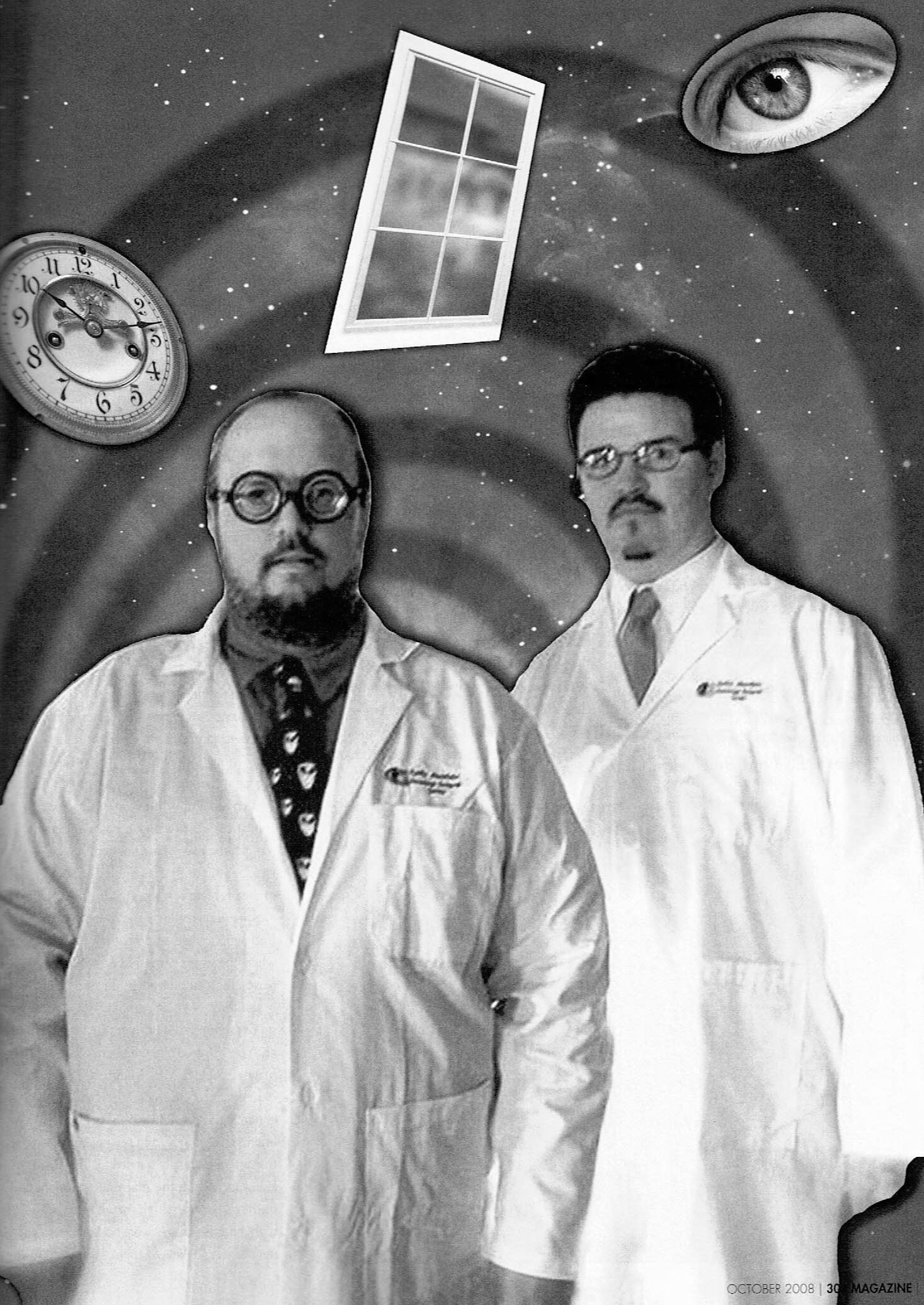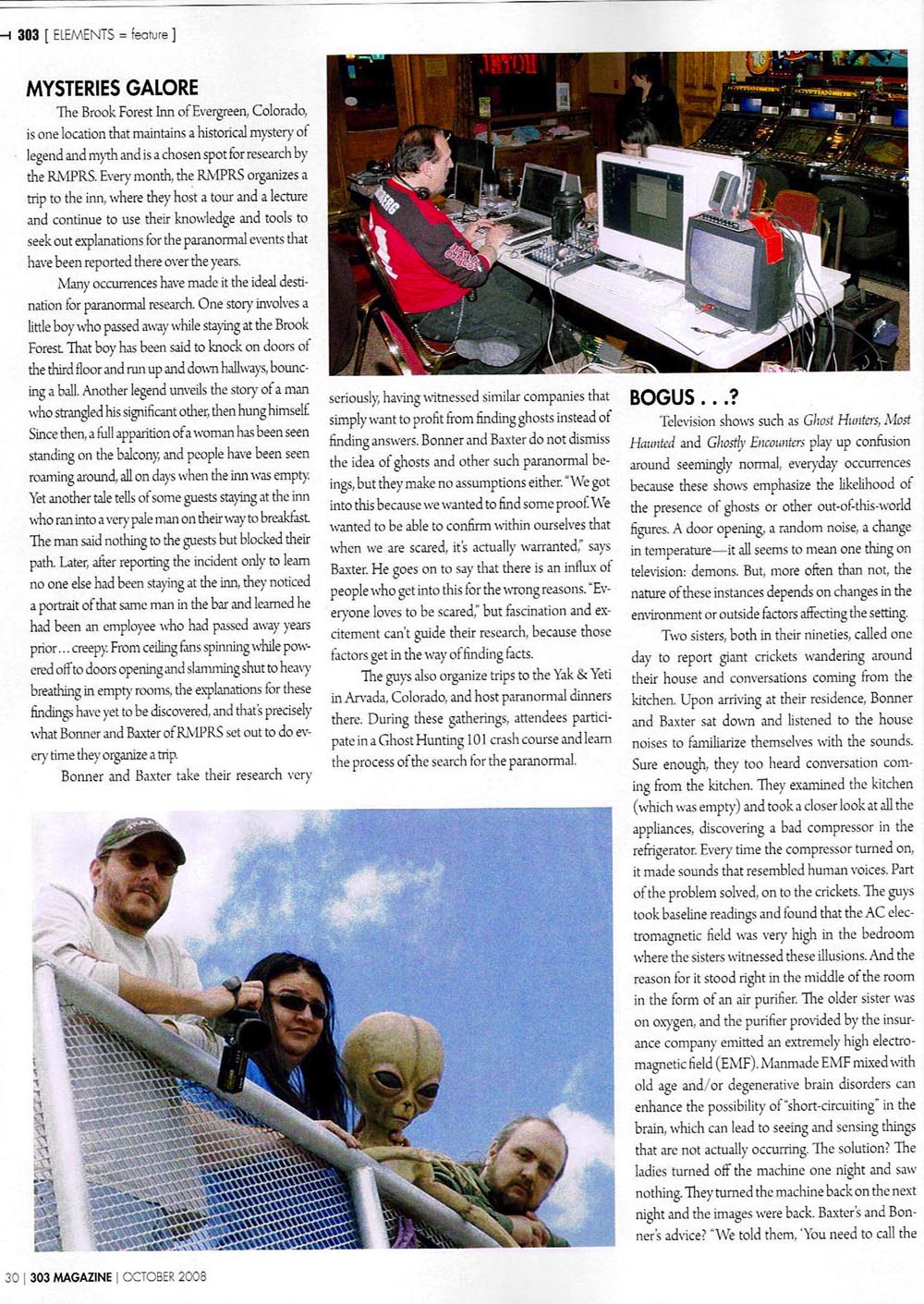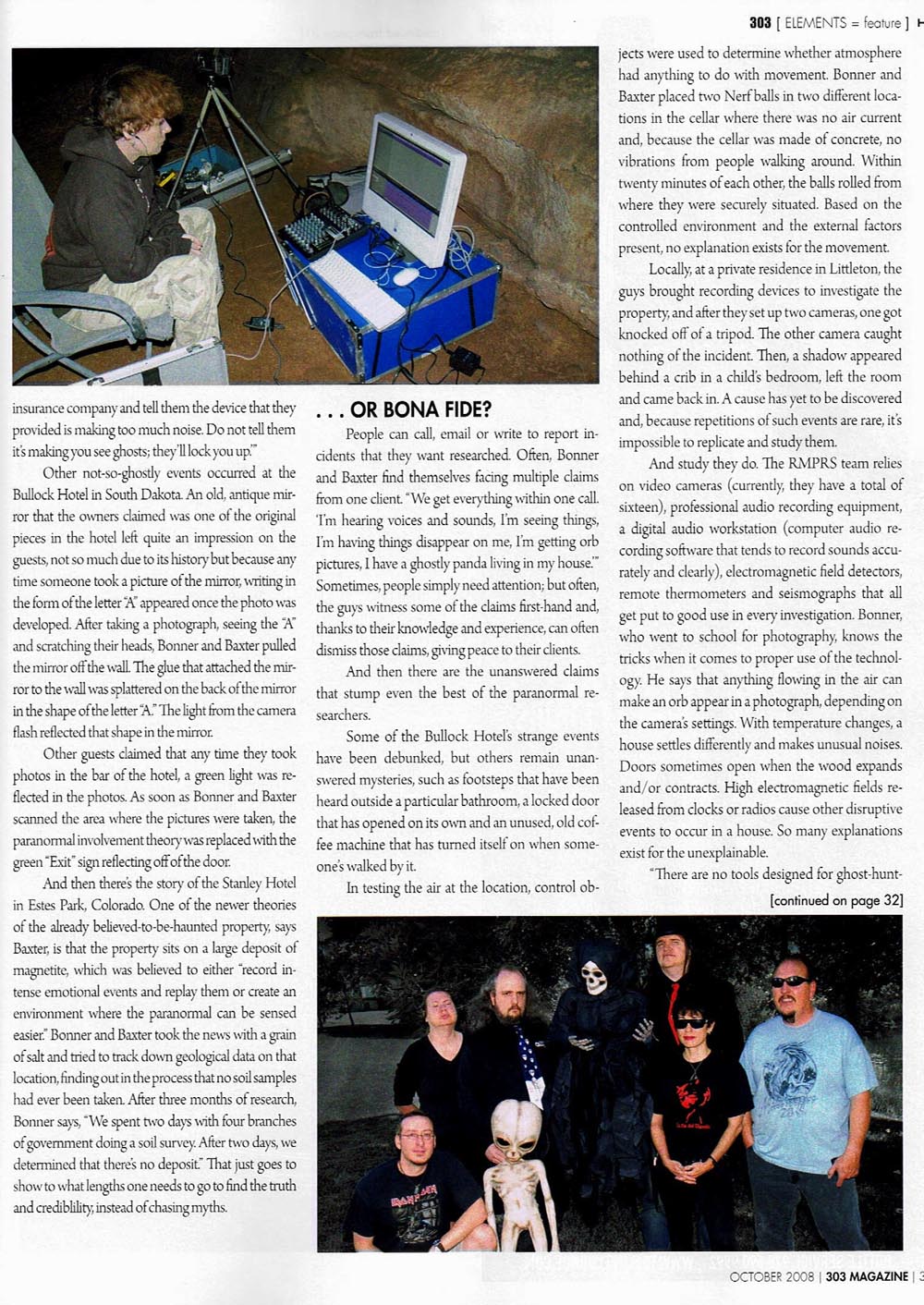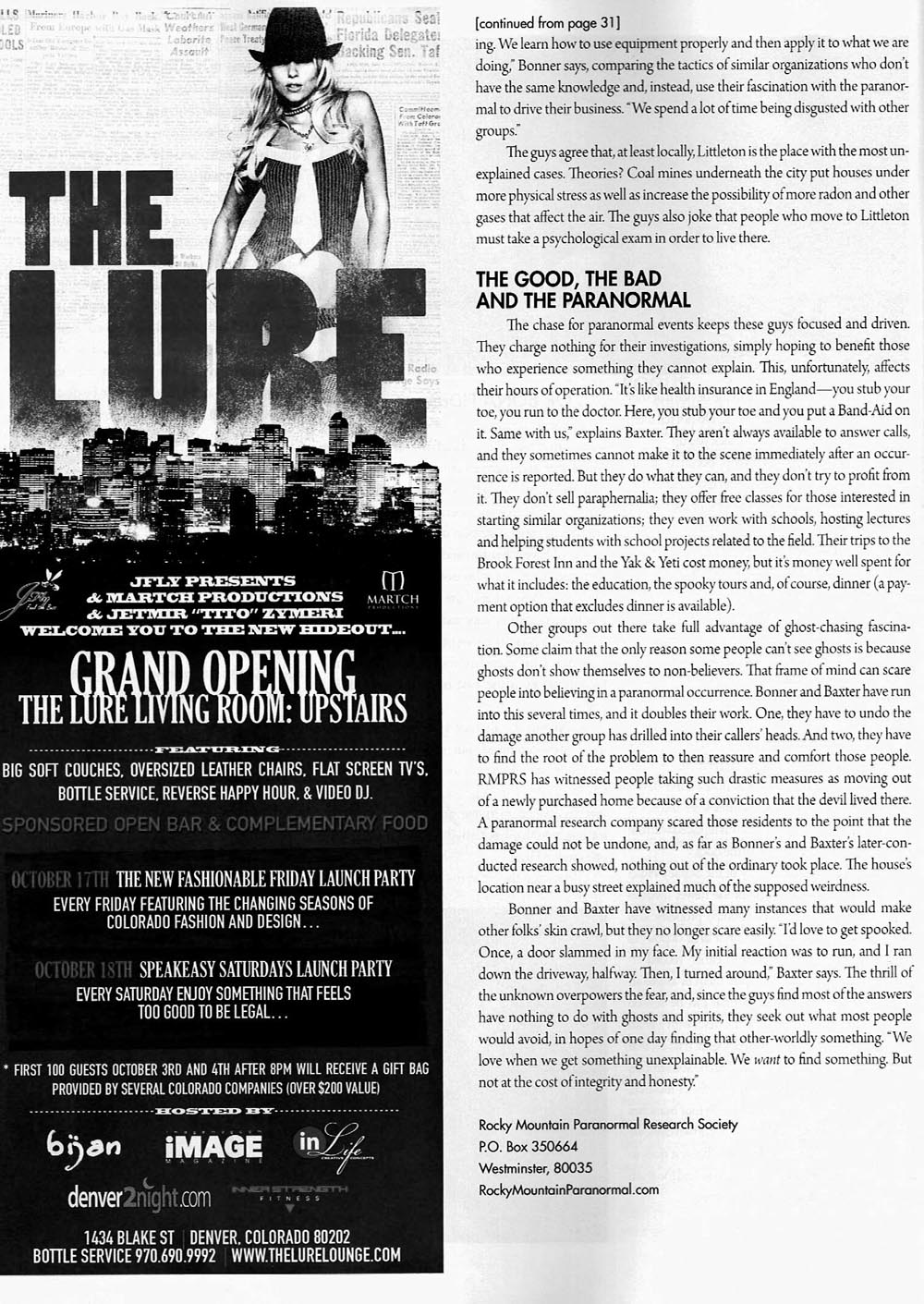 ---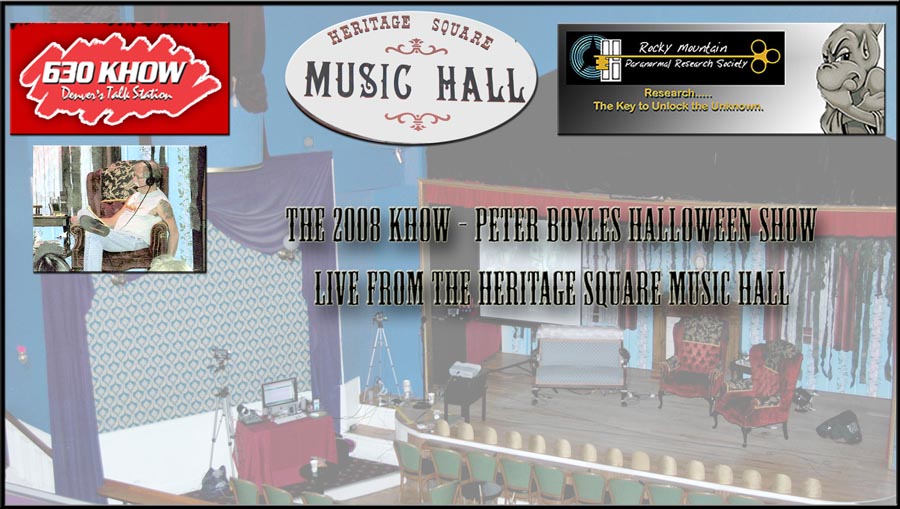 ---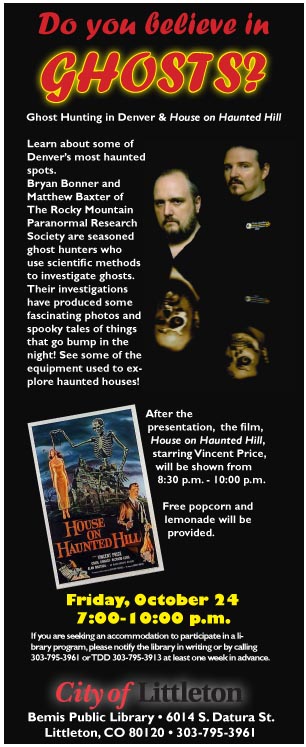 ---
Two books featuring Rocky Mountain Paranormal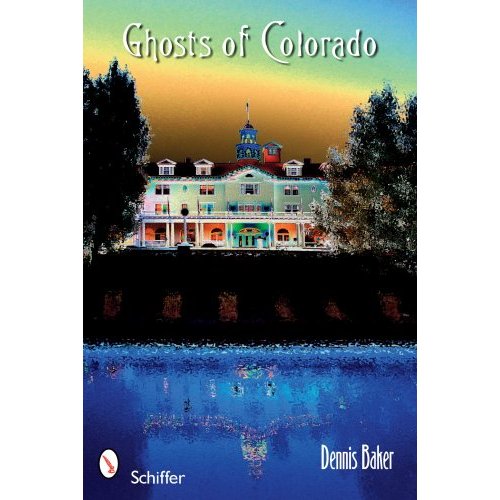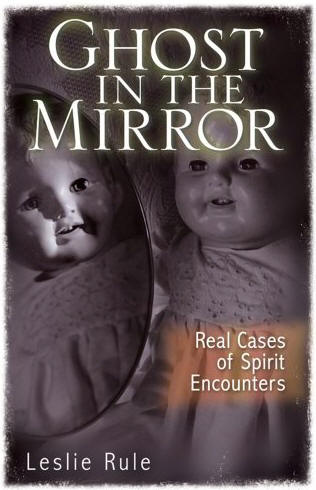 ---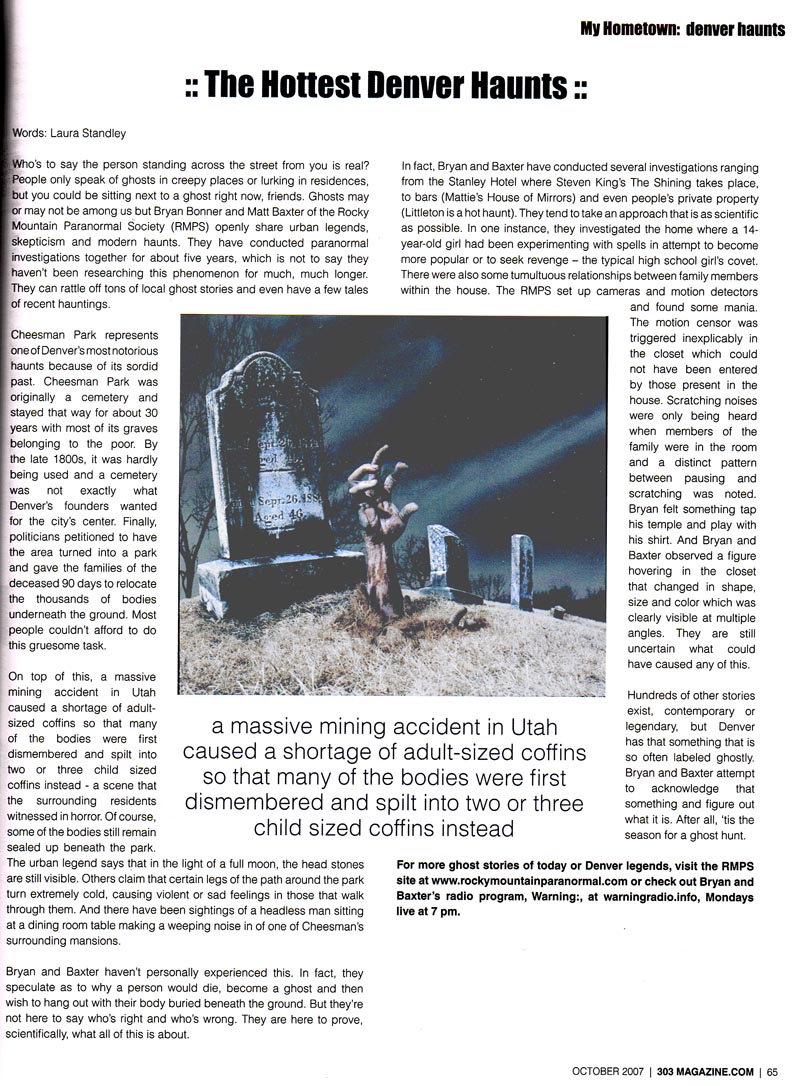 ---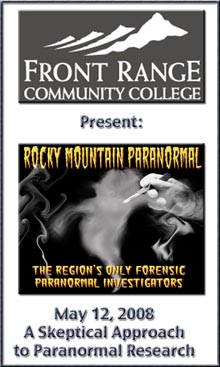 ---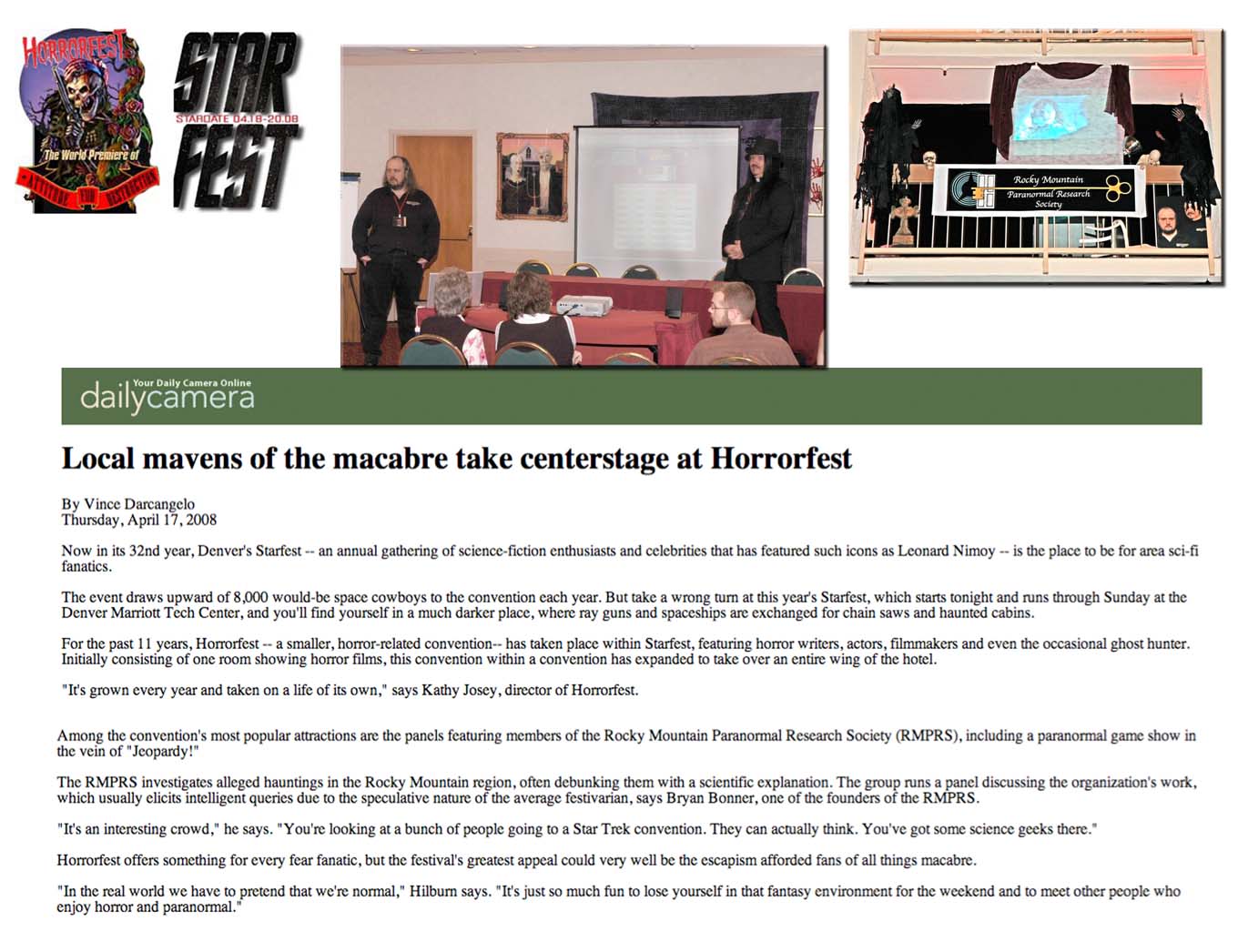 ---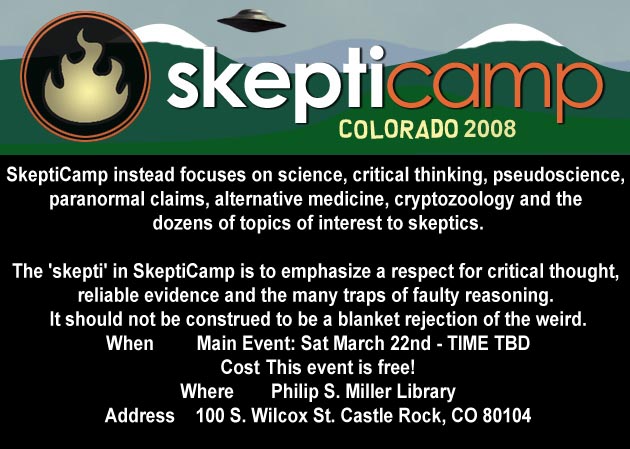 ---

Rocky Mountain Paranormal

Presented a lecture on the basics of Paranormal research
To the students of the Denver Academy 3/2008

---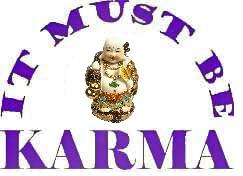 Sunday, February 24
It Must Be Karma
12008 Melody Drive
Westminster, CO 80234

---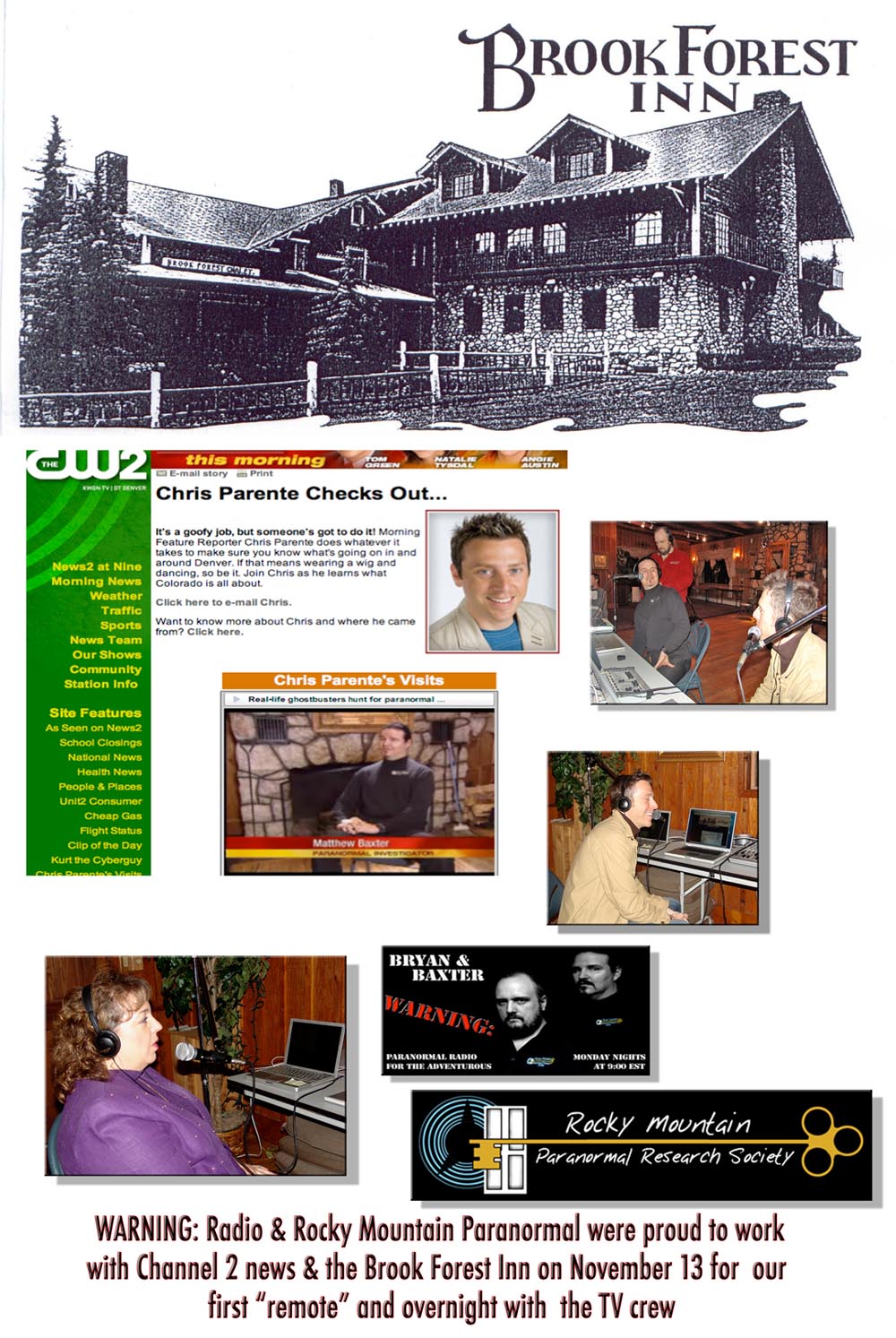 ---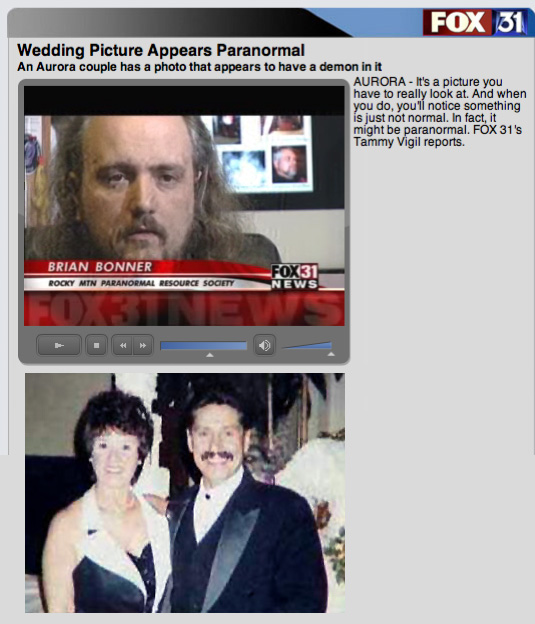 ---

---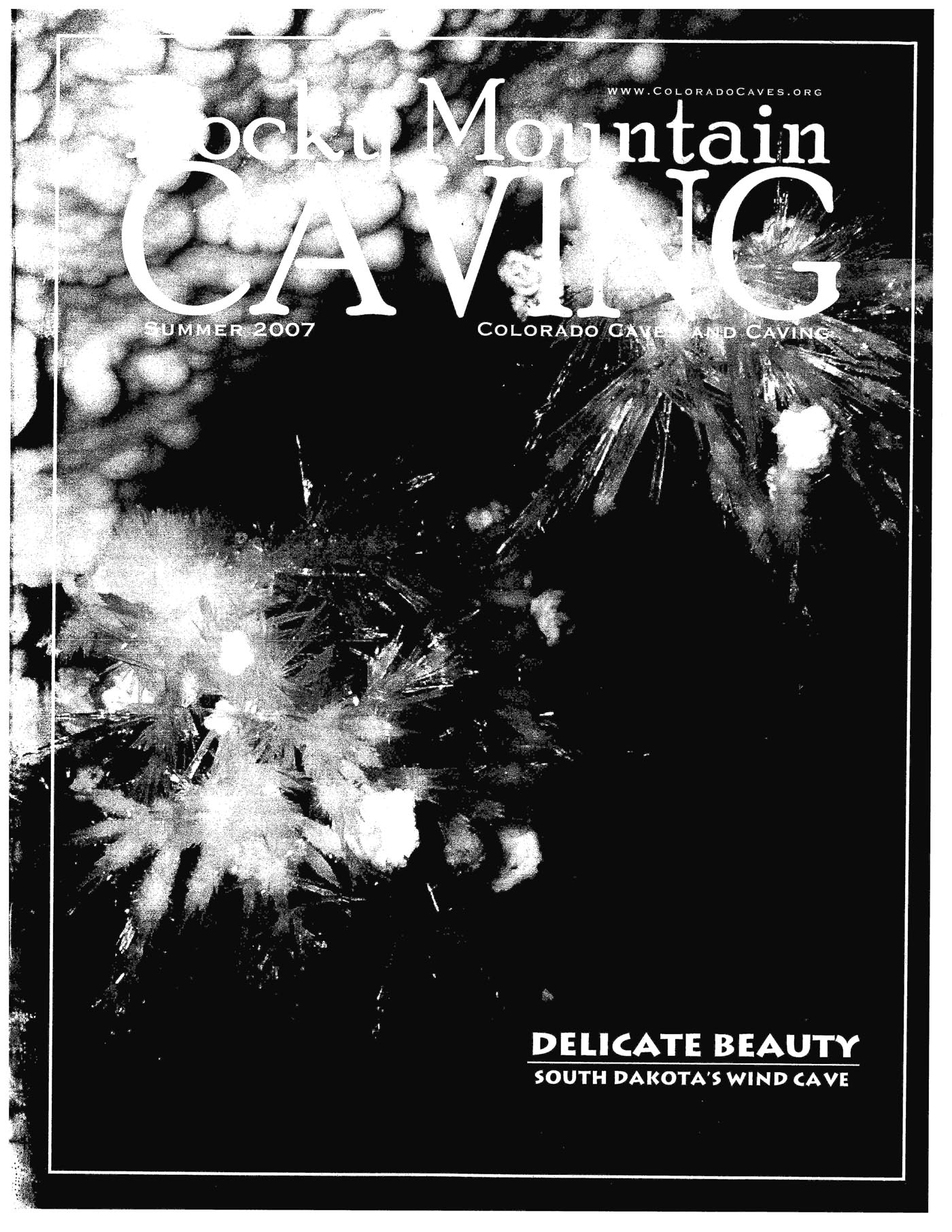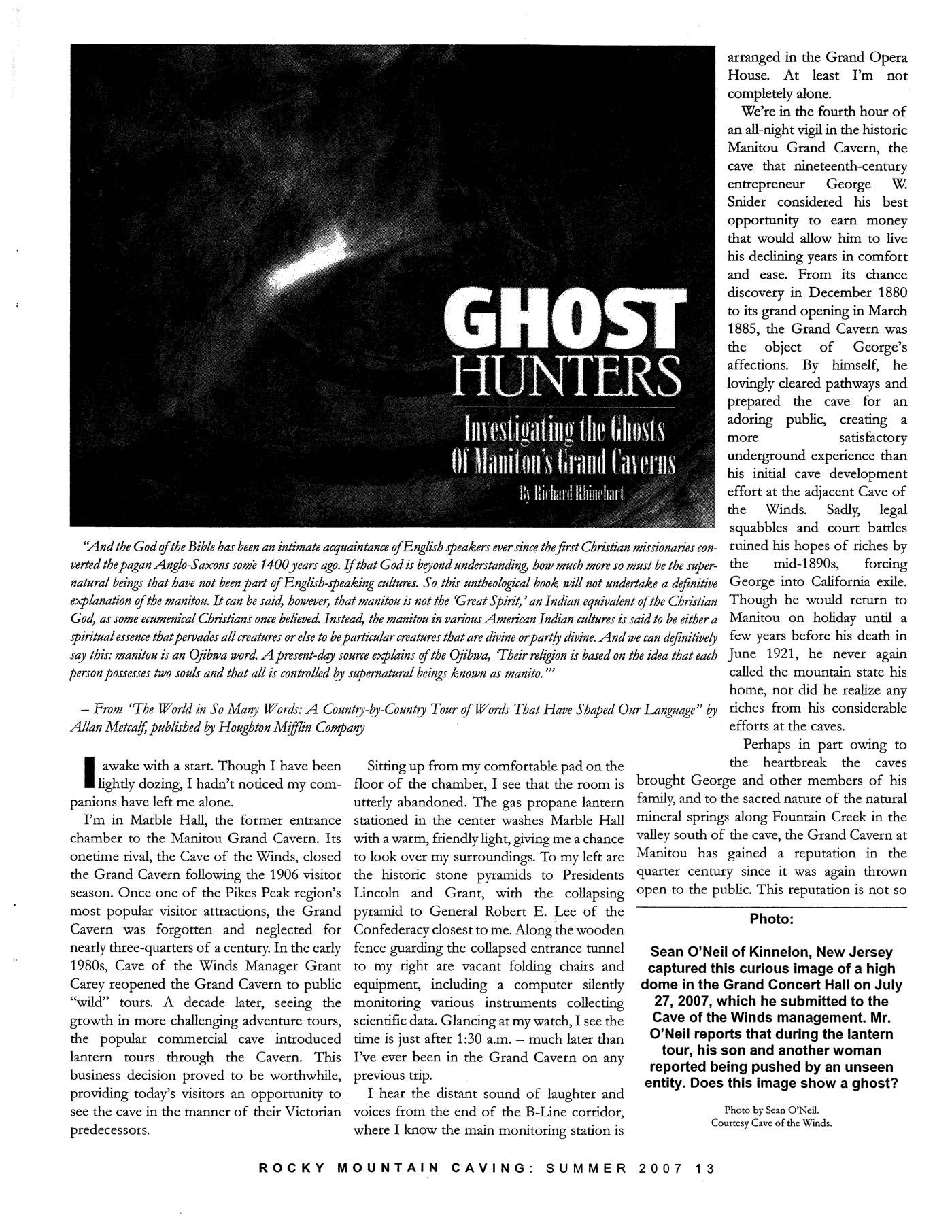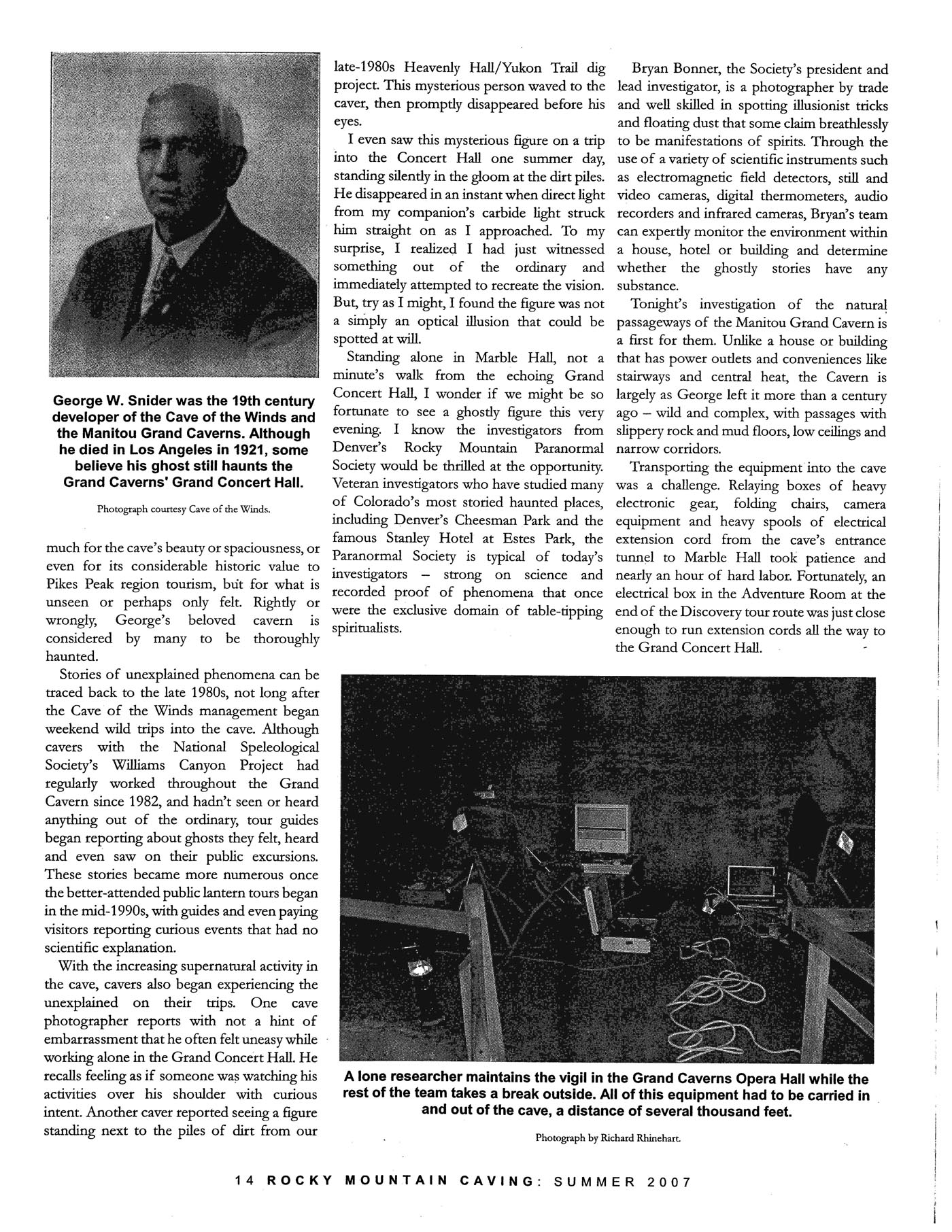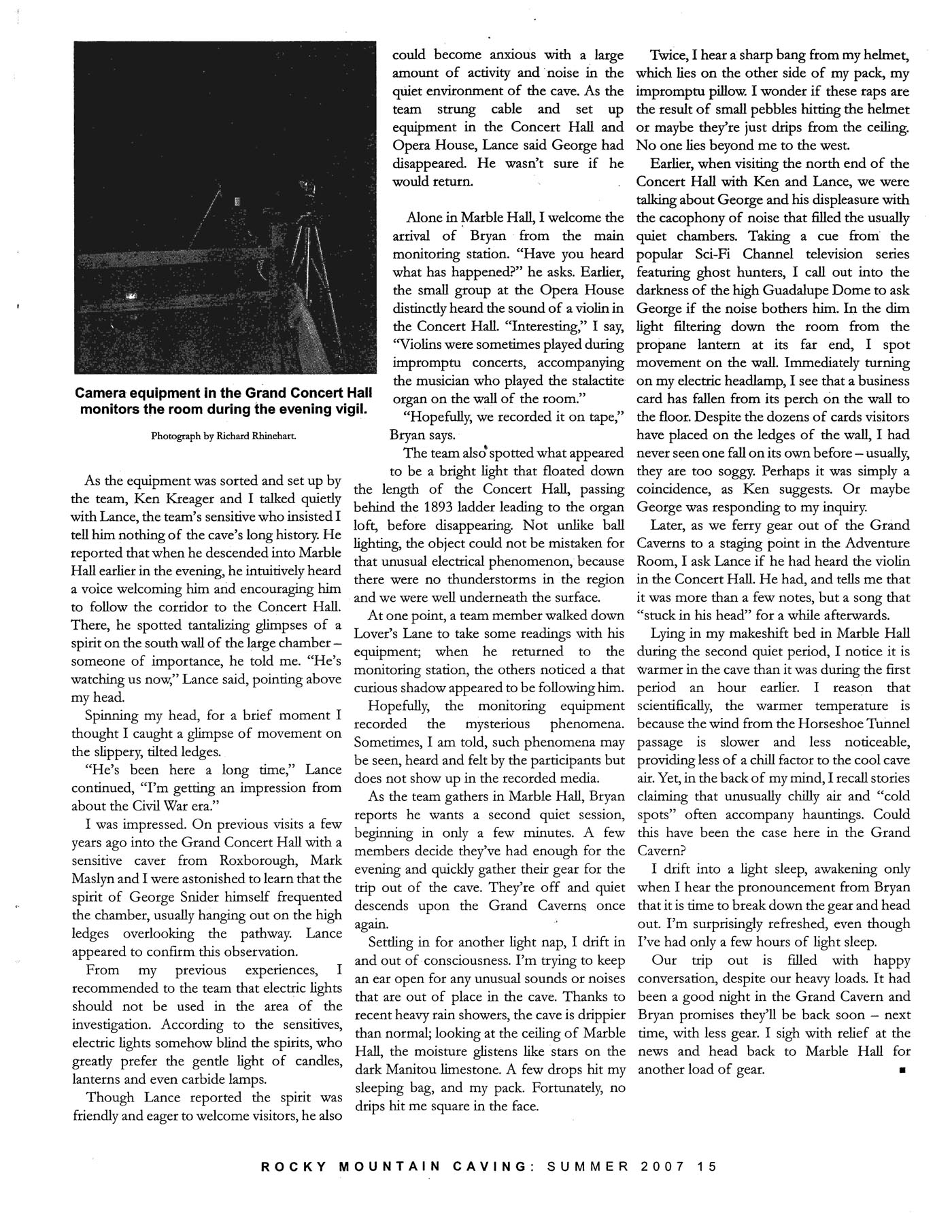 ---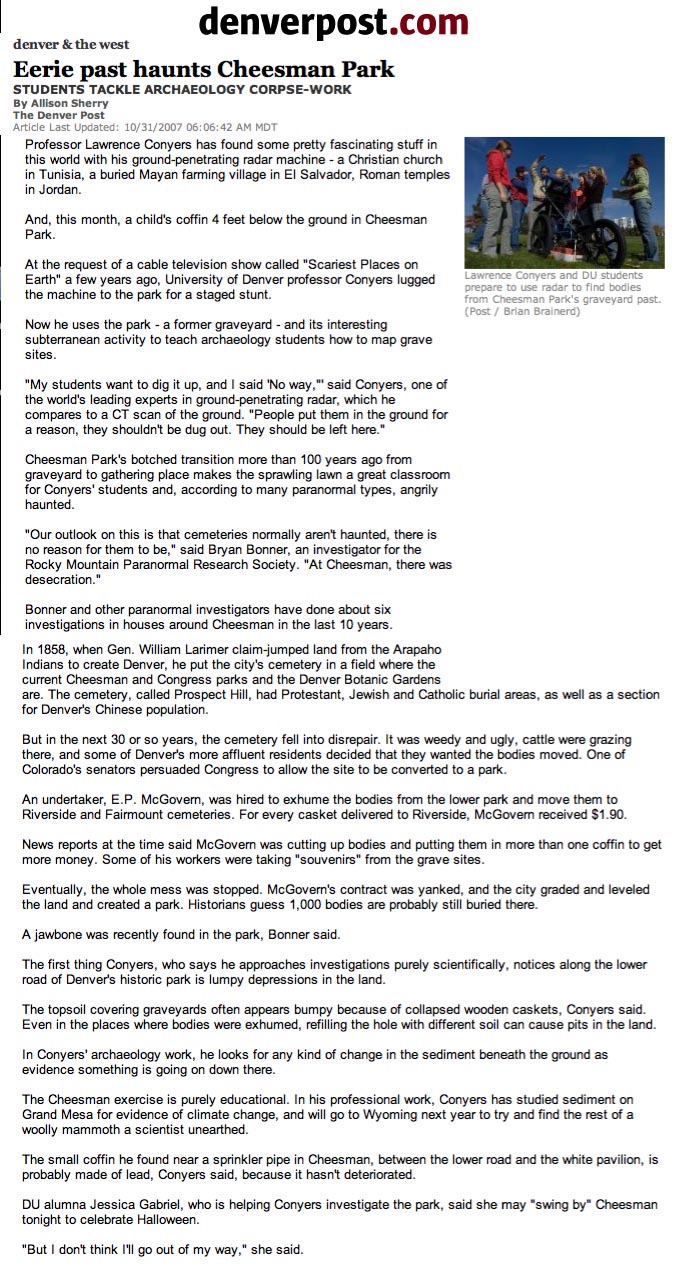 ---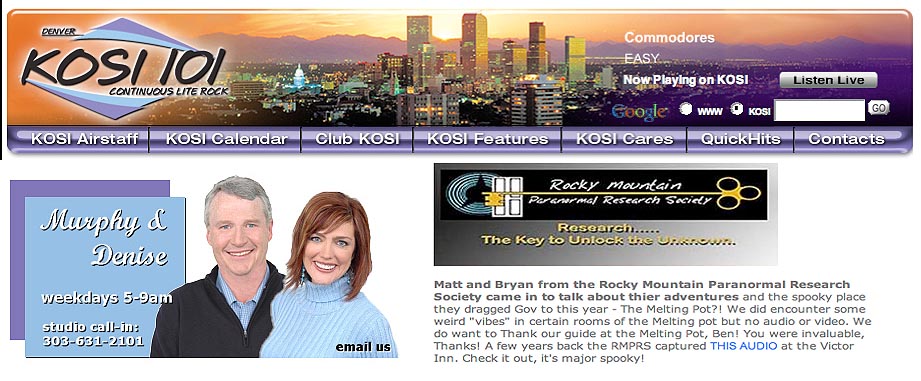 ---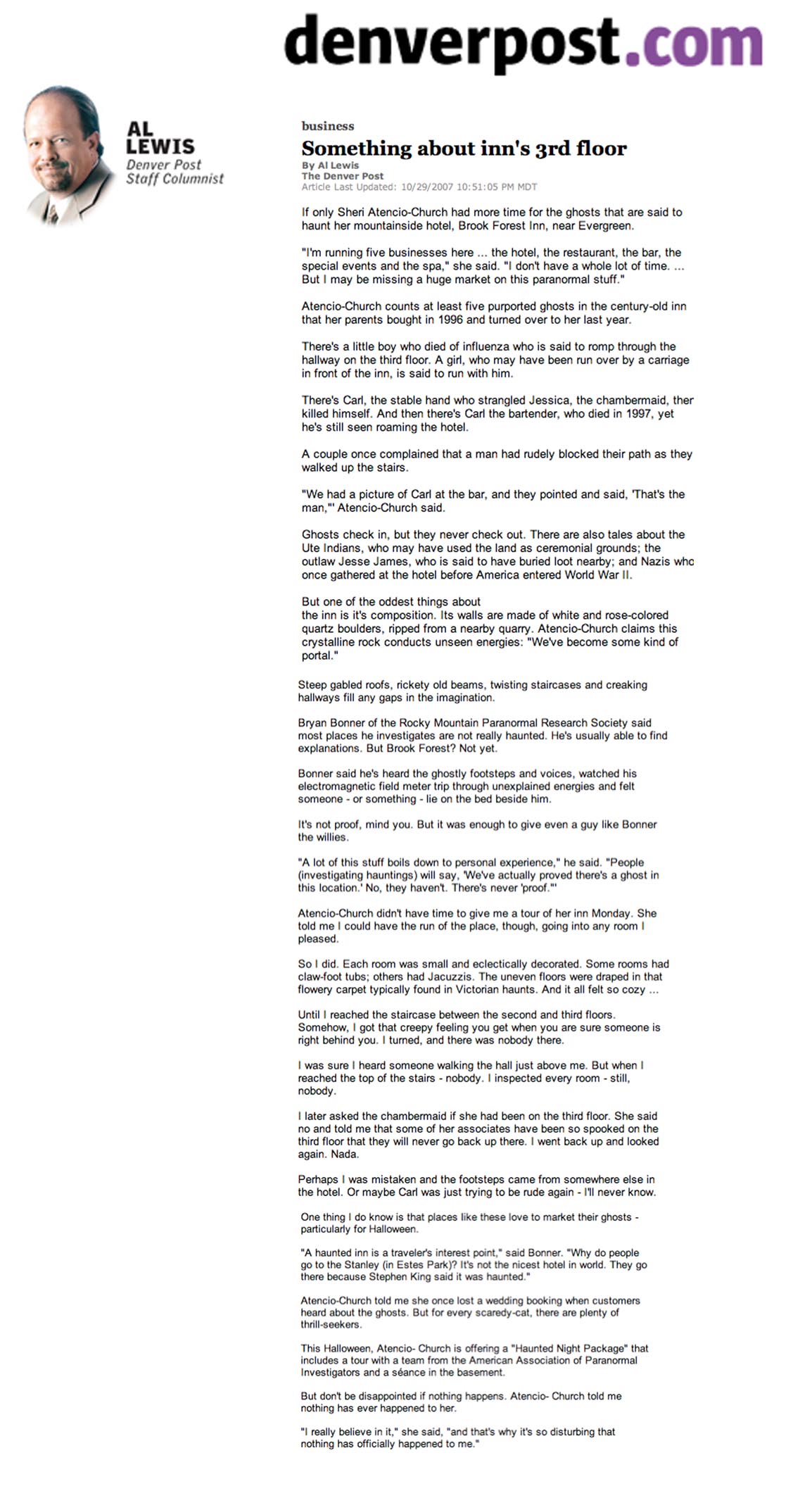 ---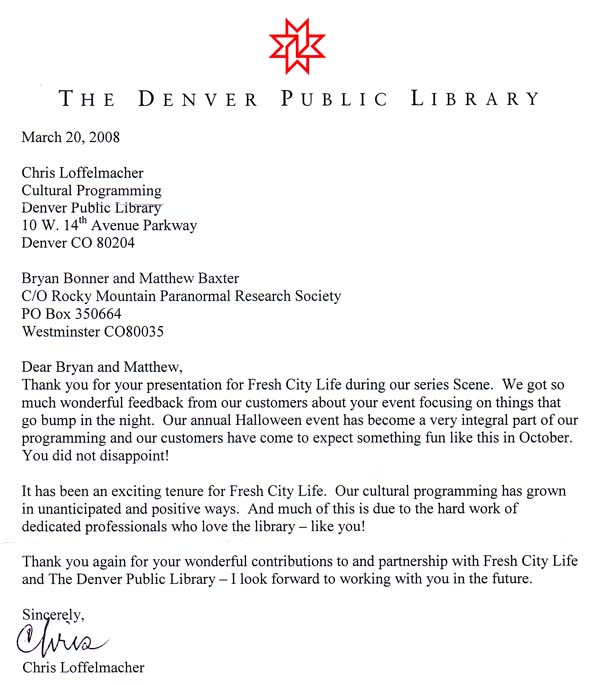 ---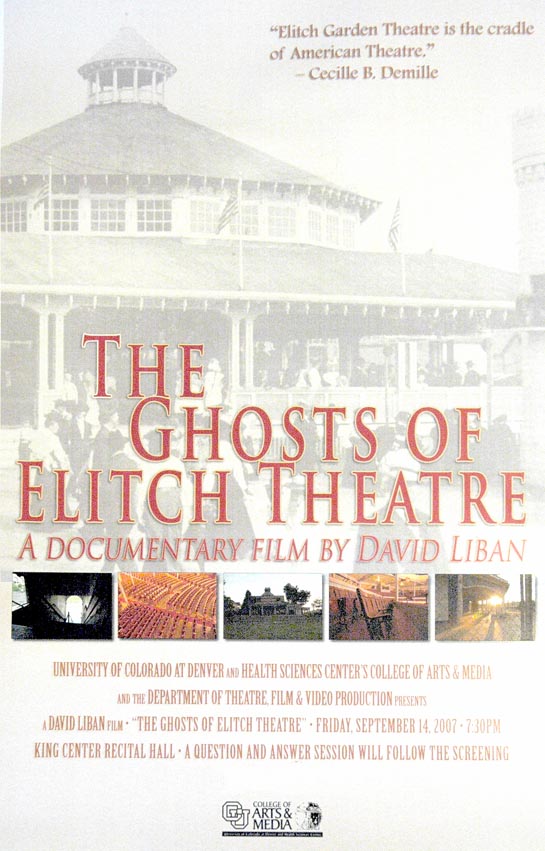 ---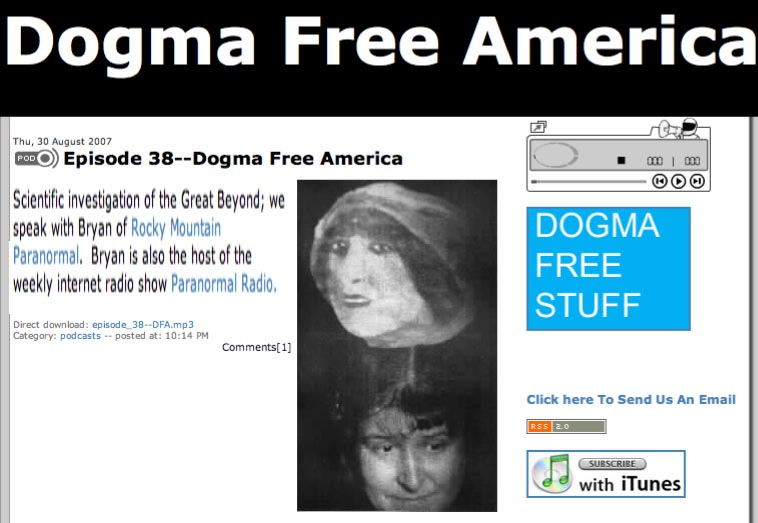 ---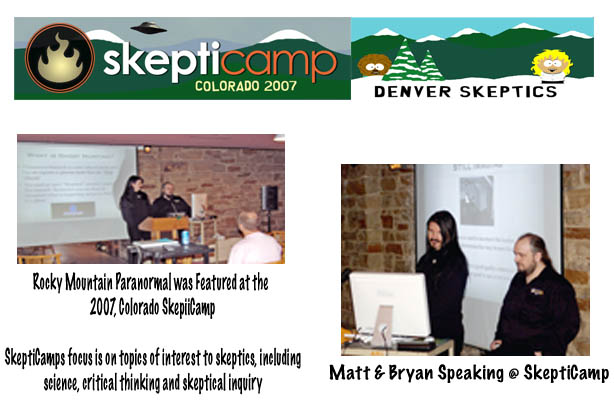 ---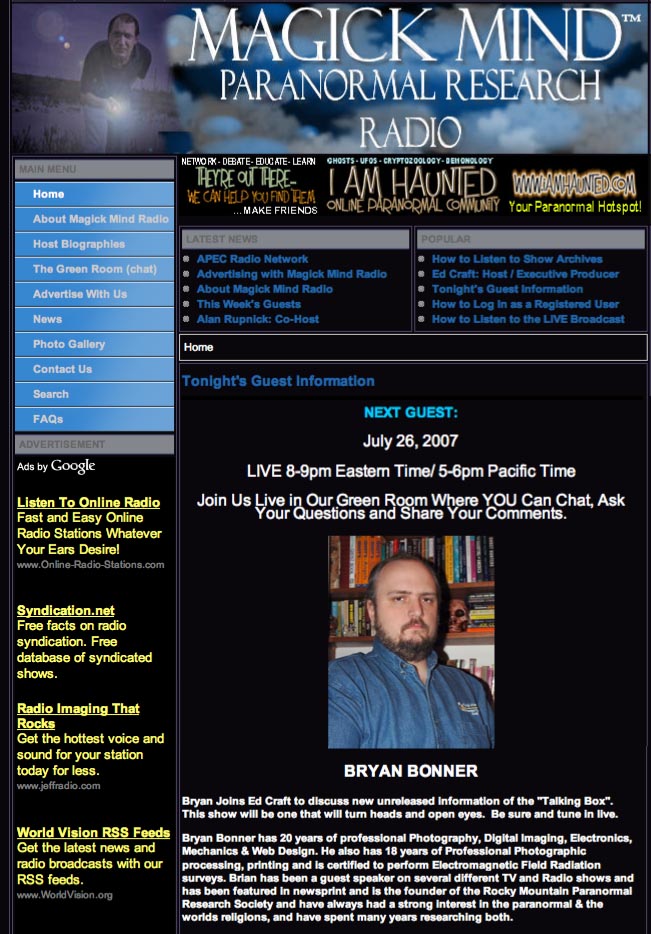 ---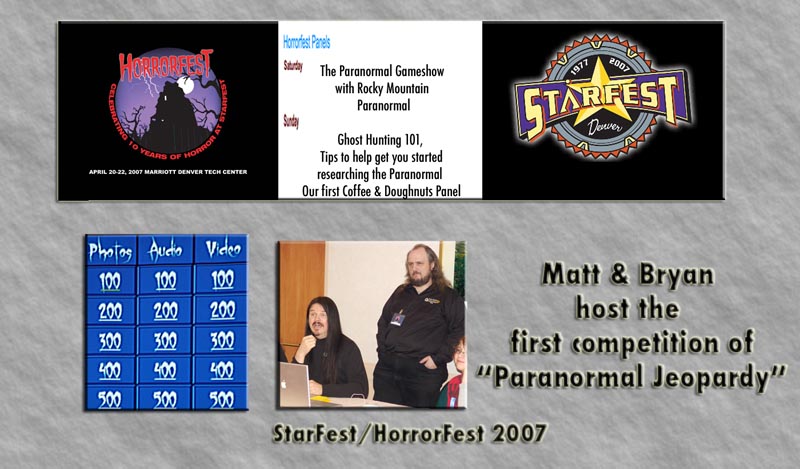 ---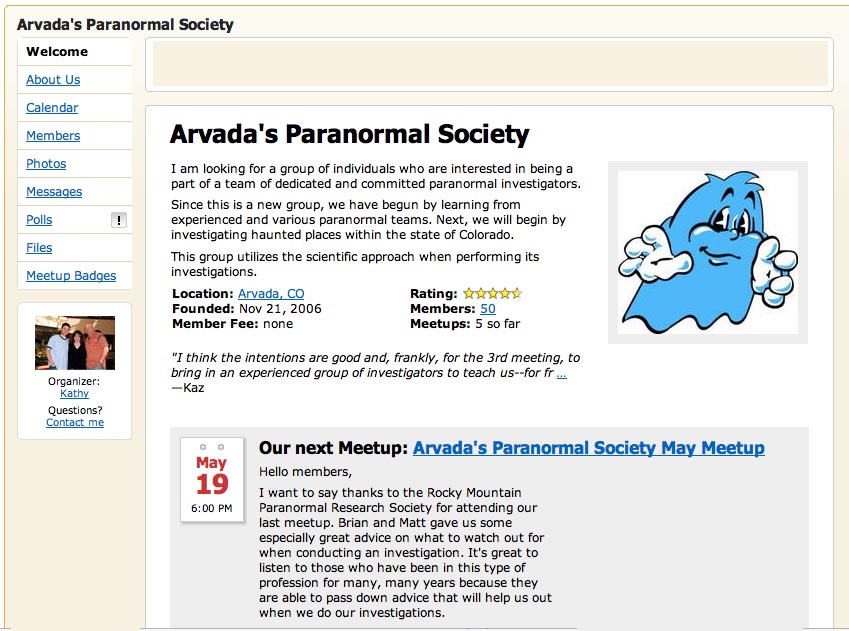 ---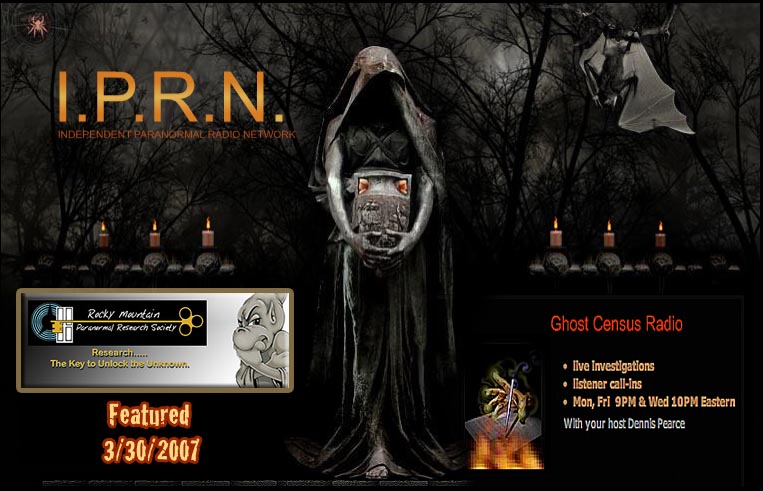 ---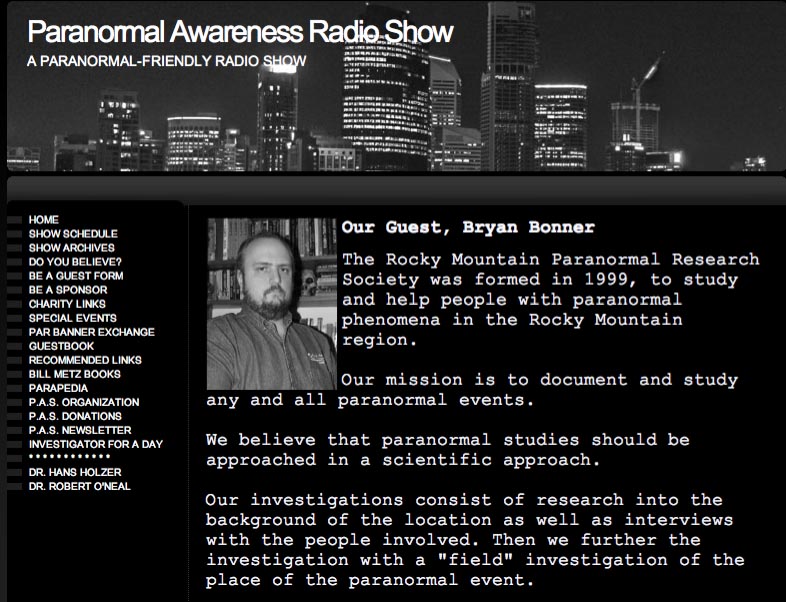 ---

Ghoul, interrupted
Ghost chasers stake out the Indy
by Michael de Yoanna
November 30-December 6, 2006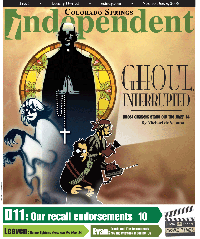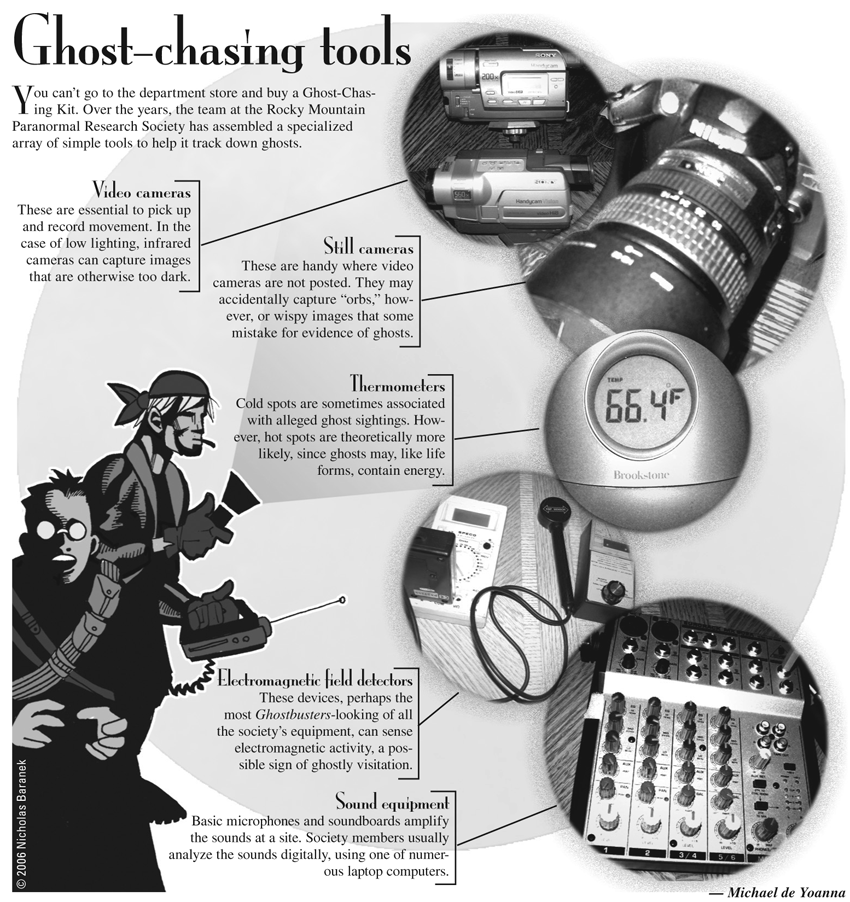 ---

Show Synopsis: On this edition of the A.R.C. Radio, we interview Bryan Bonner. He is a professional photographer and the founder of The Rocky Mountain Paranormal Research Society. We discuss paranormal photography, his appearance on "Is It Real?: Ghosts", the poetic licensing in regard to paranormal tv shows and movies, along with much, much more! We hope you enjoy this edition of A.R.C. Radio!
---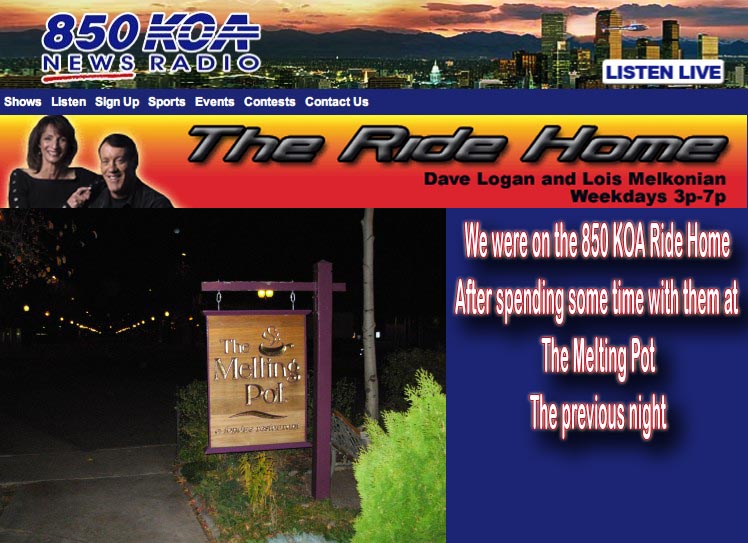 10/31/2006
---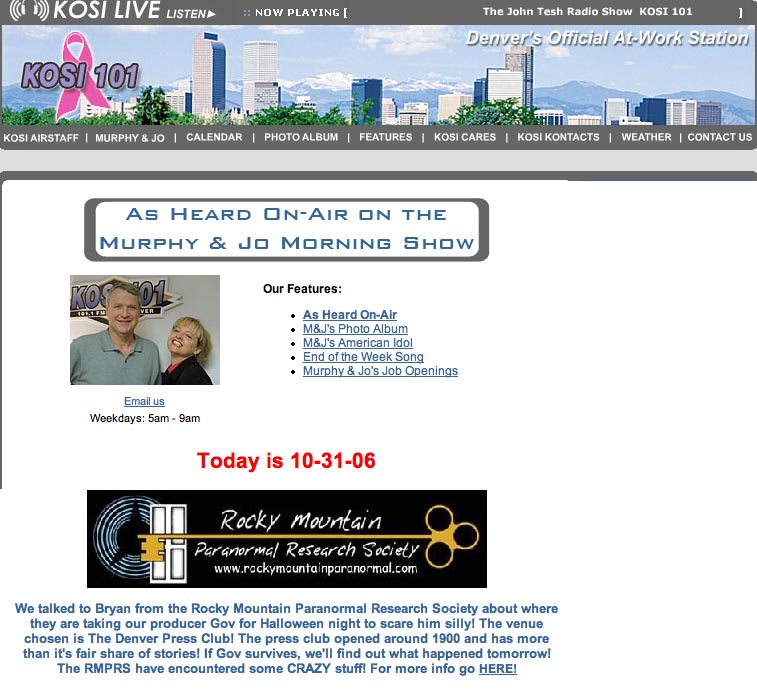 ---

---
---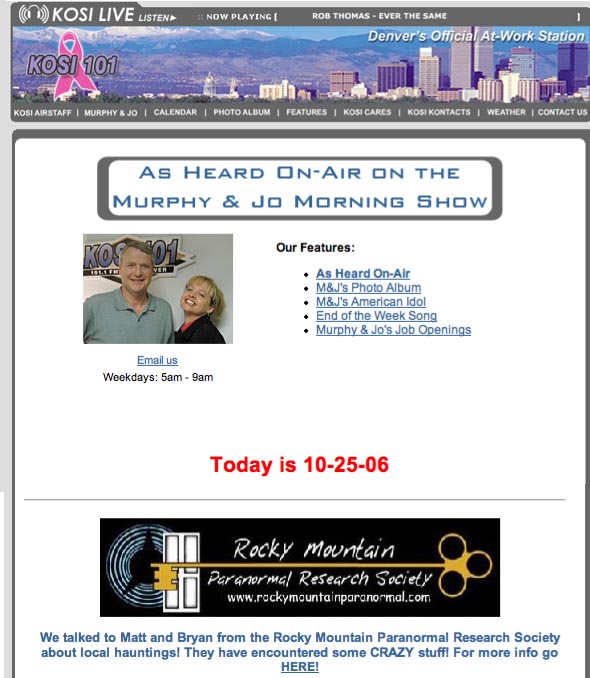 ---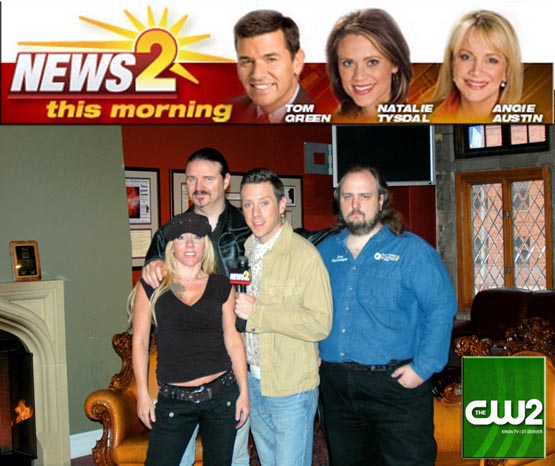 We were featured on the KWGN
Morining show, live from the Denver Press Club
With Chris Parente
10/17/2006

---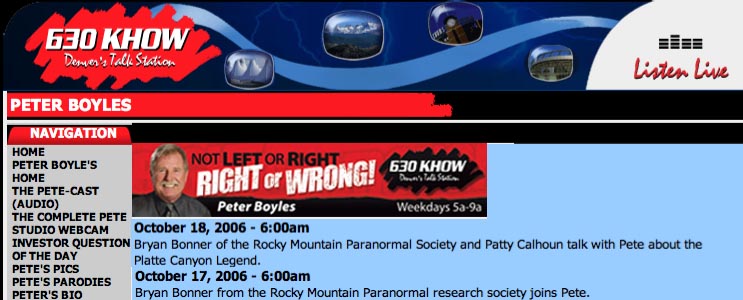 We were invited to talk about the "Urban Legend" at
Platte Canyon High School

---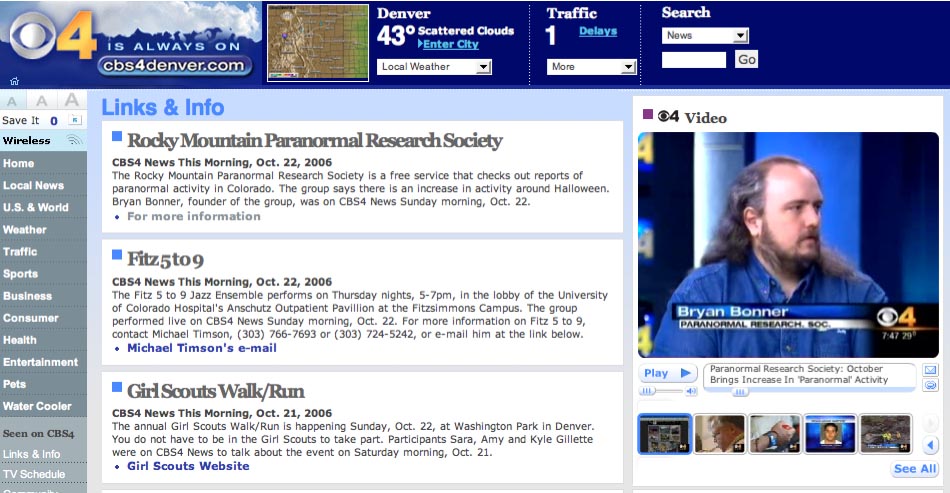 ---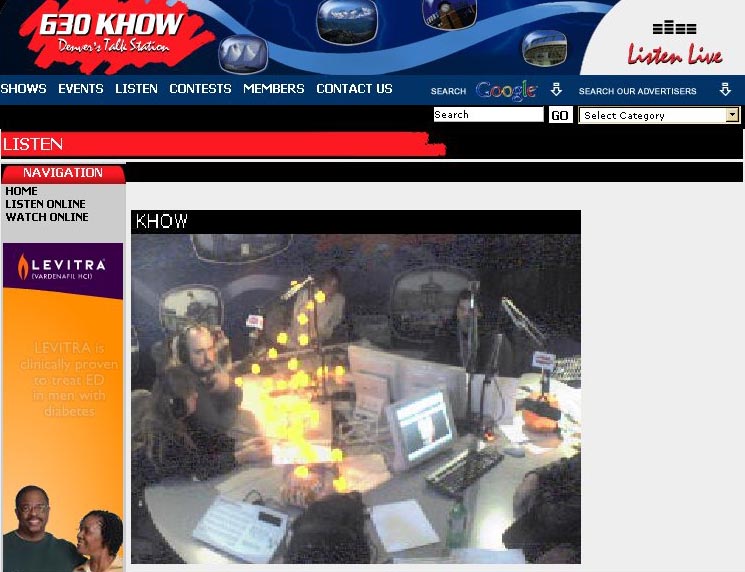 On 10/15/2006 we were on the Greg Hollenback show.

---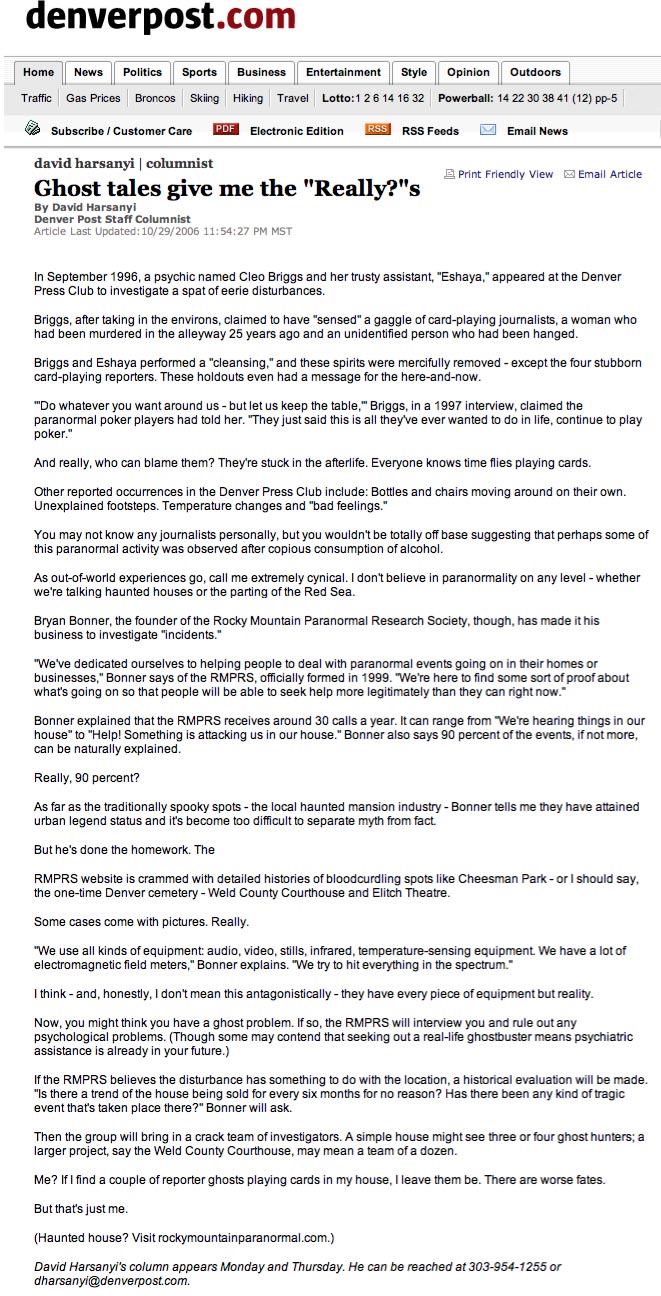 ---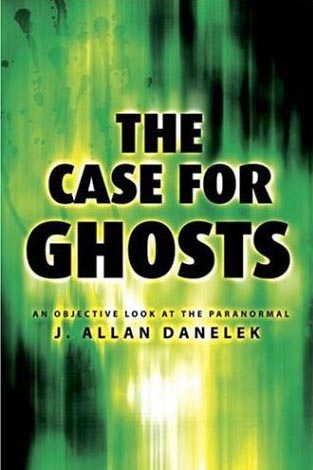 What are Ghosts? Can anyone become one? How do they interact with time and space? Stripping away the sensationalism and fraud linked to this contentious topic, J. Allan Danelek presents a well-researched study of a phenomenon that has facinated mankind for centuries. Analyzing theories that support and debunk these supernatural events,, Danelek objectively explores hauntings, the ghost psyche, spirit-communication, and spirit guides. He also investigates spirit photography, EVP, ghost-hunting tools, ouija boards, and the darker side of the ghost equation-malevolent spirits and demon possession. Whether you're a ghost enthusiast of a skeptic, The Case for Ghosts promises amazing insights into the spirit realm.

"I would like to thank Mr. Bryan Bonner at the Rocky Mountain Paranormal Society fo his encouragement and assistance in going through this material and pointing out its many potential problems, possible pitfalls, and occasional bouts of just plain nonsense. Such ovesights have been corrected or otherwise taken into account, thus making this a better book than it would have been otherwise. If ghosts are ever to be proven to be a fact, it will be through the tireless efforts of dedicated and clever skeptics like himself, who have made it their life's passion to keep both believers and debunkers alike on their collective toes."

---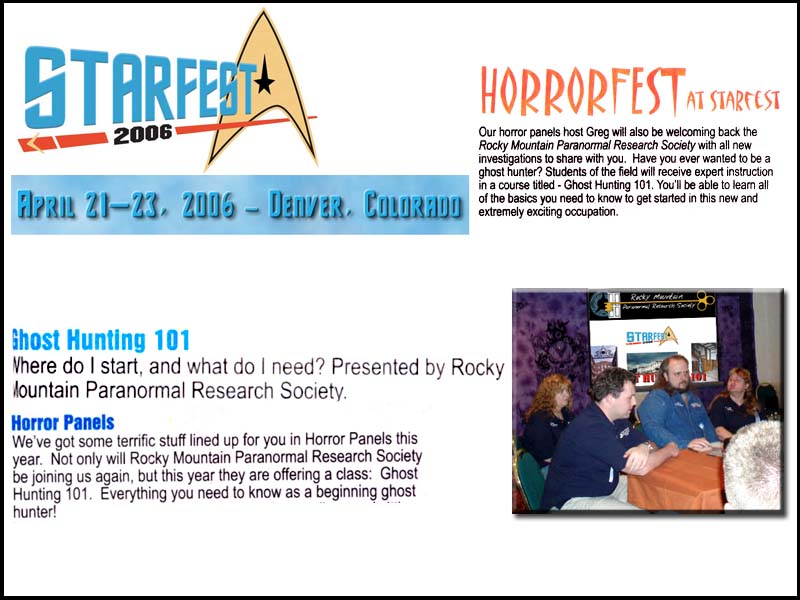 ---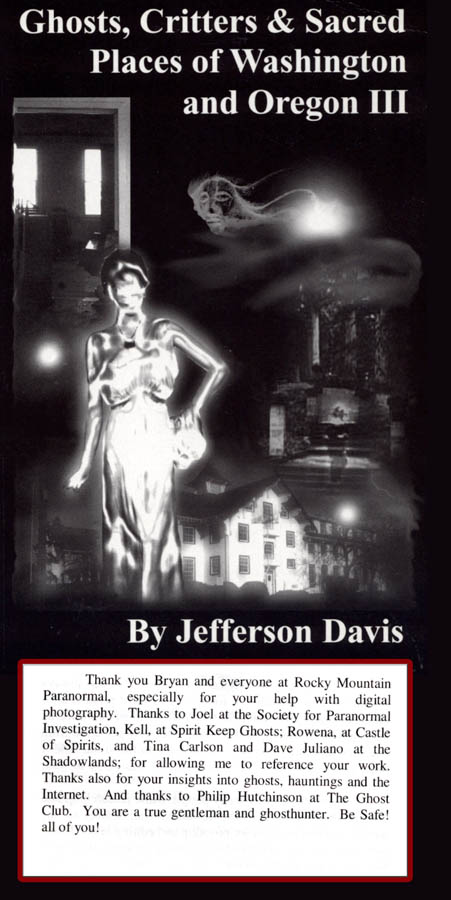 ---

URBAN MYTHS
By Nancy Clark
As dusk was settling over Denver on Saturday night, Bryan Bonner was also settling in to do what he generally does on a Saturday night...ghost-busting.
This is not a profitable business, but rather one borne out of the fascination Bonner has always held for the occult and the inexplicable. He doesn't work alone. In fact he has a crew of fellow ghost-busters who work alongside him including Intuitives—people with a special gift to "feel" the energy fields surrounding ghosts and the unseen—and technogeeks who operate the loads of highly specialized equipment that Bonner uses to detect the existence of ghosts—technology enough to fill a 12 ft. by 16 ft. space when compacted together.
Bonner is a calm sort. He holds a job by day with a Fortune 500 company, builds websites on the side, and regularly comes to the rescue. Often his work is for historical purposes, verifying the unusual in buildings known for their infamous histories—like Mattie Silks' former bordello-turned-restaurant in Lodo. And then there's the unusual case (recall "Amityville Horror") in which the ghosts possess the humans trying to occupy a home. Bonner actually has an email on record from a mother who called upon his services to rid her home of ghosts tormenting her four-year-old son. She wrote: It's good to have my son back."
As his crew lugged equipment into the Denver Press Club Saturday (the club is reputed to be haunted by a male ghost named "Charlie" and a female in a blue dress), Bonner's Intuitives roamed the building, peering into every nook and cranny, under the stairwells and into storage closets. (There's always a ghost under the bed.) They paused in each room to take in the vibrations. Both Intuitives were drawn to the business office where they proclaimed, "This is it. Feel the energy. It's along that wall, by the safe. Do you feel the rage?" they looked at each other knowingly.
"I really don't want to hear any more," I, the informal tour guide, pleaded before taking leave.
Later that night, a DPC member dropped by to check on the ghost-buster's findings and found that the pilot light in the boiler room has gone out. Xcel responded to cut the gas to the boiler which was last replaced in 1995 after the old one broke in a weeklong occurrence of sub-zero weather. Then, the club's bartender Justin had to spend the night in the place monitoring propane heaters to keep the pipes from freezing. And fortunately for the historically cash-poor club, the membership had raised just-enough from its '95 Damon Runyon dinner featuring Jimmy Breslin to fund the new boiler.
At 3 a.m., the ghost-busters-turned-gas-busters vacated the club having witnessed nothing particularly haunting...except if you count the fact that the pilot light had never before extinguished on its own. Call it coincidence. Call it rage. Call the club president.
Which I did. "I'm afraid I may have to resign as treasurer. The ghost-busters discovered The Rage surrounding the club safe."
He burst out laughing, "Think about it. For the entire existence of the club the rage has revolved around the safe."
It's enough to spook your inner spirit: Isn't coincidence sometimes unsettling? And do the ghosts we battle come in other forms than what darkness causes us to expect?
---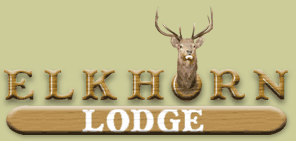 In late February 2006, TAPS and the Rocky Mountain Paranormal Reseach Society joind together
to investigate the Elk Horn Lodge in Estes Park, Colorado.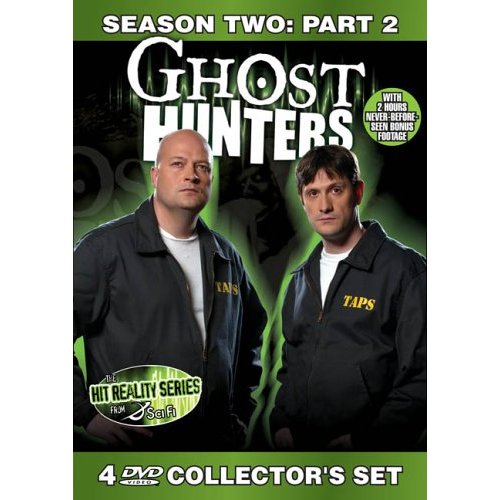 This investigation is featured on the Season 2 Part 2 DVD set of
Ghost Hunters

---

Sunday, August 22, 2004Thursday, August 19, 2000


Things that go bump 'inn' the night
Searching for ghosts at the Brook Forest Inn


by Stephen Knapp
One notable evening last year, Linda Morris gathered 72 women at the Brook Forest Inn for a program of metaphysical enlightenment. Morris, a sociable woman who makes a living as a "local events coordinator," had used the inn on many previous occasions for fund-raising and the ever-popular "Girls Night Out."

This particular night, the women had no sooner settled into their rooms at one of Evergreen's most fascinating landmarks, when the lights in that part of the inn failed. It was not an entirely unwelcome development, as it required them to conduct the tarot readings and psychic performances by candlelight. Later that night, as the party broke up and guests began to leave, the power was inexplicably restored.
Intrigued, Morris contacted several paranormal research organizations to see which best suited her purpose of staging a scientific ambuscade. She quickly decided on the Rocky Mountain Paranormal Research Society.

Scientists and psychics joined forces Saturday night, trying to establish, for better or worse, the truth behind the haunting of Brook Forest Inn.

"I wanted to do an event with them," she said. "Of the people I talked to, they sounded the most serious."

To complement the team from the society, Morris also invited Sydney, a celebrated area medium who finds a single name sufficient to her needs.

Geno Accetta, a Conifer resident who bought the Brook Forest Inn last October, was generally agreeable. Though he has no particular opinion about the undead, he did want the event to be conducted professionally.

"I was kind of concerned about being respectful about this thing, if it's real," he said. "Now that I've met them, I'm totally comfortable with it."

The focus of the evening's investigation was the Monte Carlo suite, purportedly the center of phantom activity at the inn. Consisting of two attractively furnished rooms with a central bath, the suite is located on the second floor at the end of the east wing. Both rooms open onto a balcony overlooking Brook Forest Road.

On Saturday night, these snug accommodations - this inviting bedroom, this cozy parlor - were ground zero.

If there is any place in Evergreen where a ghost might feel at home, it's the Brook Forest Inn. Hunkered amid ancient pines about five miles up Brook Forest Road, it's a peculiar blend of hunting lodge, Swiss chalet and feudal keep. On the east side, a gabled roof towers over the main entrance, while to the south a crenellated stone wall brings to mind crusading knights.

Although not overly large, the inn was constructed in several stages, resulting in odd turns and short, unexpected staircases on the upper floors that can confuse the uninitiated. Walking the carpeted halls, an encounter with Jack Nicholson would seem almost natural. Red rum. Red rum. Red rum.

The Brook Forest Inn was created by Edwin Welz and his wife, Marie, both Austrian by birth. They homesteaded 160 acres in Brook Forest in 1915, running a herd of longhorn cattle along the canyon. Edwin became the area's postmaster in 1921. The original mail-sorting boxes are still in place behind the reception desk.

In 1922, the Welz's 10-year-old son died of pneumonia, the only verifiable death to occur at the Brook Forest Inn. Š But not the only one, according to local lore .

Edwin dreamed of building his own alpine village. During the 1920s, the Welz's erected the main inn, plus nine chalets and one square castle tower across the road. A small man-made lake once lapped at the foot of the castle tower, which was built of native quartz.

In the 30s and 40s, the Brook Forest Inn was enormously successful. A special "Brook Forest" rail car brought guests from around the country to Denver's Union Station. A waiting bus would take them on an all-day, bone-jarring ride to the lodge. It was Welz who prevailed on the U.S. Forest Service to build the Maxwell Falls trail, the first segment of a system that now reaches to the top of Mount Evans.

A tunnel was constructed beneath Brook Forest Road connecting the main building with the chalets. Its original purpose is no longer known, and it is now sealed on both ends. Accetta believes that it may have been used to transfer coal between the buildings

Local legend maintains that Nazi spies posing as bicycle tourists used the inn as a redoubt. Stories of Nazi gold hidden at the lodge led one former owner to tear up several floors in the main building. Alas, no booty was found.

Edwin and Marie sold the inn in 1945 and moved to Denver where Edwin died 10 years later. The date of Marie's death is not known.

The inn changed hands several times in the intervening years, and has had at least eight different owners since 1972. While an interesting subject for local historians, nothing in existing records suggests a likely motive for haunting. That is where rumor and legend enter the picture.

Tales of ghostly sightings at the inn abound. The most enduring ghost story at the inn involves a man named Carl who is said to haunt the second floor. Legend says that he strangled his wife in the Monte Carlo suite and then hanged himself in another room, possibly the Parisian. Another version has him committing suicide in the livery stable up the road.

Another common story is about a small boy said to have died of influenza on the third floor. His footsteps are said to be heard running up and down the hall, and he is suspected in frequent incidents of gentle hair-tugging experienced by women who wear their hair down.

At least three guests have described seeing an elderly woman unpacking a suitcase on a bed in a second floor room. At the same time they hear a man's voice, speaking with a pronounced British accent, coming from the bathroom. Invariably, it is later discovered that no such people were staying at the inn.

An apparition of a woman has been reported walking the balcony in front of the Monte Carlo suite. And the image of a woman is said to occasionally appear to guests while they are looking into mirrors.

It is difficult to find anyone at the inn who doesn't have a weird tale to tell. Inn manager Laurie Lees recounts an evening when she was alone in the building doing paperwork in the bar area. She was startled by loud footsteps and banging coming from the floor over her head. Investigating, she confirmed that there was nobody in the building.

"It's actually true," she insists. "I won't be here by myself anymore."

Although Lees won't flatly discount the possibility of ghostly residents, she has conceived another theory to explain the odd goings-on.

"I think it's a paradox," she explained, "like time overlapping."

According to local lore, previous investigators have fared worse than Lees. One man is said to have run from the building in a panic, abandoning his costly equipment. Another is rumored to have killed himself as a result of his experience at the inn.

At shortly after 6 p.m. Rocky Mountain Paranormal Research Society founder Bryan Bonner of Westminster, dressed casually in sandals, jeans and a Broncos sweatshirt, arrived with colleague Carol Olivacz. It required four arms and two trips to lug several large cases of electronic equipment to a room adjacent to the Monte Carlo suite.

A third member of the team, Mark Manning, showed up at 6:30. A trim, goateed young man from Aurora wearing a t-shirt and black leather jacket, Manning had his own freight of gadgets and gizmos. After conducting a major redeployment of the furniture and arranging their equipment in every available space, the scientists' tiny command center looked like something you could find under Cheyenne Mountain in the space occupied by the North American Air Defense Command. All that high-tech equipment represents a major investment for the two men.

"It's a big money loser," acknowledged Bonner.

The final member of the society team arrived; Wendy Haver, who says she has been aware of her psychic abilities since the age of five when she sensed the death of a close relative. Although she operates along the lines of a psychic medium, Haver prefers to describe herself as an "intuitive."

Haver's job is to gather spiritual and emotional impressions from a site and relay them to her associates. Her talents are useful in directing the efforts of the computer whiz kids, and the electronic gimcrackery can sometimes tell her if she is on the right intuitive track.

When she isn't hunting specters, Haver is a spiritual counselor and healer. "My main focus is to assist others in their spiritual journeys."

This is not the first time that the society has sought to unlock the mysteries of the Brook Forest Inn. In 1999, the property was purchased by Acrew LLC, a Microsoft certification school. Between six-week sessions, the management permitted these same spook-chasers unrestricted access to the otherwise empty building.

"It was a paranormal researcher's dream," Manning, who has been hunting ghosts for the last five years, remembers. "Great building, lots of history, in the middle of nowhere, and vacant."

"This is a little like going home again," Bonner added, although he admitted that, with Isabella's restaurant going full-bore downstairs and plenty of action in the bar, conditions were less than optimal for ghost-busting.

Bonner created the society in 1999. He said that out of literally thousands of self-described paranormal research organizations in the country, "maybe three or four" apply scientific method to their inquiries. Their brief is simple: to study and document paranormal phenomenon.

Bonner and Manning say they have become experts at distinguishing between truly extraordinary photographs and the vast majority that are merely the result of poor photography. They have also learned to spot a deliberate fraud when they see one, a not uncommon occurrence.

Bonner developed an intense interest in Brook Forest Inn during the course of his investigations and even compiled a brief history of the site.

At last the investigators were prepared. Almost immediately, Haver began picking up vibes. "I believe there are spirits that still inhabit this hotel. There is a lot of residual energy here."

The Monte Carlo suite was arrayed with video cameras, electromagnetic detection devices, laser thermometers and motion detectors. An air-ion counter and radiation detector stood ready, and a night-vision scope was available at need. A cricket couldn't pass unchallenged in that meticulously surveyed precinct. Of course, nobody had come to see a cricket.

"I don't want to burst anyone's bubble," Bonner told a small group assembled in the unnaturally convivial Monte Carlo sitting room, "but this is a really boring thing to do. We sit and wait." While true, his words did little to dampen the mood, a heady combination of suppressed apprehension and keen anticipation.

Diane Preisser is the head of Denver's UFO Society and the creator of Out of the Norm, a program that airs twice weekly on Denver's DCTV, a community access channel. The show features anything and everything that is strange or unusual. She is planning to film a segment about RMPRS and came to Brook Forest Inn to see them at work. She is also an enthusiastic channeler and psychic medium. "There's tons of stuff going on in this building," she declared. "I'm going to try to meditate in some of these rooms."

At 9 o'clock Sydney appeared. She wore a loose-fitting white dress, beads and a sequined purple scarf. Hanging from her neck was an embroidered lavender pouch filled with dried sage leaves. She distributed these, saying they would mollify the spirits of the inn.

She wore a 1930s-vintage black hat over her bright red hair. She has hundreds of hats, she said, and likes to wear one that will be familiar to the spirits she may encounter. It is a simple form of appeasement. After testing the ambient energies, she feared her evening's selection was off by several years.

Sydney had been in the Brook Forest Inn before. Her last experience there was largely neutral, with the powerful exception of the Rose Quartz room. Located immediately beneath the Monte Carlo suite, the Rose Quartz room is now the inn's cigar lounge. On her last visit she said she noticed a sadness clinging to the building, and on entering the cigar lounge she felt "pushed back."

"It's the only place where I felt miserable and wanted to dash out."

She said that on arriving Saturday she had perceived a new, contented energy coming from the inn. The careful attention Accetta has lavished on the old inn, she believes, has pleased the spectral residents.

After laying hands on several people in the room to determine their unique spiritual gifts, interpreting some auras and reading a few palms, Sydney embarked with Preisser on a tour of the lodge, together sampling the smorgasbord of phantasmal forces.

Preisser perceived a distinctly playful quality about the third floor. Sydney explained that ghosts may come back to a place to relive good times, as well as bad.

Depending on whose account you choose to believe, the small Parisian room, located in an older part of the second floor, is where the lovelorn Carl hung himself, or where Welz's 10-year-old son died of pneumonia. It is furnished with a supernaturally comfortable bed covered by an eerily picturesque flowered spread. A sinister wrought-metal and cane wardrobe stands passively against the wall opposite the bed. Two stained-glass windows splash alarmingly colorful patterns of sunlight onto the carpet. Both women felt an instant aversion to the Parisian.

"I felt knocked against the wall," Sydney said. "Even now, I can't feel my legs."

"That room is steeped in despair," Preisser informed the man who was booked into the Parisian for the night. "There is a strong sense of bitterness, of hatred, of anger at the world. Whoever is in there is out of his mind."

Neither woman had a significant reaction to the Monte Carlo suite, the supposed heart of darkness.

By 12:30 a.m., with the restaurant closed and most of the employees gone for the night, the scientists prepared to begin their work in earnest. They were quickly joined by the spiritualists. While this made for lively conversation in the makeshift laboratory, it tended to confuse the delicate instruments the team had carefully placed earlier in the evening.

But on this night there would be no proof of a haunting.

Failure is the usual lot of paranormal researchers, Manning said. "Ninety-nine percent of the time absolutely nothing happens."

Well before dawn, the crew packed up their gear and left the inn. Silence descended on the rooms like a shroud.

Guests made their way downstairs Sunday morning to find coffee and sweet rolls waiting in the breakfast room. Bright sunshine spilled through the inn's many windows, bathing the rooms in clear light.

The excitement, the mystery and the possibilities of the night before seemed distant and improbable. The venerable building had assumed its familiar face; a charming hotel, a superb restaurant, a local landmark. If restless shades truly inhabit the Brook Forest Inn, they do nothing to detract from its appeal.

Nor did they interrupt a good night's repose. The guest who spent the evening in the Parisian? He slept like well Š the dead.

For more information about Linda Morris' Girls Night Out events, call 303-946-9454. To learn more about the Rocky Mountain Paranormal Research Society, visit www.rockymountainparanormal.com. To reserve a room at Brook Forest Inn, call 303-679-1521.
---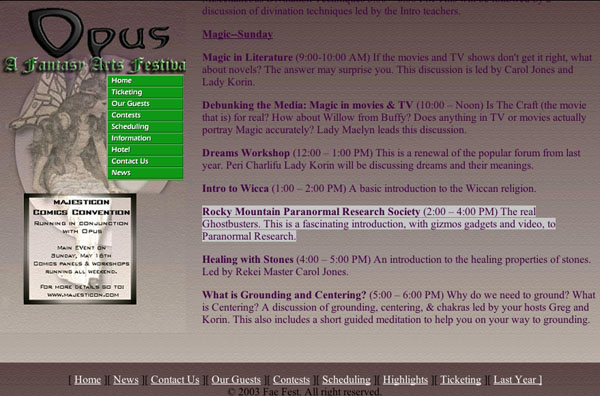 ---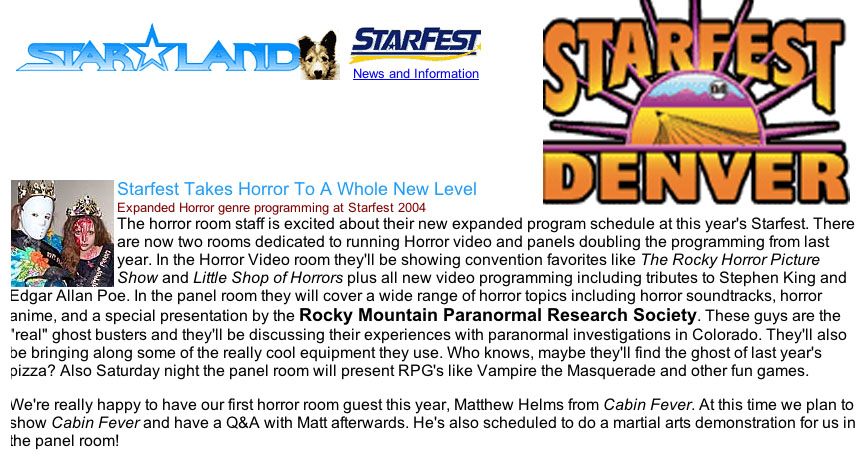 ---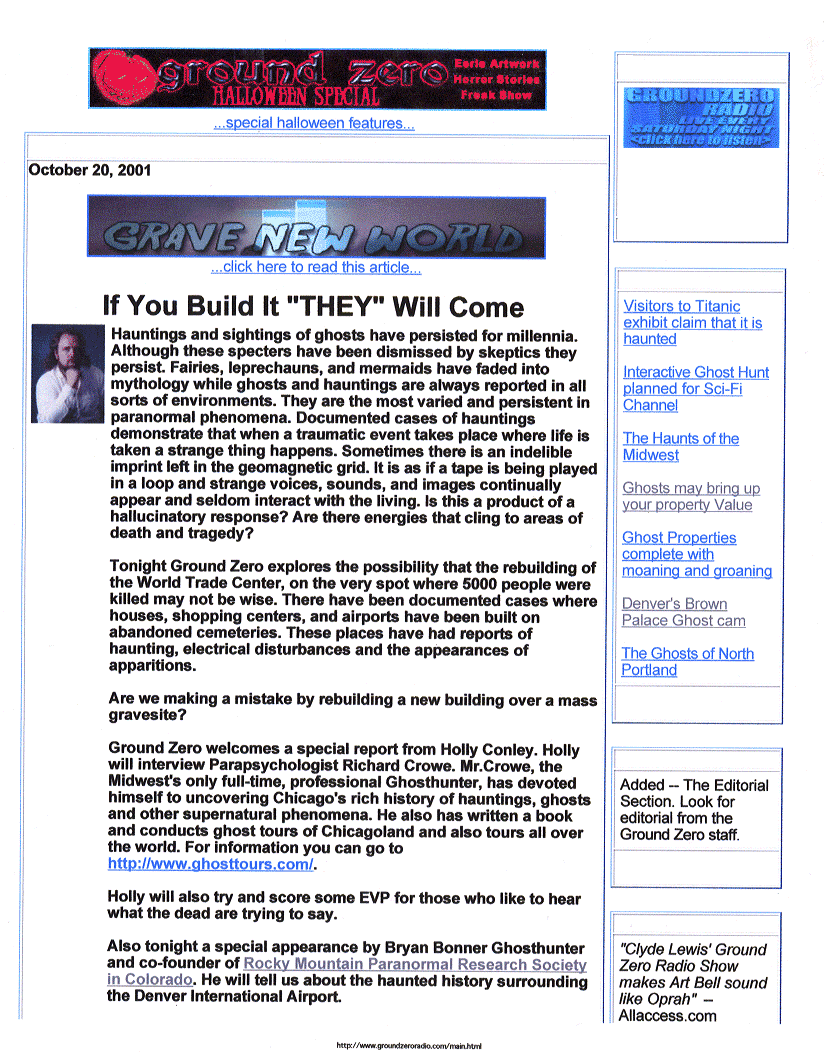 ---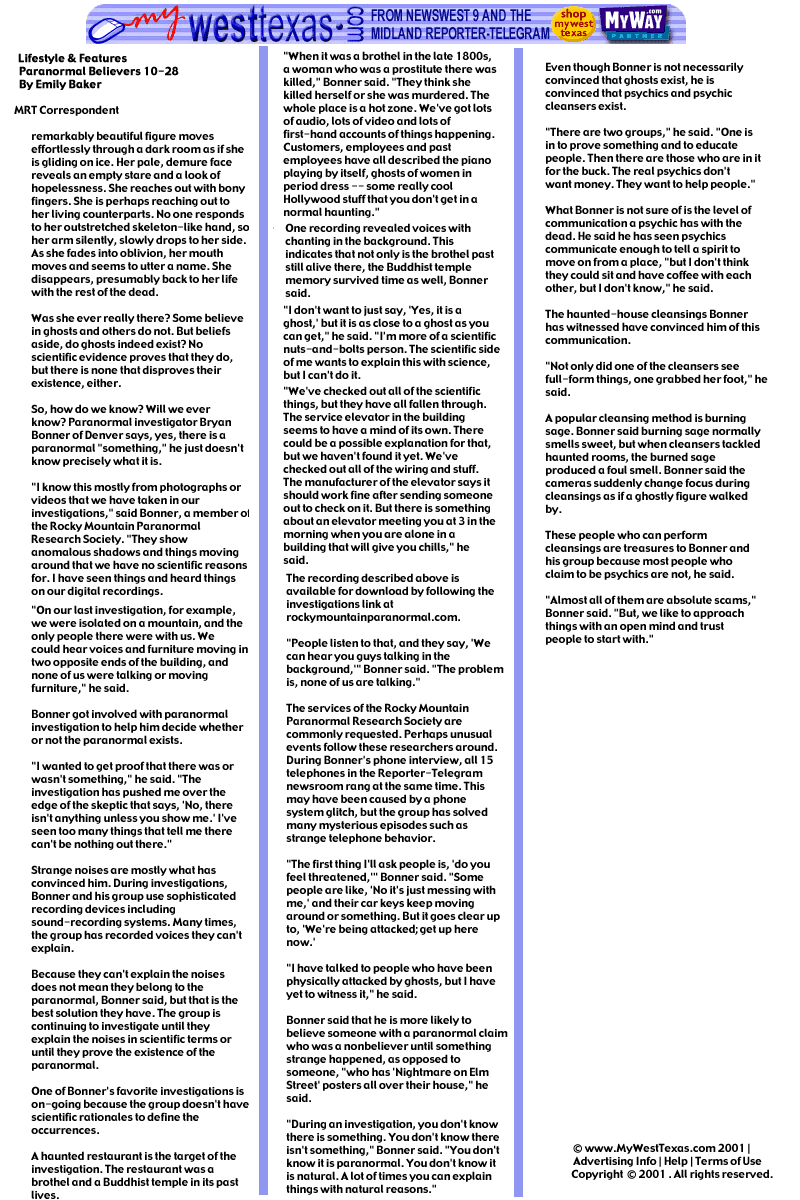 ---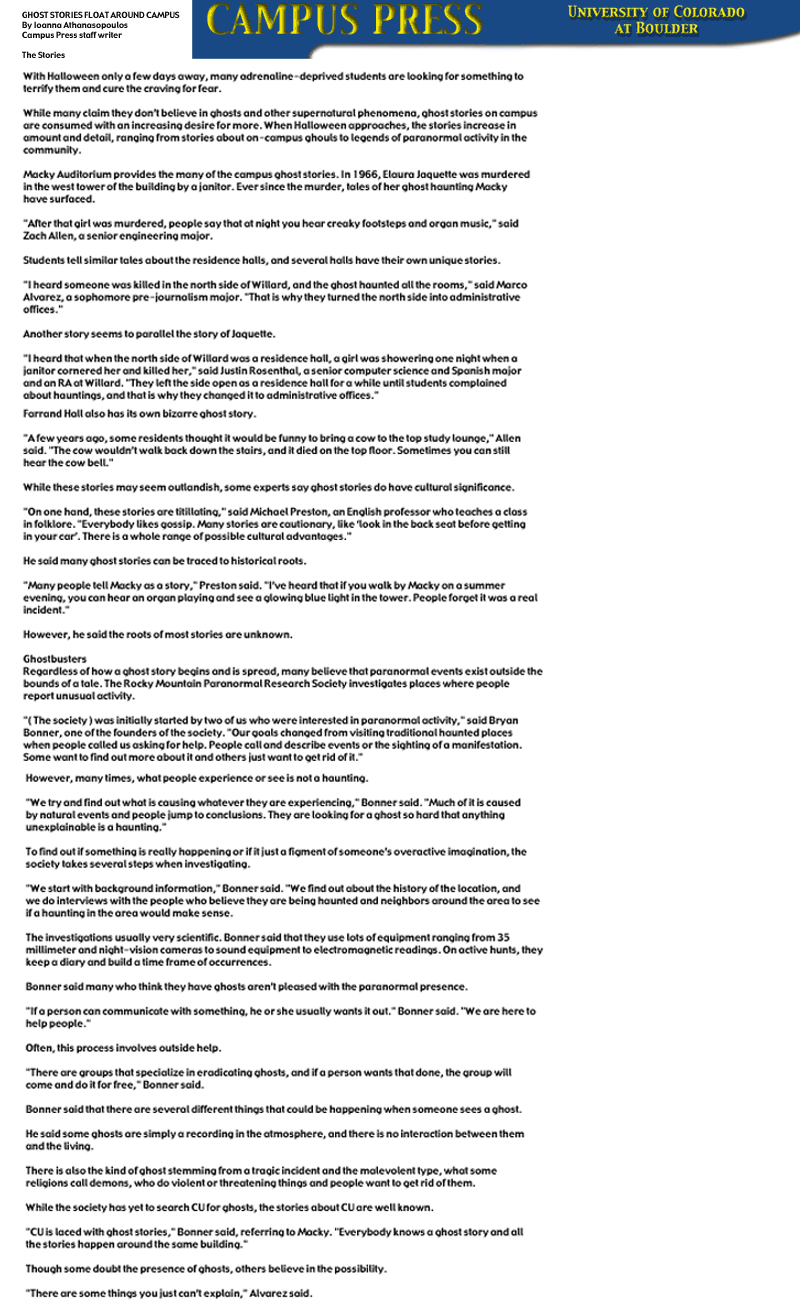 ---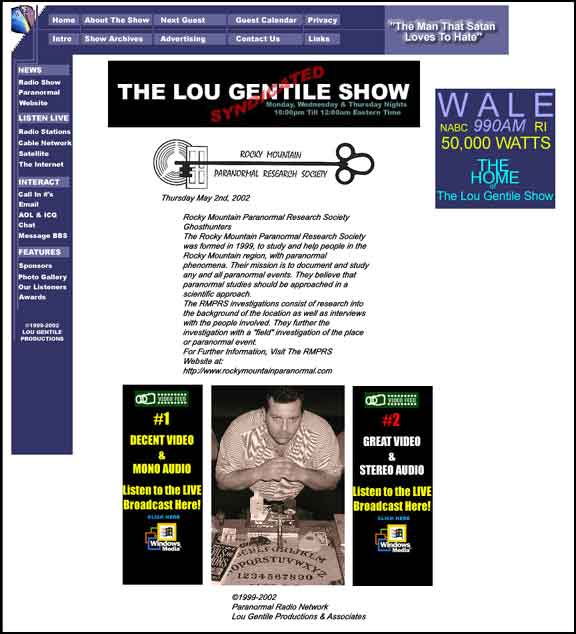 ---
Ghost Story
By Julie Marshall


October 27, 2002
It's 2:45 a.m. and my heart is pounding so hard, the bed feels like a beating drum.
Something has jolted me out of my sleep, and I don't know where I am.
Across the room hangs the black-and-white photograph of a family sitting on a lawn next to a horse and buggy. A speck of red light glows from a camcorder. Now I remember. I'm at the Berkeley Farm, waiting for ghosts.
Last weekend, I spent the night in a haunted house in Boulder. Not the kind with ghosts made from sheets and kids bobbing for apples, but a private dwelling said to be visited by spirits from the nether world. According to the property owner, as well as current and former tenants, the Berkeley Farm — an original homestead built in the days of the horse and wagon — is haunted by family ghosts.
Boulder has a rich history of reported hauntings. A new book, "Haunted Boulder" (White Sand Lake Press, $14.95), highlights more than a dozen of Boulder's most famous — and infamous — ghost stories, including eerie happenings at the Berkeley Farm near downtown. The farm, which is the sixth oldest original territorial property in Colorado, is one of two places listed in the book where author Roz Brown says she truly felt a presence.
(The second place is a 100-year-old stone house in Left Hand Canyon.)
"I want to be skeptical, but I sensed something," Brown says, "like old souls that maybe are still there."
The Berkeleys were an influential family. In 1870, Granville Sr. was appointed by the territorial governor to be a University of Colorado trustee. His son, Junius, became the first secretary of regents. Junius' brother, Granville Jr., was a prominent lawyer who built the Citizen's National Bank building on Pearl Street.
Junius Berkeley was the first to arrive in Boulder in 1861 and built his cabin on what became the family's 320-acre homestead. Diana Linnen, the great great granddaughter of Granville Sr., owns what is left — about 1 acre of the working farm with two original cookhouses and a barn.
I would be staying the night in Junius' first cabin, which became a cookhouse, Linnen tells me. The cozy, 2-bedroom home doesn't have much more than a bed and a dresser because it's being remodeled.
But furniture may move, Linnen says. The ghosts, probably Junius, may press the mattress from beneath the bed.
"Stay in the bedroom and at 3 a.m. leave the bathroom door open," Linnen says. "Sometimes there's a light there that looks like someone coming in the door."
'Ghostbusters'
Walking onto the Berkeley farm is like taking a step back in time. Despite modern additions, such as a second bedroom and living room attached to Junius' cabin, Linnen has retained the property's old-world charm with low ceilings and white painted wooden cabinets.
On this night the air is cold and still. A full moon casts tall shadows through a canopy of cottonwood trees rising above the red brick cookhouse — a structure added to the property in 1880.
Standing outside on the lawn wrapped in a blanket, I imagine the empty block building alive with the servants who once gathered water from White Rock Ditch and the cook who tended the fire. Nearby horses would be sleeping in the barn.
A psychic once told Historic Boulder, which gives haunted house tours each Halloween, that she saw the apparition of a man on a horse by the barn.
I'm not alone, either.
Back in Junius' original cabin are two "ghostbusters" from Rocky Mountain Paranormal Research Society busily hooking up camcorders in the bedrooms to TV monitors in the living room. The crew has an amazing amount of gadgetry to measure electromagnetic fields, microwaves, ion charges and any unseen energy force one can imagine.
The fourth in our slumber party is Bela Scheiber, founder of Rocky Mountain Skeptics and an astrogeophysicist, who began the evening by warning us that if anything should happen, nobody should jump to the conclusion it's a ghost.
"The supernatural should be the last possible explanation, not the first," he says.
Linnen says she did not want to believe the hauntings at first.
"Fifty percent of me said no, this is not happening."
Today Linnen wants people to know of her lineage and has fixed plaques on CU's campus in front of Old Main, and on her property. It's what the ghosts want, she says, to be acknowledged for their role in history.
"I know it sounds crazy, but I talk to them," Linnen says. "They're still around ... I feel like they are proud of me."

Looking for Junius
OK, I admit it, I talked to them too.
Thursday afternoon before the overnight, and with encouragement from Linnen, I visited Junius' grave at Columbia Cemetery on 9th and College streets, and told him I was coming.
It was a sunny autumn day; brilliant red and amber leaves swirled in a gentle wind, crunched under my feet and collected in piles along the dirt path I walked searching for Junius.
Columbia has 3,000 grave markers. How in the world would I find him?
I headed south toward the cemetery ditch. A few yards ahead stood a large man with thick, gray hair and muddy shoes. He not only had keys to the tool shed, but pulled out a color-coded map. It was serendipitous, and, a bit spooky.
The next morning I called the city to ask to speak to the cemetery grounds worker. A nice woman on the phone told me the man whom I described had died 20 years ago.
Not really ... but it was a fun thought.
Junius' ground-level, gray grave marker is in the southwest corner. Northeast, near the ditch, lies his father, Granville Sr., whose grave is marked by a leaning white marble stone inscribed with the word "Capt." because he was a captain who fought in Iowa during the Civil War.
Crouching by Granville Sr.'s grave, I felt thankful to Linnen for letting me, a stranger, into her life and into her home for a night without her there. She was willing, she said, with one condition:
"Don't scare my ghosts away."

Odd happenings
We settle into the living room about 10 p.m., with lights dimmed to watch two large and four tiny monitors. An infrared camera on a tripod is installed in the bedroom, lights off, where Junius is said to visit.
Junius isn't the only ghost. In "Haunted Boulder" the authors interviewed a current tenant living in the Ice House — a remodeled 1880s cabin where Granville Jr. stored ice cut from nearby Berkeley Lake. The original Ice House was smashed by a tree that fell after being struck by lightning, Linnen says.
According to the book, the tenant has recently seen the specter of a woman, wearing a cape, walking across the lawn. The apparition may be Clarissa Cordelia, Granville Jr.'s wife, Linnen says.
"I would love to experience that," says Mark Manning, a paranormal investigator and videographer.
At 12:30 a.m., Manning straps a flashlight to his head like a miner's cap and walks around the house with a hand-held meter. In the bedroom behind the kitchen, he picks up a temperature change. Two corners of the room have "cooled off" compared with earlier readings, but the drop is not dramatic enough to get excited, he says.
I start thinking of the movie, "Sixth Sense," in which rooms turn icy cold when dead people are present.
Within the hour, the large TV screens pointing toward the two bedrooms are filled with static.
"They both went out of focus at the same time," Manning tells his partner, Bryan Bonner. "That's just really odd; it's never happened before."
Odd situations are nothing new to Bonner, a freelance photographer who uses his art to record ghostly activity. One of his favorite stories occurred this year during a Fort Collins investigation. In that house, the slow, monotonous beep of Bonner's electromagnetic field meter increased to a rapid beat at the same time he felt someone slapping his face.
It wasn't hard enough to hurt, he says. "But hard enough to say 'I'm here.'"
Another time, Bonner was called to investigate Mattie's, a restaurant in lower downtown Denver that was a bordello in 1889. As legend goes, a prostitute committed suicide in one of the rooms and in that room, during the witching hour, Bonner heard voices.
"It was a weird-sounding language," he says. Linguistic experts could not decipher the audio tape.
"It sounded Slavic to me," Manning says.

A tall figure
At 1:40 a.m. comes a noise that stops cold our debate of horror movies. I can only describe it as a "ping," as if a metal ball has ricocheted off a metal wall.
"I think it's coming from the bedroom," Bonner says.
Scheiber shoots up and marches outside to search for evidence of birds or other wildlife stirring up noise.
He finds nothing. But there is an old entry to a sub floor that has been closed off, he tells us when he returns. The noise could have come from some type of space underneath the house.
Closing in on 2 a.m., Bonner volunteers me to lie down on the bed in the room where Junius is supposed to appear.
The bed is soft and comfy. Dark reflections from a rectangular mirror leaning against the wall to my right are freaking me out a bit, so I stare ahead and notice the bathroom door is wide open.
The black of night is thick with possibilities.
I imagine Junius, or maybe Granville Sr., hovering in the doorway. He is a tall figure with broad shoulders, wearing a hat.
I'm not scared. I remember Linnen telling me this is her family; this is their house and it's full of loving, rather than angry, spirits.
I fall asleep for about 40 minutes, until the wake-up call of my beating heart.

Contact Julie Marshall at (303) 473-1305 or MarshallJ@dailycamera.com
---
Unexplained Colorado
Beth Bason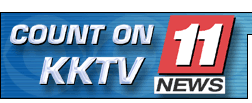 Many people claim to have proof that ghosts and other entities exist.

People send countless videotapes and pictures to paranormal investigators each year.

But in some cases there is more than meets the eye.

One simple way to do that is by using this.

T's called flash paper.

When you light it, it disappears into thin air, leaving no residue behind, when captured on video, it makes people wonder what they just saw.

Unxplainable flashes of light, or are they? What you're looking at is actually flashpaper, designed to fool the viewer into thinking there's an unexplainable presence caught on tape.

Bryan Bonner and mark manning are paranormal investigators, they've looked at hundreds of pictures and video tapes over the years.

Here's an example of an old-fashioned hollywood trick, a ghostly figure floating through the room.

All you need is a makeshift ghost, piece of plexiglass, a flashlight, and voila, instant ghost. How about orbs? Bonner and manning say they can easily be created too.

This trick is similar to the last one, they just shook a featherduster in front of the lens, and instant orbs.

When it comes to photos, Bonner and manning say most times they-re not faked, the problem results when someone gets their film developed and isn't sure how a certain image got on their picture.

Bonner says there are several explanations, most often, operator error.

He says mysterious lights like these really aren't so mysterious, just a bi-product of light.

Even though Bonner and manning say hauntings are possible, they haven't found any convincing evidence just yet, but they say they'll keep looking.

If you have a story idea for Unexplained Colorado... Just drop us an email, the address is:

Unexplained@ kktv11news.com

---

Location: Private House in Colorado
Date: July of 2000
Equipment used: digital thermometers, 35mm cameras, emf meters, & audio recorders
Contacts: Bryan Bonner and Christopher J. Williams
Website:http:.//www.rockymountainparanormal.com
Email:bryan@rockymountainparanormal.com
Our investigation into "The Friendly Farmer" consisted of a lengthy interview, a site survey and taking photographs. This process is then followed by extensive research into the history and background of the property.
Initial contact is made by phone. We ask very brief questions about the phenomenon that is being experienced, who has witnessed this and their family situation. This aids us in preparing a list of questions to be asked at the interview. After a date and time is set to meet with the percipient we at R.M.P.R.S. than edit our sample questionnaire to adjust it to the conditions of each particular situation.
The interview is the most important part of an investigation. It defines the parameters, helps determine the regularity (if any), and establishes a sequence to the event. The most critical aspect is that we develop a sense of trust and professionalism with the interviewee. We always tape record the interview. This provides a record of what was asked and the responses that can latter be used to reconstruct, as accurately as possible, the phenomenon.
This specific case illustrates the importance of the interview. What was determined was;
1) The appearances were random and separated by long periods of inactivity.
2) The appearances were specific to one area of the house.
3) No auditory phenomenon was noted.
4) Some clues were present to establish an identity to the ghost, ie. He looked like a farmer; she wore clothes from the 30's or 40's.
5) There was no kinetics noted, ie. Slamming doors or objects moving.
6) The percipient felt that they were sad.
7) Information on the informants cultural background.
R.M.P.R.S. then conducted a survey of the house and reviewed the area of the phenomenon. We did not notice any cold spots or any energy surges. A rough drawing was made of the layout and approximate locations of the apparitions were noted. We took photographs of the rooms in hopes that maybe something would turn up.
Because of the random nature of these ghosts it was highly unlikely that any activity would be captured on film or otherwise. Before leaving we ask the percipient to keep a log of any future activity. It should be pointed out that this request usually proves to be disappointing. The client either looses interest or forgets to enter pertinent data. We recognize hat this is valuable information to be collected but is almost impossible to expect or mandate that a client participate at a level we deem necessary. We are currently evaluating how we can make this a user-friendly system of data gathering.
Due to the lack of documentable evidence we are usually faced with the need to find corroborative proof. This is where the long and laborious task of research comes into play. First we go to the County Assessors and pull copies of all the deeds pertinent to the property. This gives us names and dates to track down the history of the owners. From here we check census records. This gives some background information such as age, occupation and marital status. We also check marriage and divorce records and newspaper obituaries. If a previous owner is still alive we try to track down their current location and call them to ask if they ever noticed supernatural activities while living there. Like a detective we are searching for leads that could explain and substantiate what the client perceived.
As you can imagine this process takes a very long time and the majority of the information leads to dead ends. We still are acquiring and investigating leads on this property. What we have found out is the following:
1) This was never farm property per-se. It was speculative real estate held from the 1900 to 1970's by various people in hope that it would increase in value. It was developed, subdivided and homes built on it, including our subject house, in 1971. None of the owners lived on the property during that period, however that does not mean it was not subleased to farmers.
2) Between 1971 and 1993 the house was sold 5 times. Of these, two "quit claims" were filed that put the house in a spouse's name due to divorce. The original selling price was $24,000, however, in 1988 the property was transferred for $6,000. Looks suspicious and we are still trying to track down this owner but it looks like he left the state. Also an interesting note…his ex-wife remarried one month after the divorce and we have not been able to find her anywhere. Her new husband remarried again but there is no record of their divorce. Did she die? We are still searching the obituaries.
3) One owner only owned the house for 3 months and resold it. I tracked him down and talked to him but it turned out he never lived there. It was a real estate deal to buy the house turn around and sell it quick.
Some of the conclusions that can be drawn are that the client is stable and reliable. She seems to have witnessed something that she is convinced is paranormal. It appears that (according to current theory) that the "farmer" ghost could be a residual ghost. Although the fact that he did reach out and touched her makes a precise classification difficult. The other ghostly forms are residual ghosts due to the fact that they did not interact at all. The percipient did perceive that they were sad and tried to comfort them. This perceived attribute would indicate that these spirits came to an unhappy ending. We are hopeful that this can be verified by researching the various local periodicals.
This is a brief summary to highlight some of the steps we go through to investigate the paranormal. We intended to show the procedures, the information gathering process, some of the drawbacks and frustrations. Research into the paranormal is not a science. It is a theory at best. We at the Rocky Mountain Paranormal Research Society like to take the approach analogous to preparing a case to be tried in court. Most evidence collected is circumstantial, it implicates our position that paranormal activity exists but does not prove it beyond reasonable doubt. The best we can do is keep compiling as much evidence as possible. It is always worth remembering that you can still prove your case if the preponderance of circumstantial evidence is overwhelming and corroborative.

---
© 2000 shadowlord@theshadowlands.net
© 2000 Rocky Mountain Paranormal Research Society

---

Who you gonna call?
By KASEY CORDELL Colorado Daily Staff
When there's something strange in the neighborhood, folks call Bryan Bonner. Bonner anchors the Rocky Mountain Paranormal Research Society out of his Westminster home. The research society, founded by Bonner in 1999, investigates out-of-the-ordinary photographs, videos and occurrences with a healthy dose of skepticism.
"I've always had an interest in things paranormal, but I wanted to get into it seriously, and no one was interested in it seriously," he says.
Bonner labels his group as a skeptics' group, meaning they approach situations with an open mind and try to find any possible natural explanation for the phenomenon before leaping to the conclusion that it's something supernatural.
"We approach all our different cases with 'How can we recreate it?' If it's something we can recreate in the lab, usually there's a simple explanation for things," Bonner says.
Most often people present the possibly paranormal to Bonner in the form of photographs with unexplained light circles or mist, called orbs and vortexes in the realm of the mystical.
Bonner, who has nearly two decades of photography experience, says many of the "paranormal" images in these pictures are explained by dust particles, condensation or lens flare. He remarks that many "ghost groups" are little more than "overblown camera clubs" because they lack an understanding of their medium.
"Because most people in this field do not have the background in any of the technology, if they pick up a camera anything they get is ghost, even if it has a standard explanation," he says.
In 99 percent of the cases Bonner sees, he says there is a natural cause.
But what of the other 1 percent? Despite their skepticism, Bonner's group isn't above believing in ghosts.
"We're not saying that they're not ghosts out there or that we haven't seen them," says group member Wendy Haver. "Only that we can't prove it."
That doesn't mean the group members haven't experienced the supernatural, though. Bonner recounts an investigation in a Fort Collins home that left him with a harrowing tale to tell.
The Fort Collins family solicited Bonner's help with something "unfriendly" in their home. As part of the standard process for investigations, Bonner's group undertook some preliminary interviewing. In their discussions with the family, the team learned that one member had been experimenting with witchcraft and could possibly have invited something in. Bonner and company began to set up their equipment.
In its arsenal, the Rocky Mountain Paranormal Research Society maintains several types of electromagnetic field (or EMF) meters, infrared cameras (which record in the dark to ensure a prankster isn't just toying with them), motion sensors, ion counters and audio equipment.
"We try to cover every aspect of the spectrum," says Mark Manning, an affiliate of the group and an investigator for the American Association for Critical Scientific Investigation into Claimed Haunting.
After setting up their equipment in the Fort Collins home, a process that takes about an hour and a half, the group waited. The family previously noted that the activity centered around a closet underneath the stairs in one bedroom and a pool table in the living room. Other than one unexplained incident with a motion sensor, the equipment didn't reflect anything strange- until the family went to sleep and one member entered the troublesome bedroom. A persistent scratching near the closet provoked the family member to leave the bedroom.
"She became scared because she saw shapes and shadows moving on the wall," Haver says.
Bonner volunteered to stay in the room with the family member. He heard scratching noises and saw shadows moving near the closet and asked that other members of the team verify this. They did. The EMF recordings from the meter nearest the closet also varied without explanation. As the night progressed, Bonner, stationed nearest the closet, felt a periodic tap on his face by something unseen. At 5 a.m., the investigation the family requested the investigation be halted.
The experience still resonates with Bonner, who makes no money from his investigations. He cites the exorbitant cost of equipment as a major deterrent to pursuing the field as an individual, hence the birth of the Rocky Mountain Paranormal Research Society.
"If one person was going to get into this, they couldn't afford it," he says.
Each member of the group brings to it a different strength and a healthy respect for science. Bonner, hopes to use that science to further investigation into the paranormal.
"There's no proof there's a ghost, yet. That's what we're working on," he says.

---
We have been guests on Night Chat several times.


---
Halloween 2004
Talking about Denvers local haunts


---
Featured speakers
"Ghost Hunting"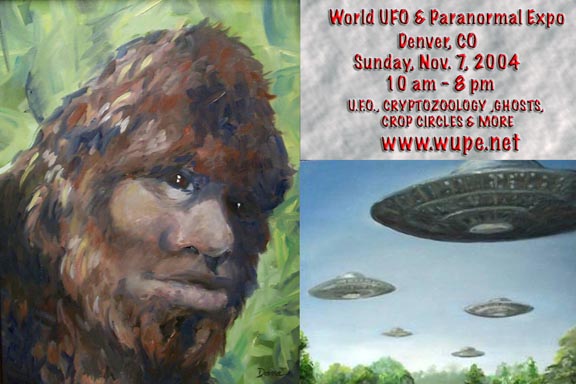 ---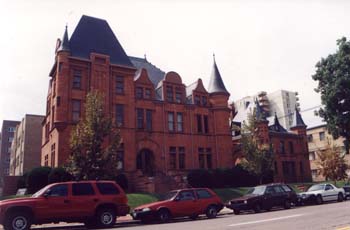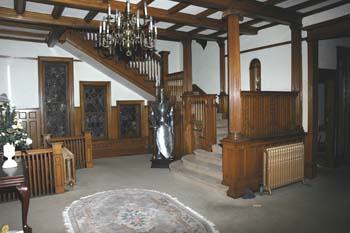 In 2004 we went to the Croke Patterson mansion with Dave & Scotts'
850 KOA ZOO BOO Tour


In 2003 We were featured on 850 KOA
Live from the Victor Hotel.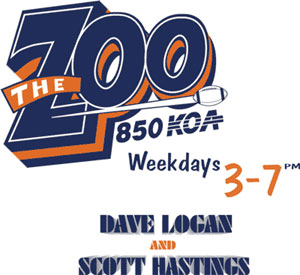 In 2004 we went to the Croke Patterson mansion with Peter Boyles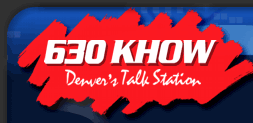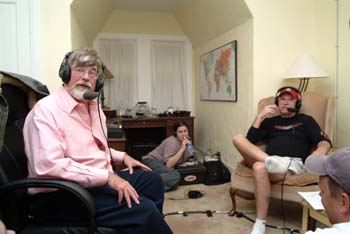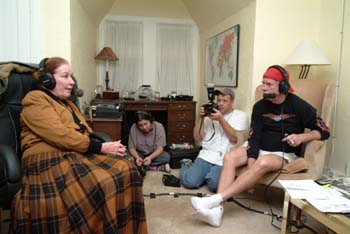 ---
National Geographic Channel
Is it Real?
Ghosts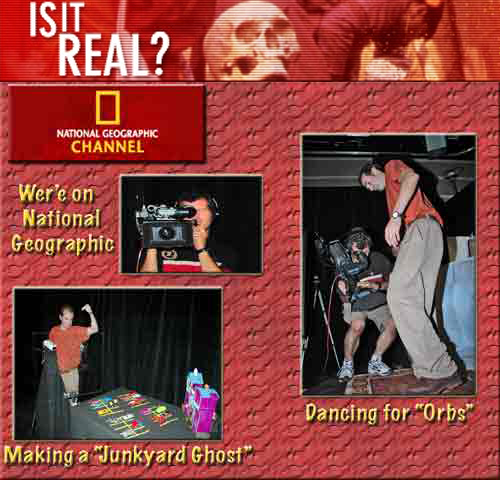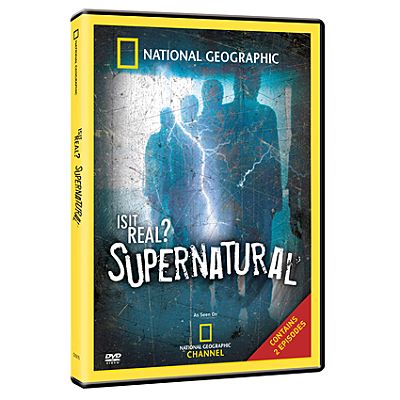 Is it Real: Supernatural DVD Sets
There are those who believe in what is often dubbed the ''paranormal'' and those who believe in only that which can be proved with science. This special collection uncovers, with both believers and skeptics, the truth and tales of Stigmata, UFOs, Crop Circles and Ghosts and other phenomena so that you can determine the ultimate Is it Real? Four episodes in the set.
---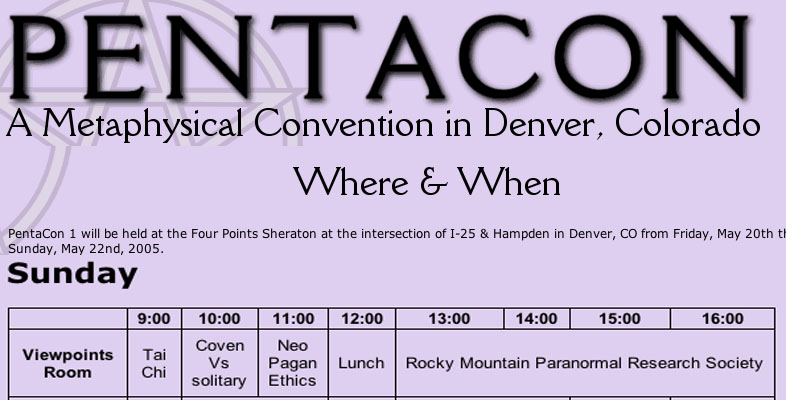 ---

---
Movie premieres we have hosted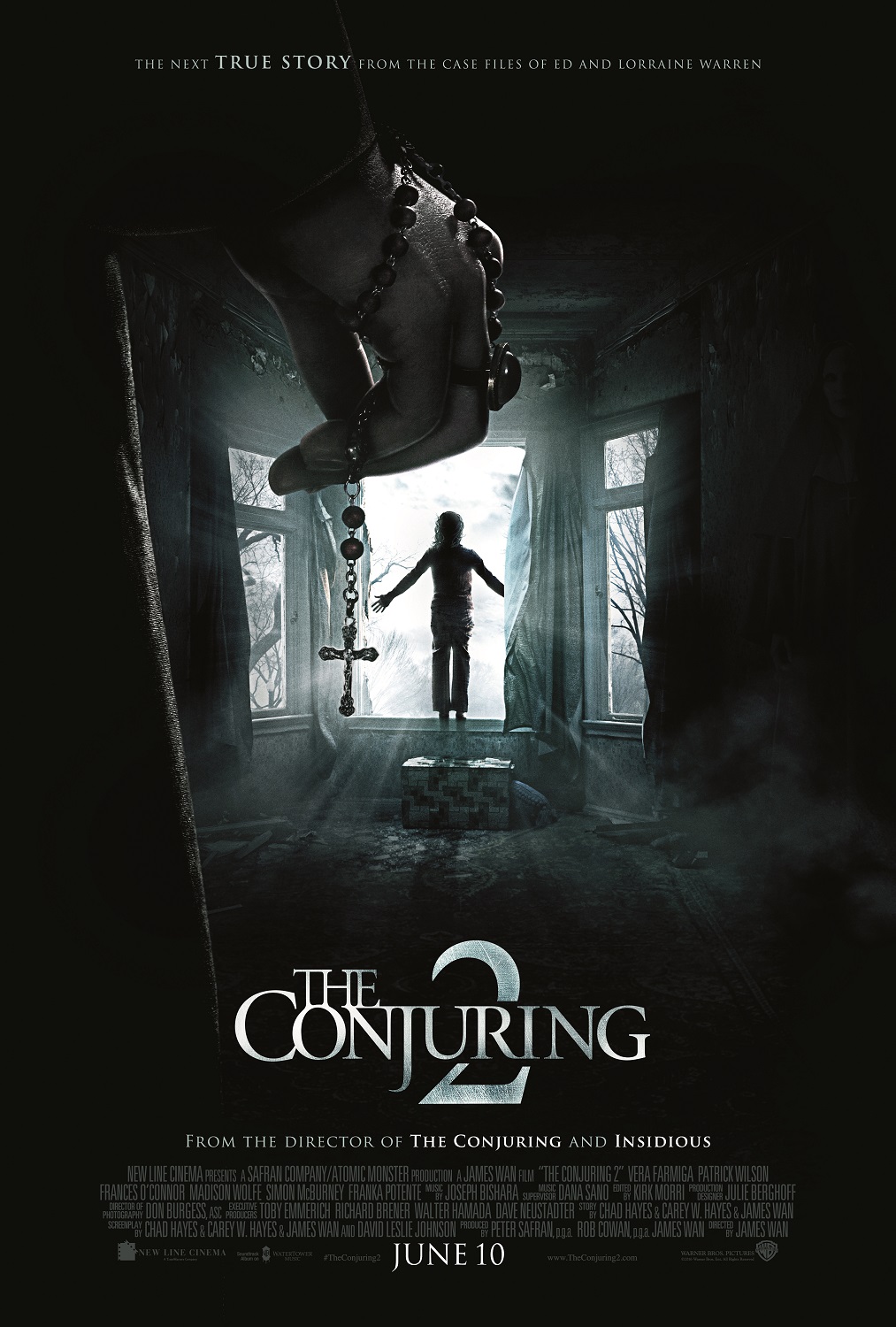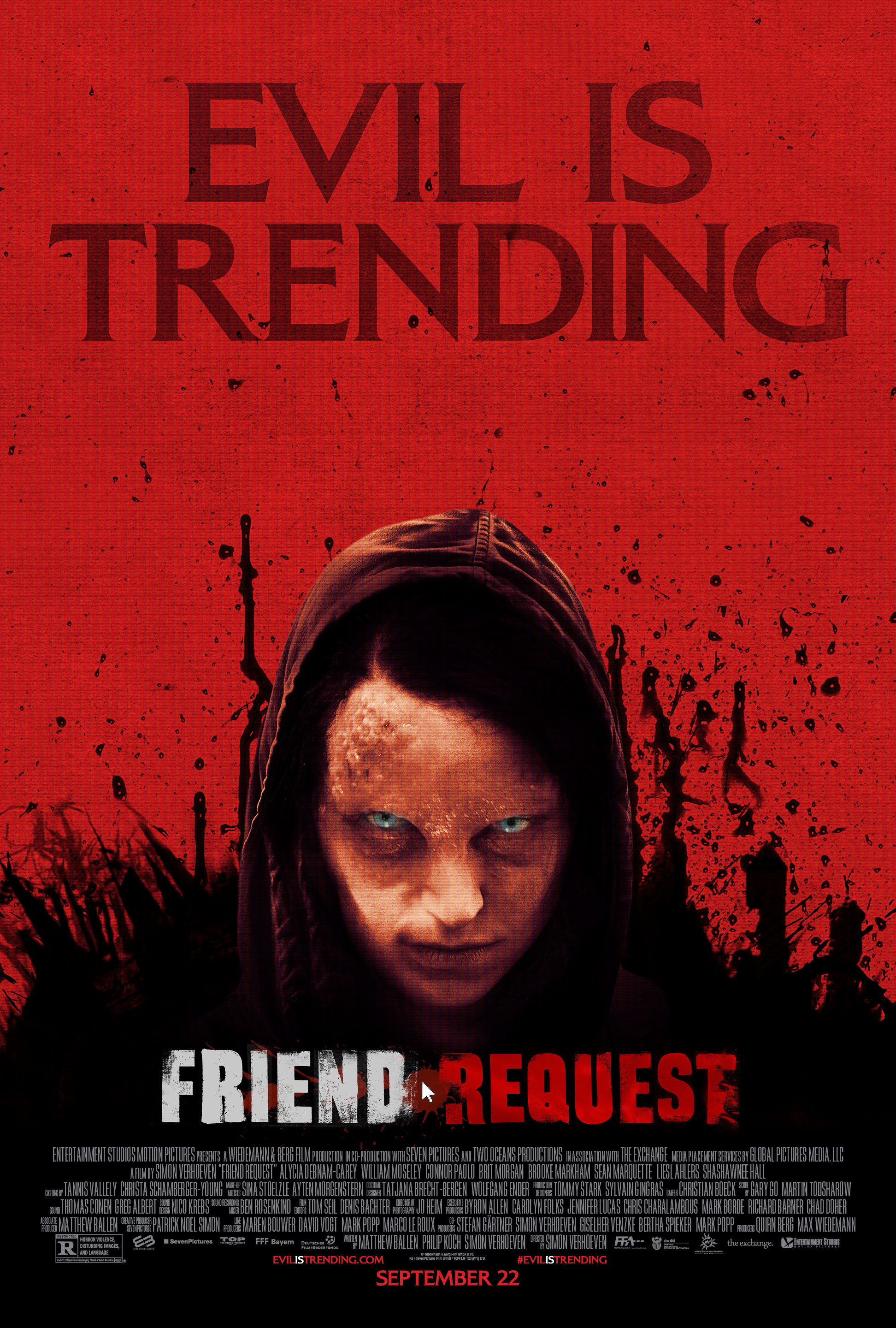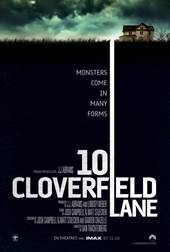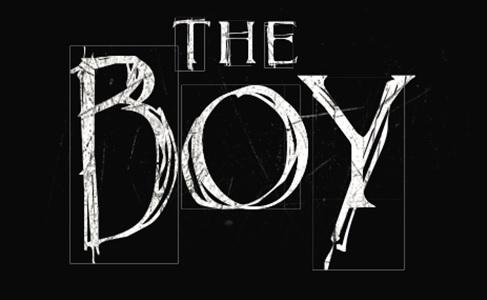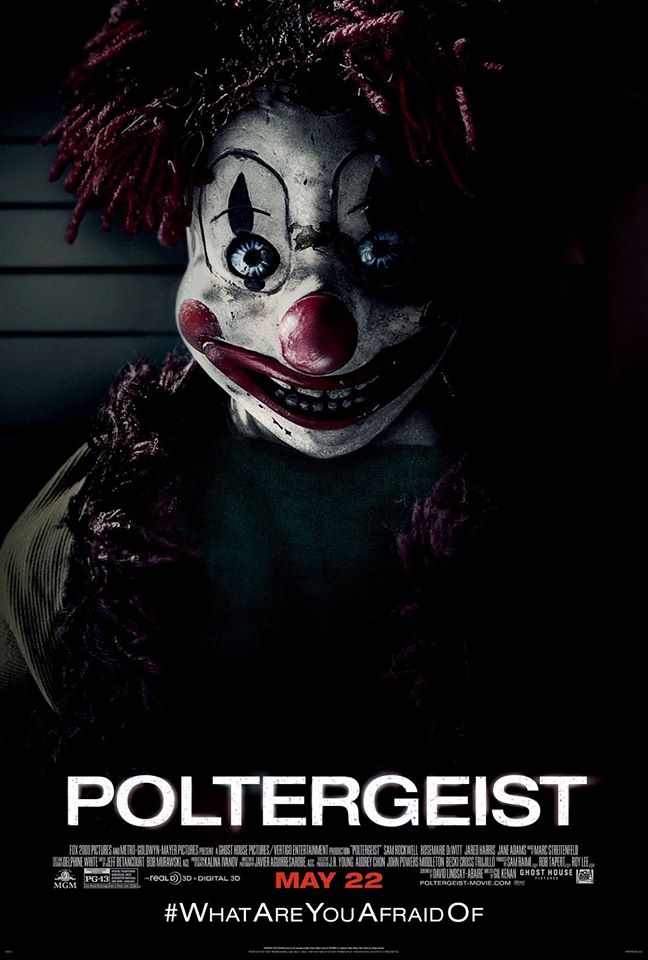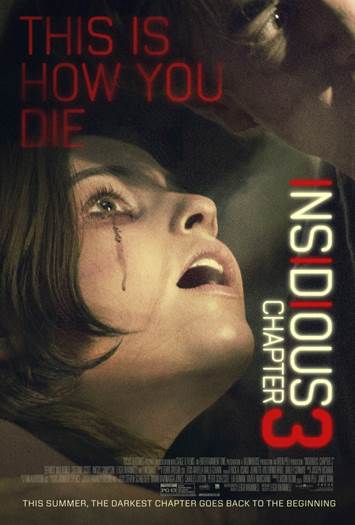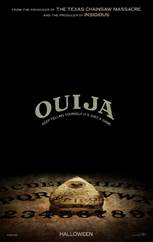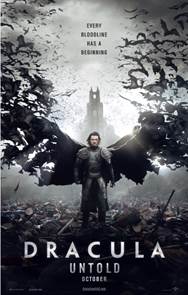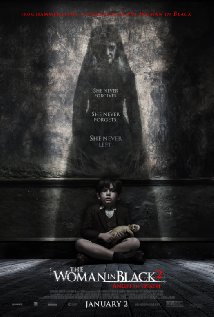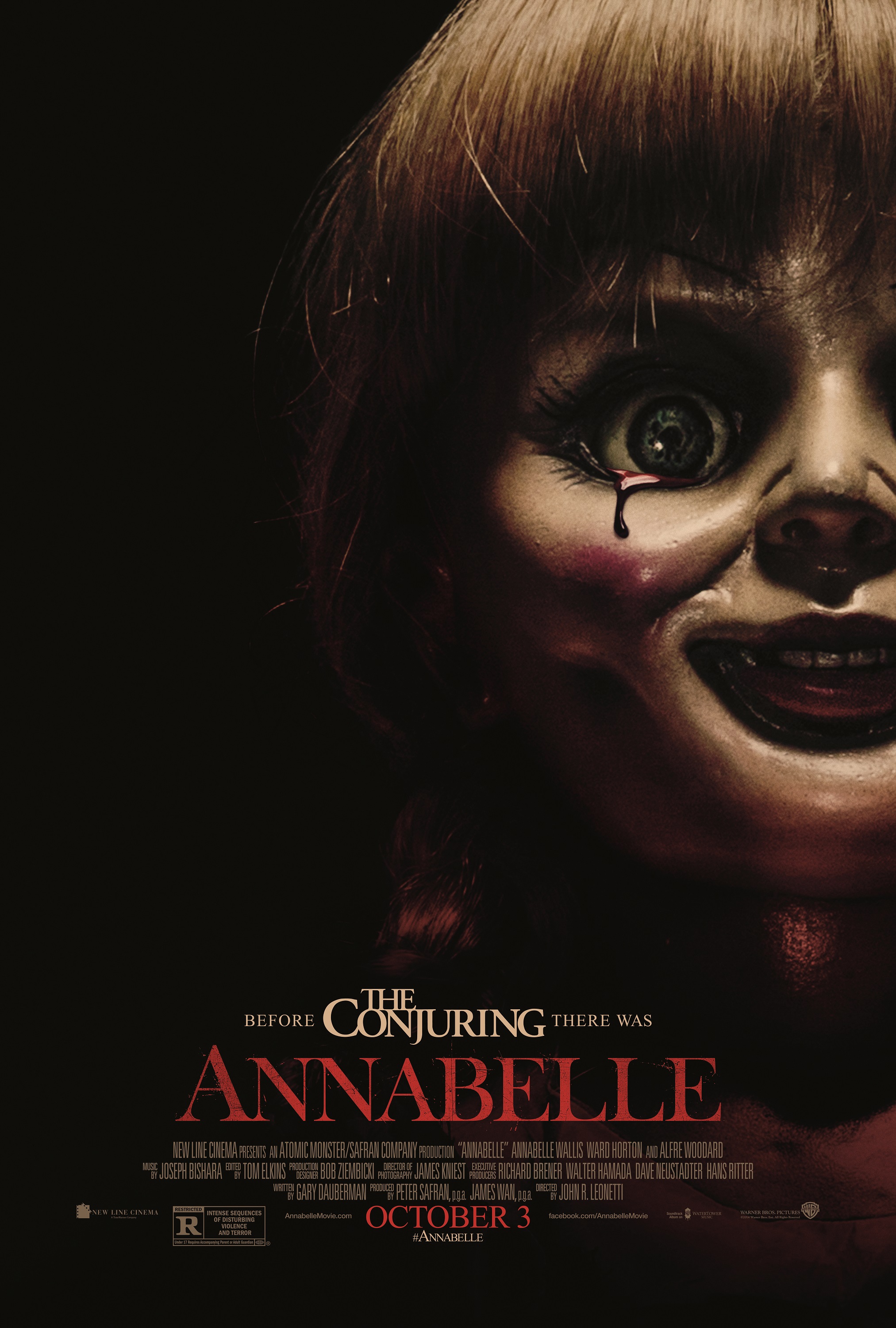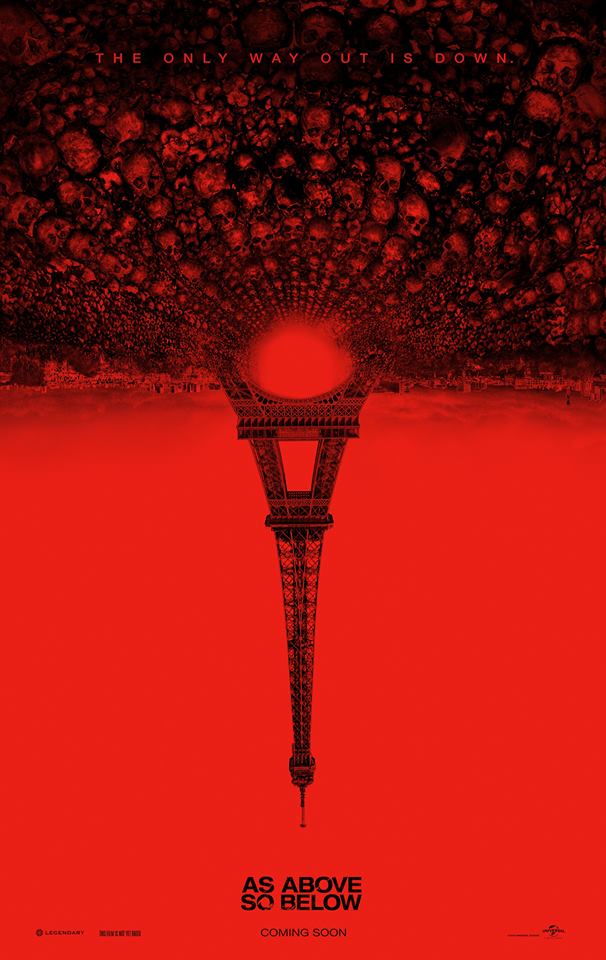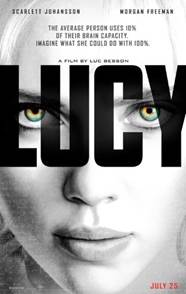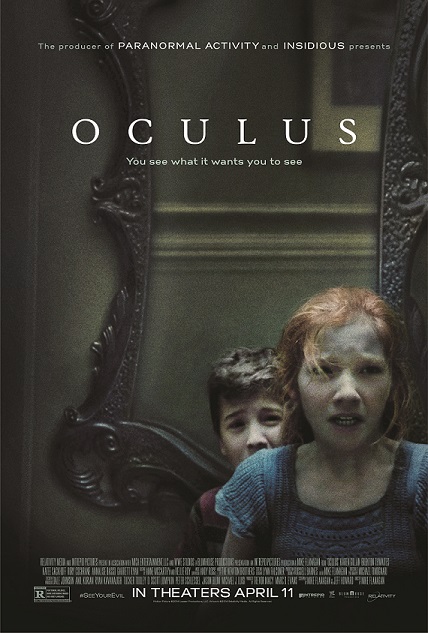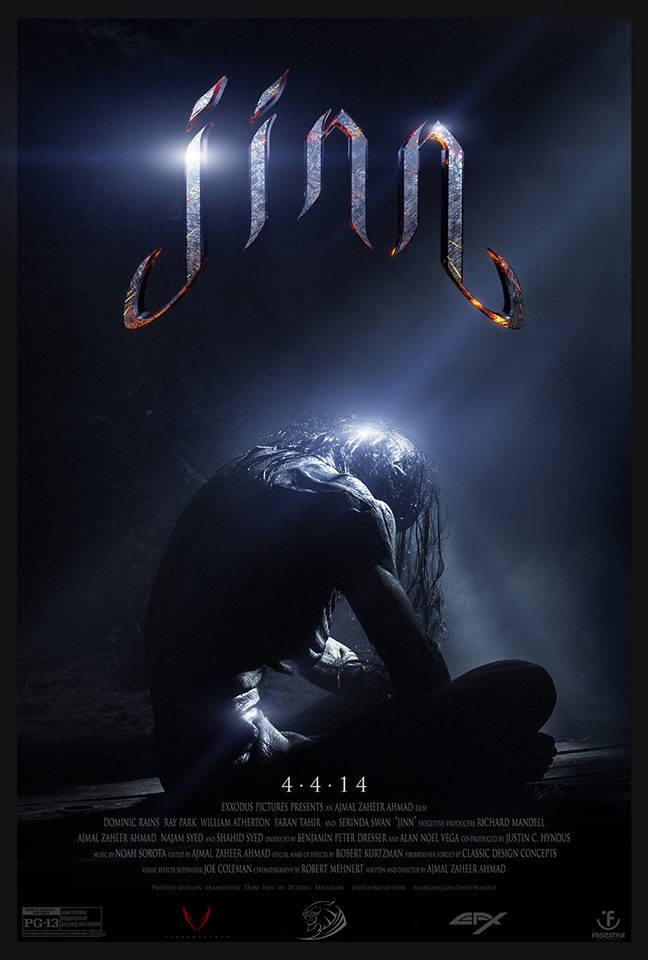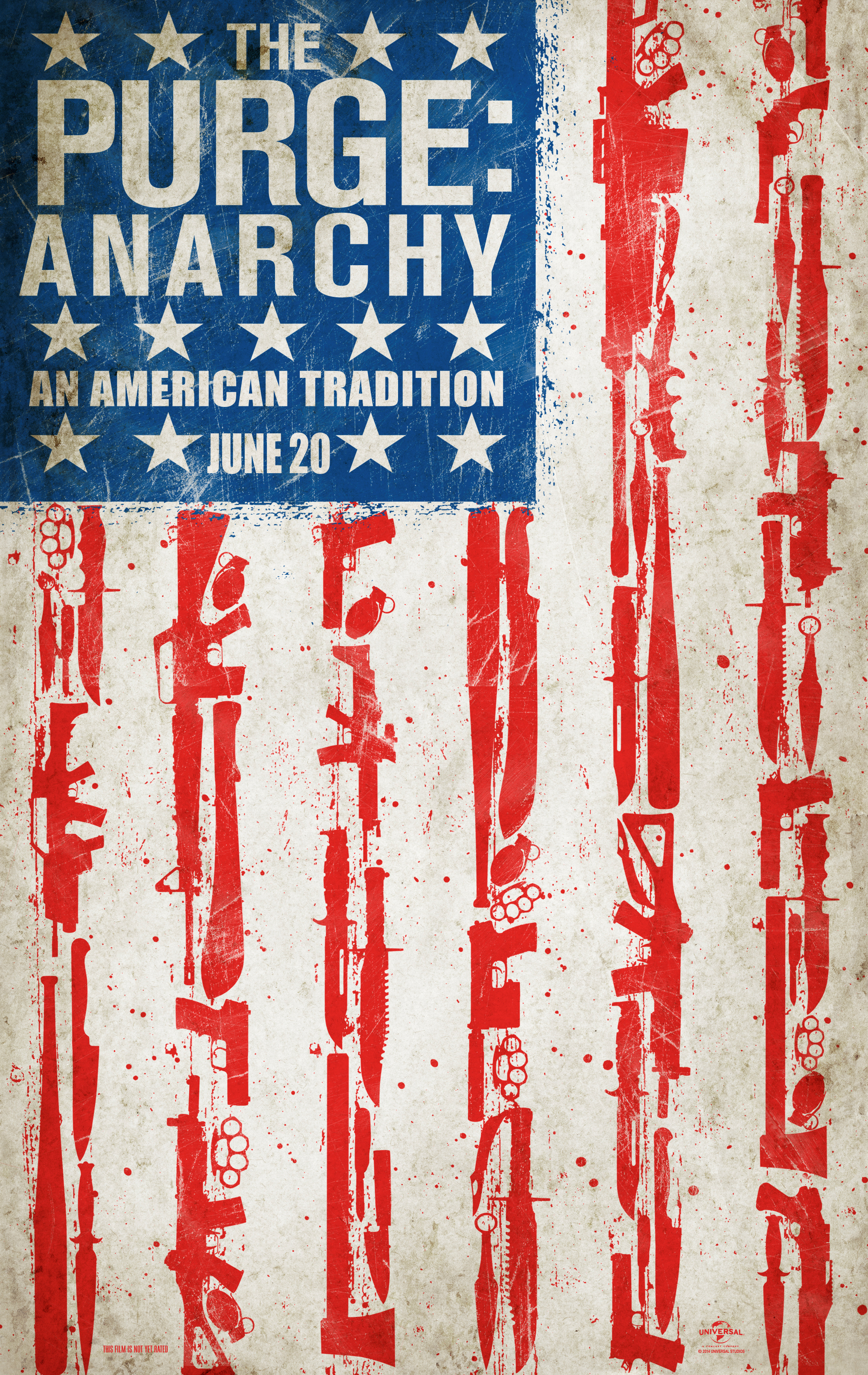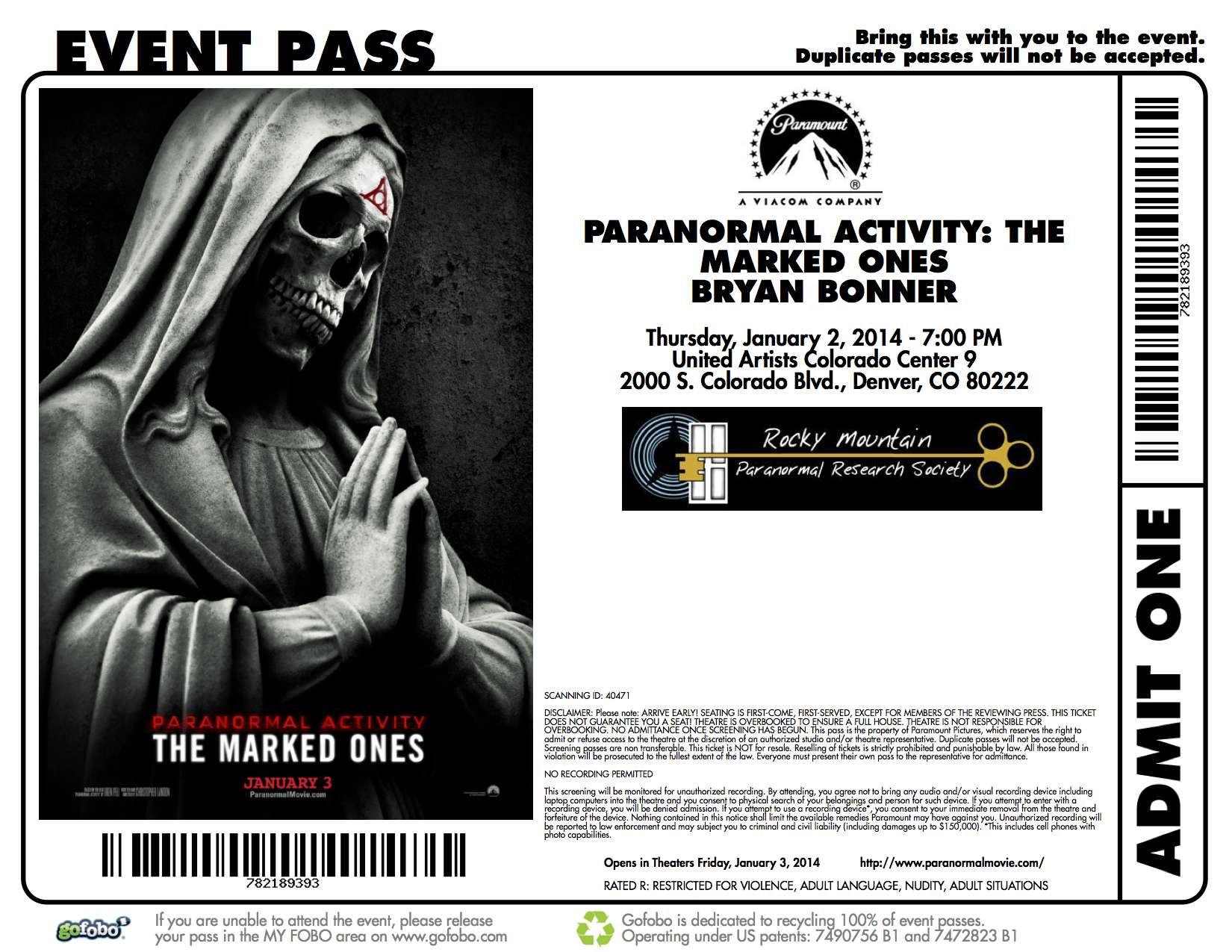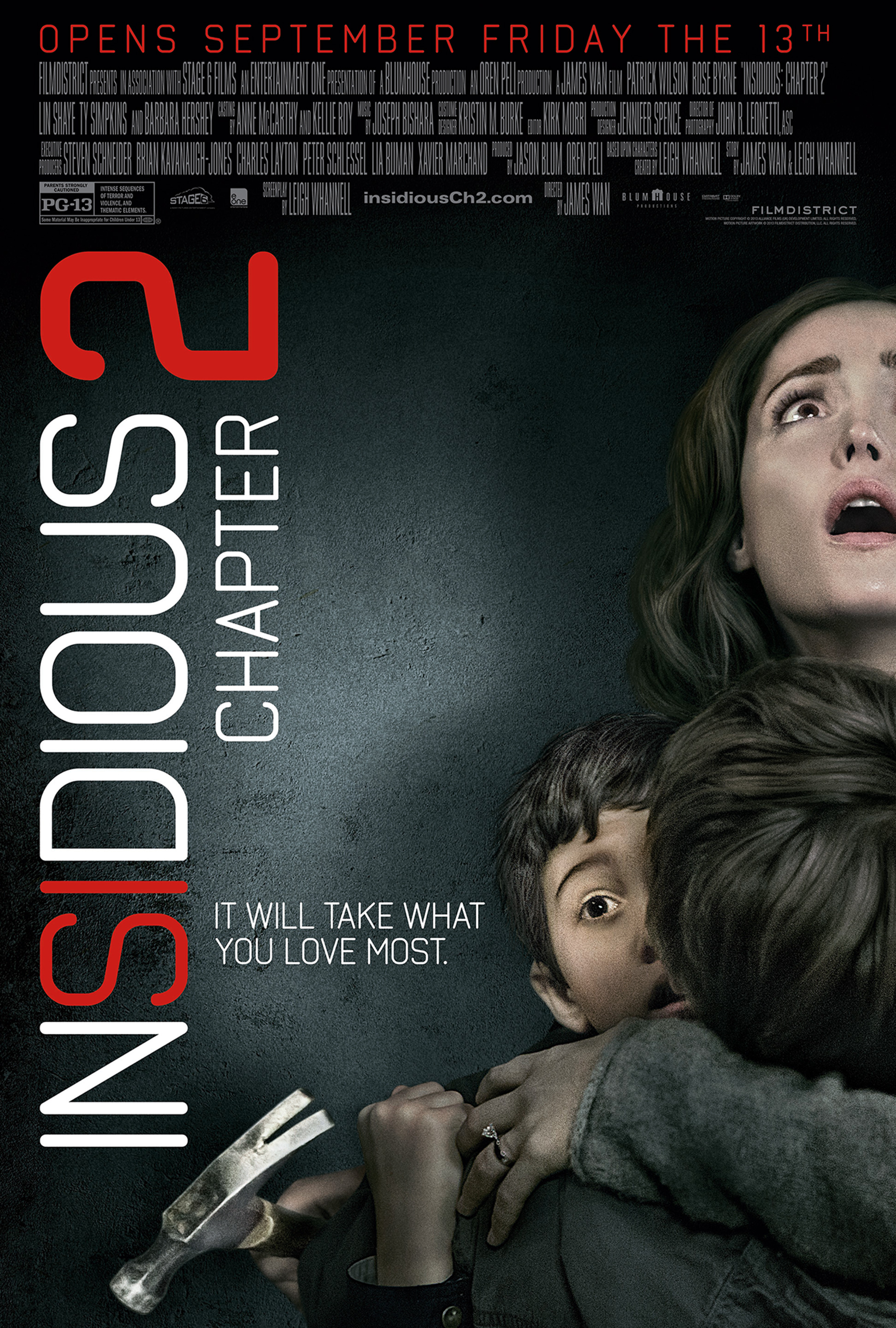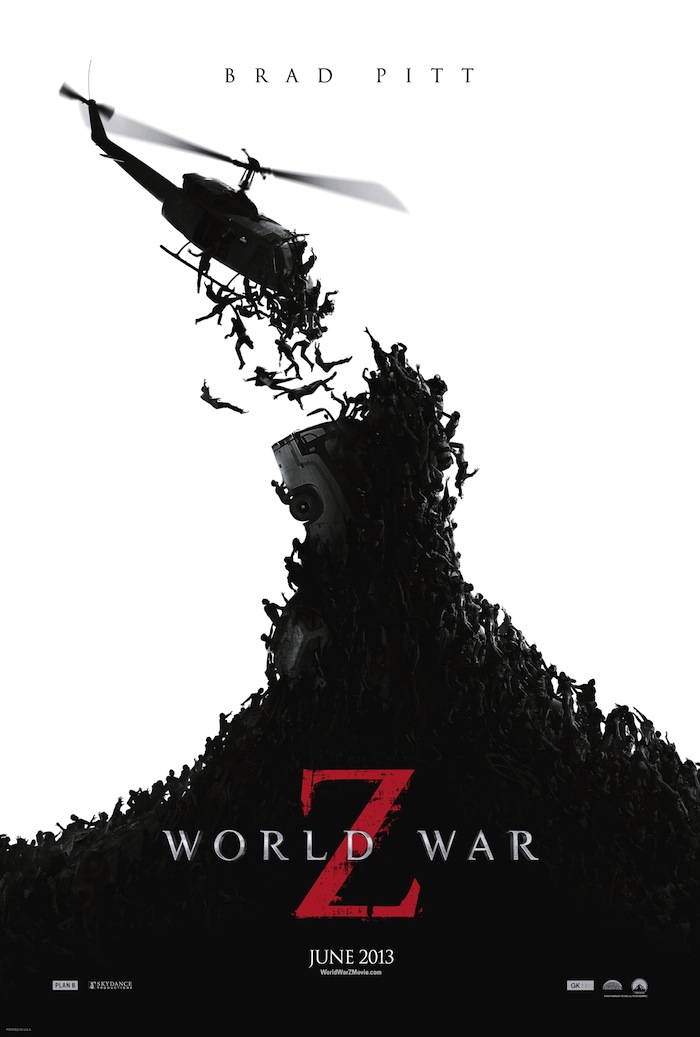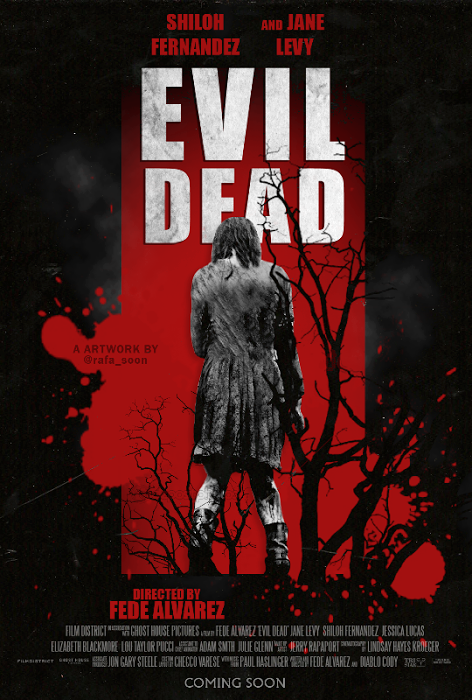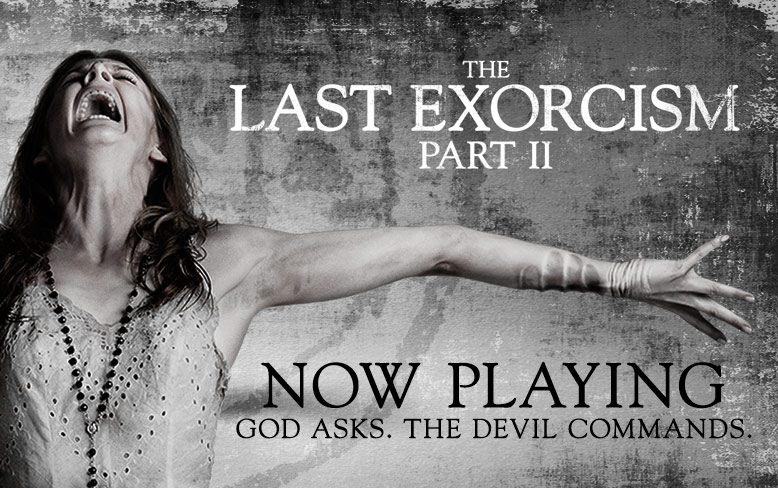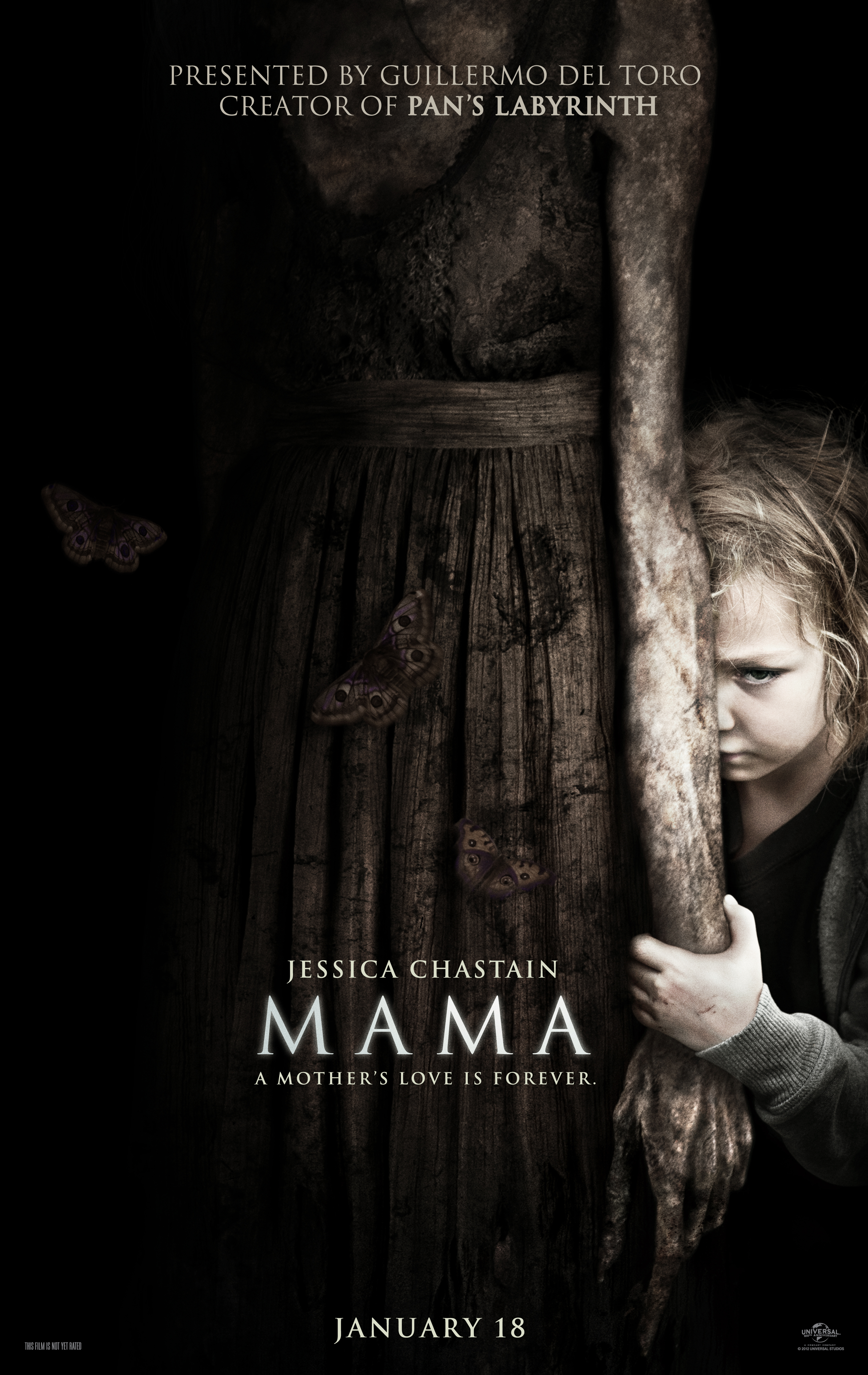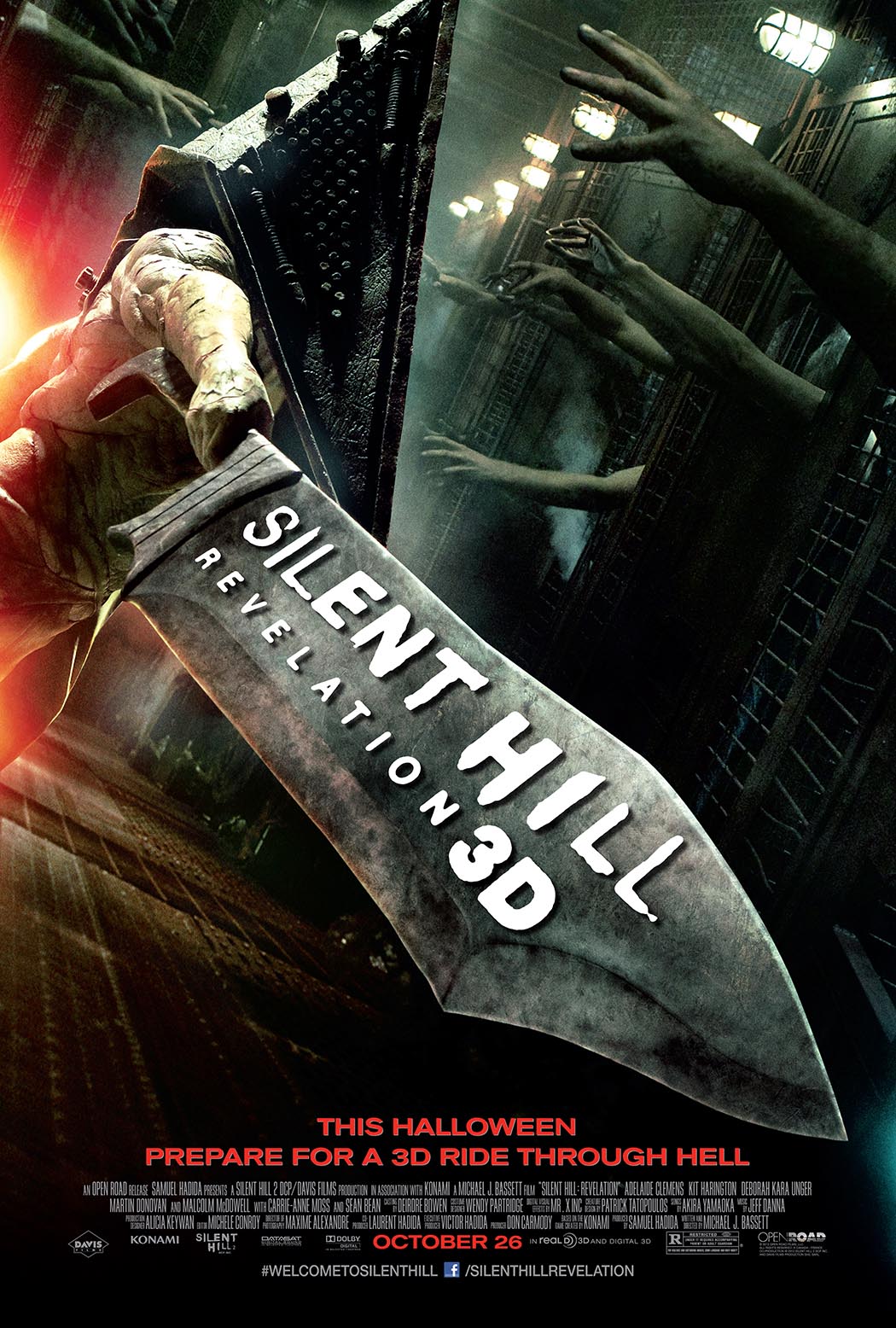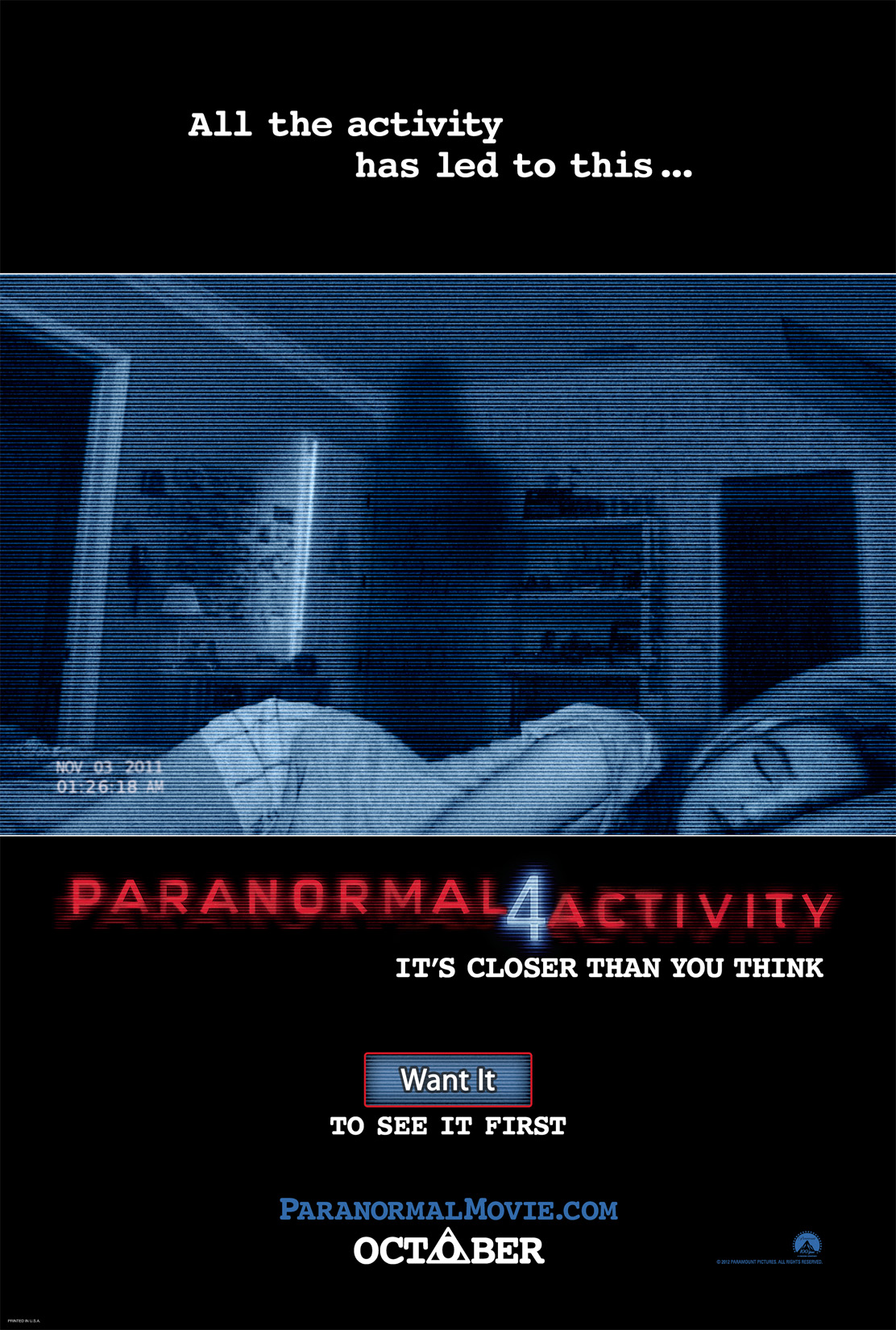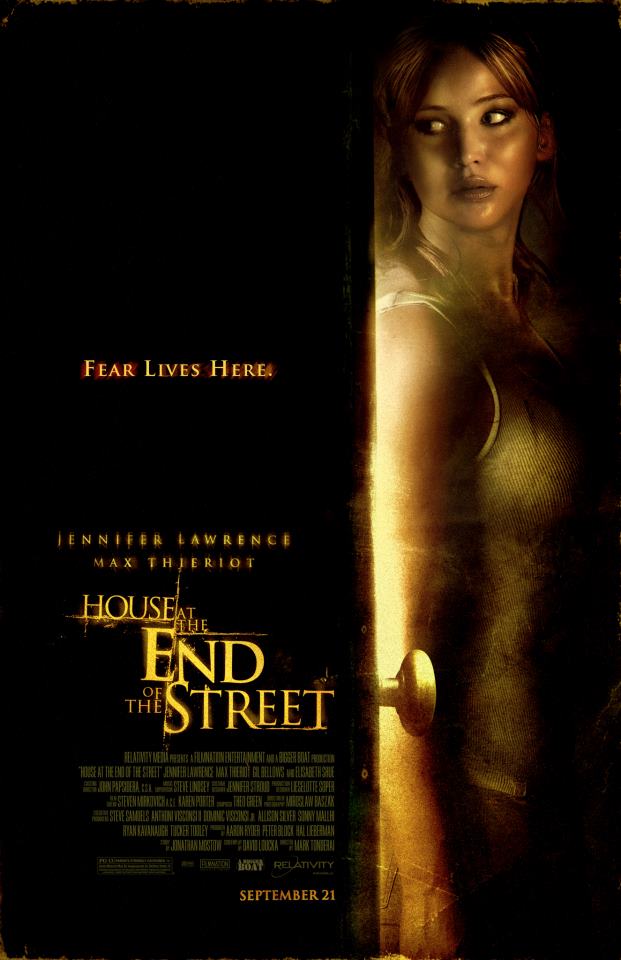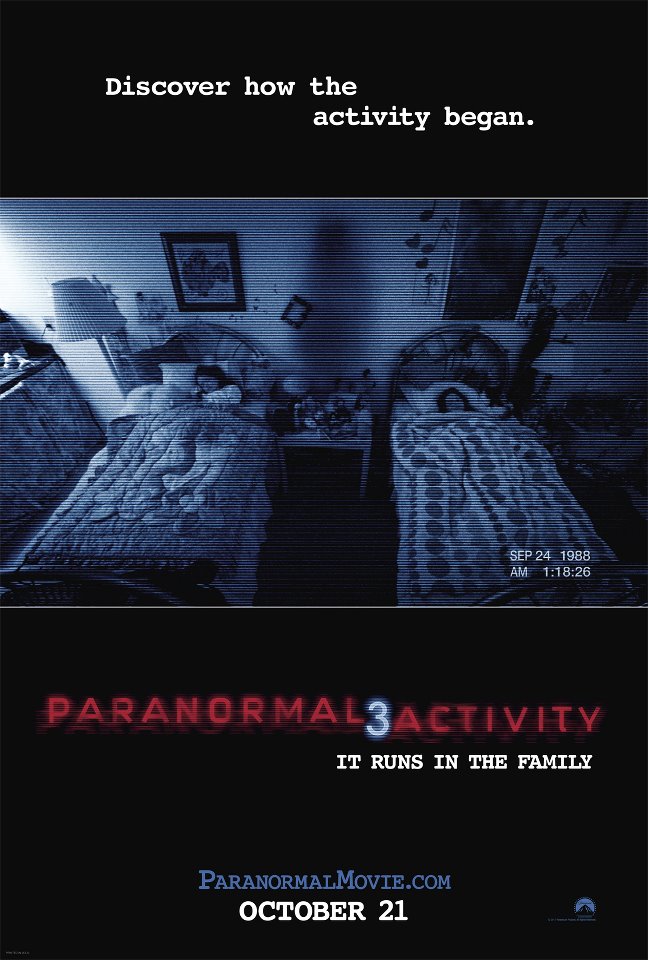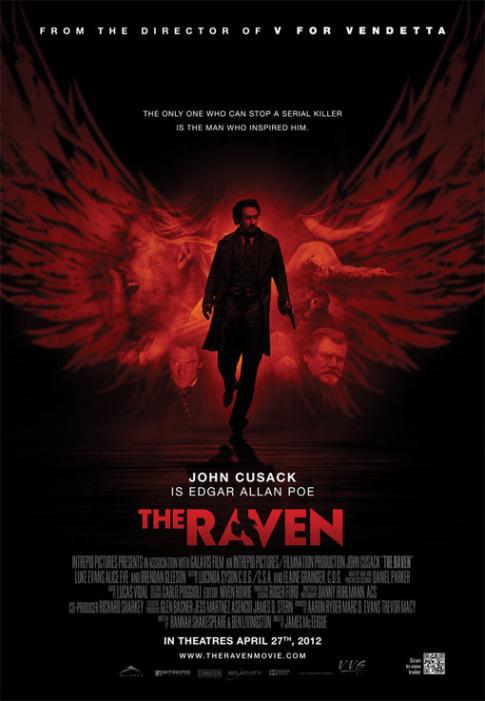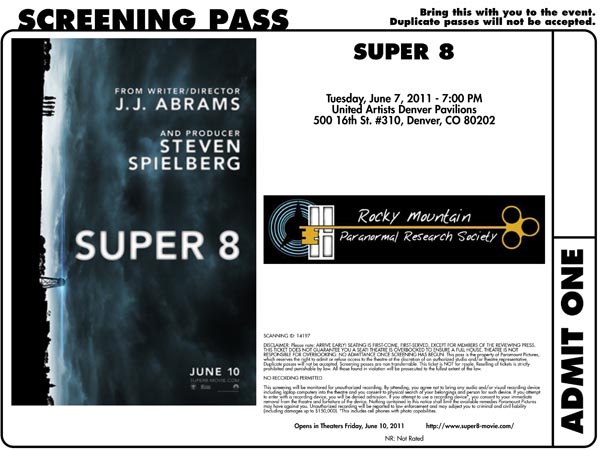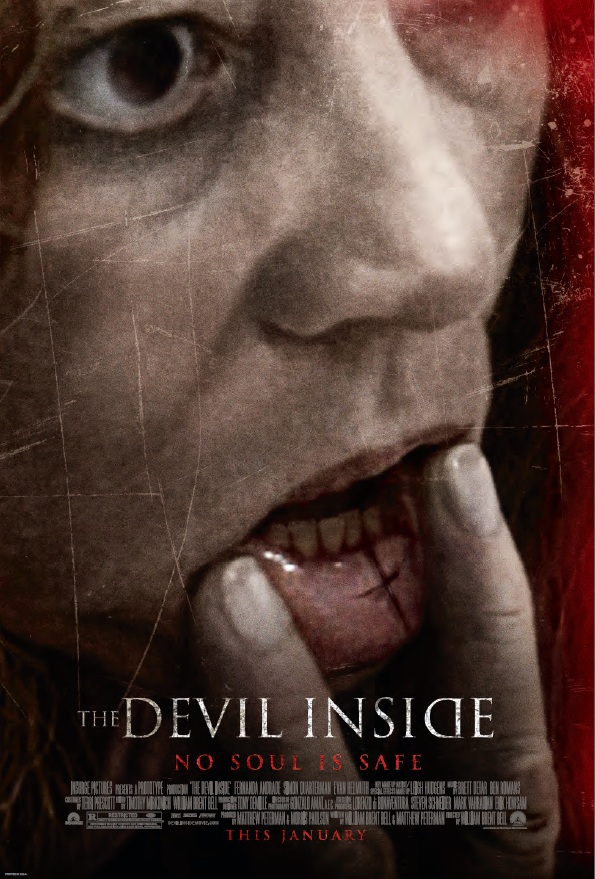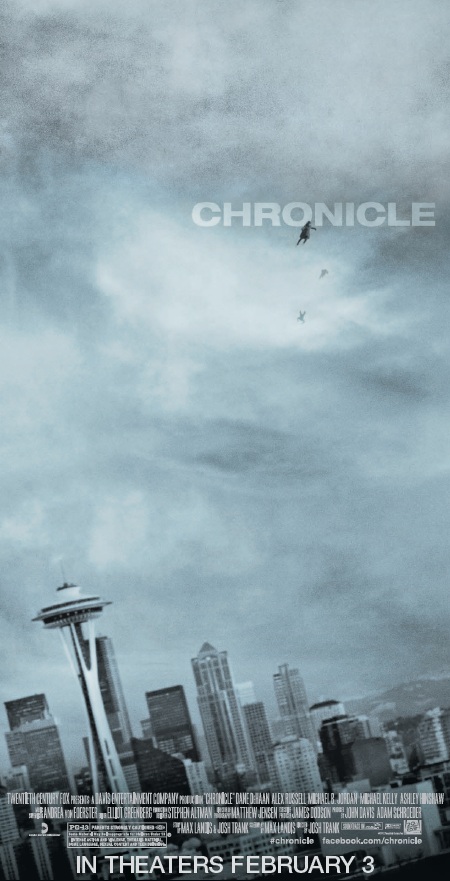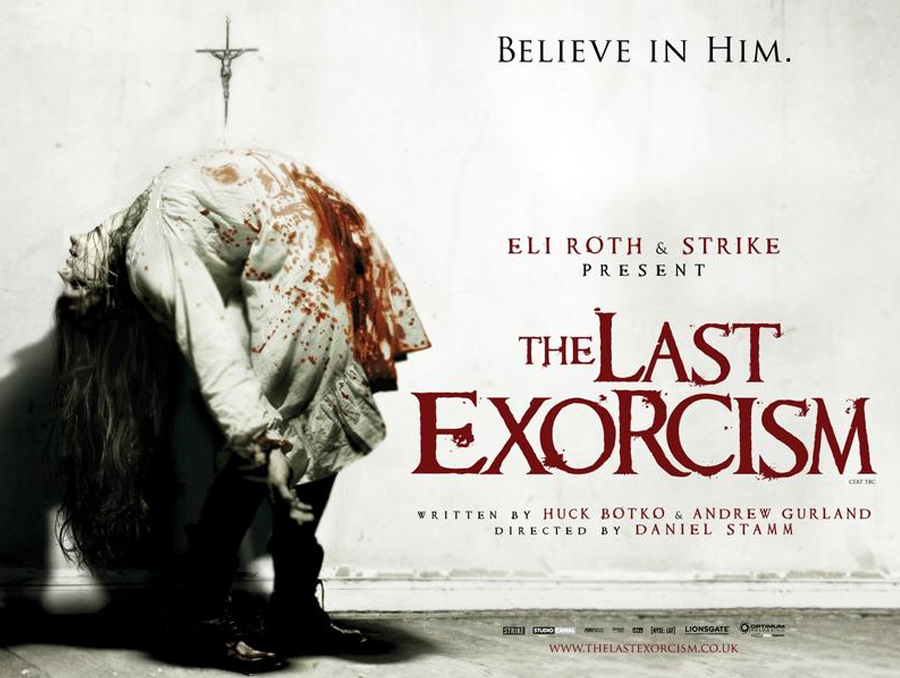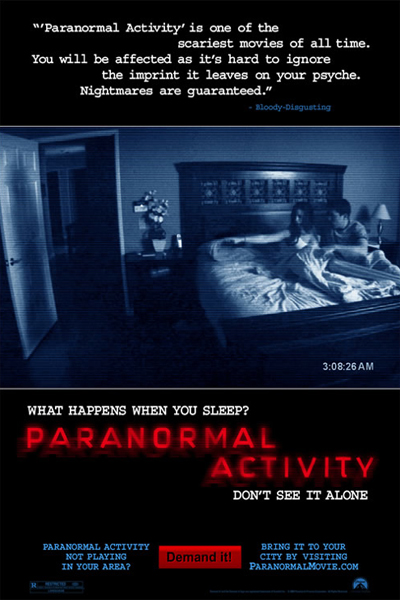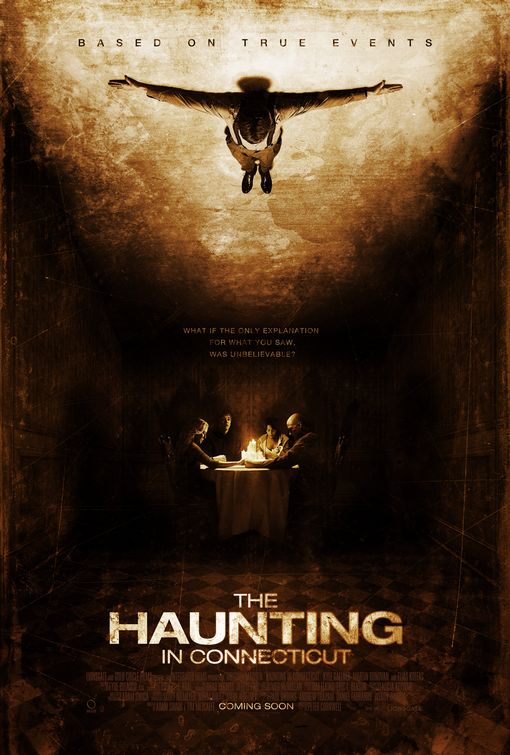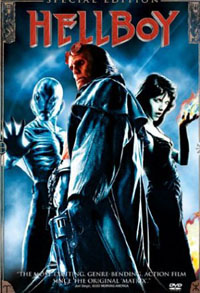 ---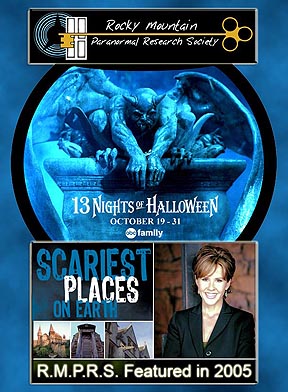 ---

---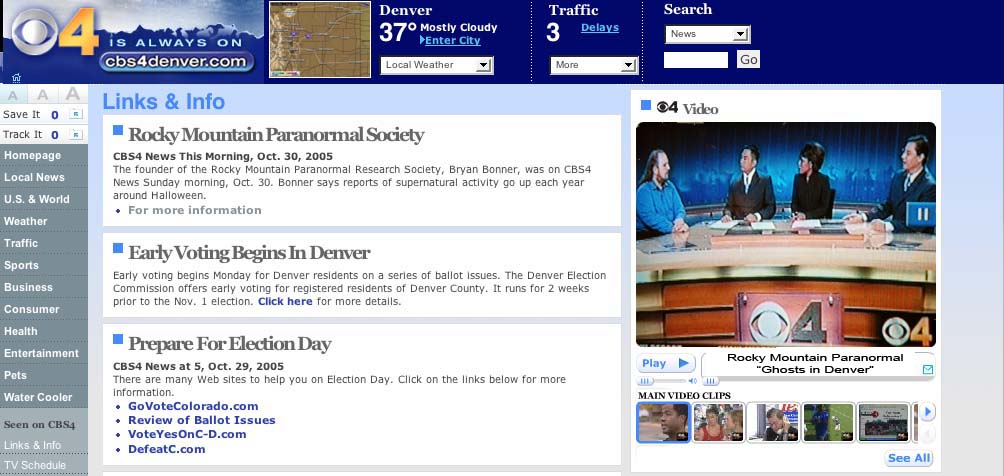 ---

---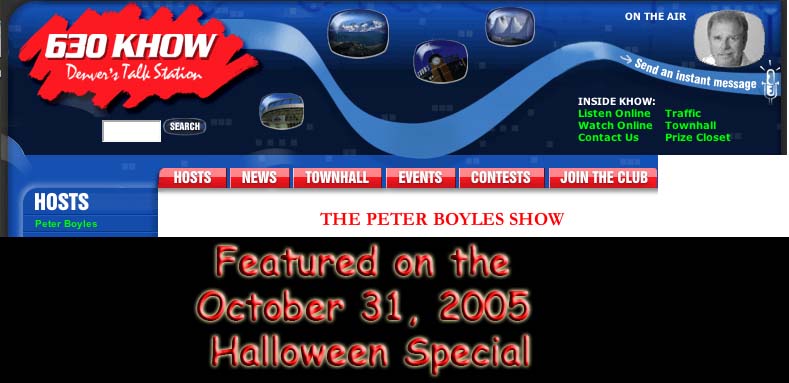 ---
---